2014 Top 50 Glaziers
In the midst of growth, U.S. contract glaziers face hiring challenges and low profit margins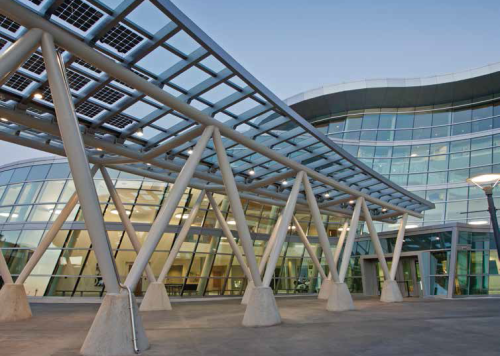 Salt Lake City Public Safety Building
2013 marked another year of growth for U.S. contract glaziers, with 74 percent of the Top 50 Glaziers reporting a year-over-year sales increase. This comes on the heels of a strong 2012, when 76 percent of Top 50 Glaziers reported y-o-y sales growth, and helped many companies return to pre-recessionary sales levels. Among companies reporting exact sales data, 62 percent recorded 2013 sales that topped their 2007 sales. Additionally, nearly 80 percent of Top 50 Glaziers reported anincrease in bid levesl in 2013, and 55 percent added to their workforce.
Despite increasing sales and bid levels, the construction market continues to challenge glaziers with low profit margins and high competition. For many companies, low-bid competition is preventing profit margins from returning to more normal levels.
The biggest challenge for #48 Bacon & Van Buskirk, was "competition that does not recognize the improved market and maintains low margins," says owner Rod Van Buskirk. The glazing market is "still dealing with competition pricing too low and cutting corners," agrees Tom Howhannesian, president of #32 Heinaman Contract Glazing.
Rising material and labor costs are further squeezing margins, says Bill Wilson, president of #44/45 Specified Systems. "Our biggest challenge is dealing withcompetitive market prices forcing margins down while overhead costsfor items like utilities, fuel, health care insurance and insurance aregoing up," Wilson says. In addition, "the supply side of the business is consolidating, making it more difficult for us as buyers to force suppliers and manufacturers to reduce costs to us."
Another challenge noted among glaziers is competition from overseascompanies. "The biggest challenge [in 2013] continued to be demonstrating to owners and general contractors that there is significant value in sourcing their subcontractors from domestic companies," says Joe Marks, chief strategy officer for #8 Architectural Glass & Aluminum. "It does appear this value is now beginning to be perceived more than it had previously, howxever there is still a hangover effect from the proliferation of low price/low value supply from foreign sources."
An emerging challenge among many Top 50 Glaziers is a labor shortage that has been intensified by the rebounding market. Several firms reported specific difficulty filling project management positions.
"With the general overall market improving specifically in construction, we have been fortunate to ride the wave of an improved business climate. However, during our growth, we have been challengedwith finding quality new hires," says Barbara Kotsos, director of marketing/PR for #23 Giroux Glass Inc.
The biggest challenge for #44/45 Denison Glass & Mirror Inc., is "being able to hire enough glaziers to keep projects on target," adds Mark Gampper, president.
Officials from #41 Dynamic Glass LLC echoed that concern, adding that many potential workers have switched to higher-paying industries."Our biggest challenge was finding and retaining good field glaziers,"says Matt Gilbert, CEO. "High-paying oil and gas jobs have significantly tightened the available skilled labor force. The result is higher costs and increased competition for skilled labor."
The following feature provides the list of Top 50 Glaziers, based on 2013 sales volume; market statistics related to bid levels, profit margins, competition, employment, and building segment activity; and notable projects from a selection of companies. The report also looks at the U.S. glazing market over the past decade, from the years leading up to the 2007 peak, through the downturn, and the gradual rebound of the last several years.
About the List
The annual Top 50 rankings present what Glass Magazine editors believeto be the United States' 50 largest contract glazing firms, based on sales volumes. The glazing firms are ranked within eight sales categories.
The majority of the information included in the Top 50 comes directlyfrom contract glazing firms. All but two companies provided sales figures for this year's report.
We understand the sensitivity of releasing sales figures; however, wedo not omit any firms simply because they ask. In cases where a companydeclines to provide information, we use independent sources to determine its ranking.
If your company belongs on the list, or you would like to update its information, please contact us. It is only with the cooperation ofindividual companies that Glass Magazine's Top 50 Glaziers rankingscan be as accurate as possible. Questions or comments about this year's rankings, and requests to be included next year, can be sent to Katy Devlin at kdevlin@glass.org.