2018 Construction Forecast
Commercial construction poised for moderate expansion in midst of continued labor and cost challenges
2018 will be a year of moderate growth for U.S. construction, according to forecasts from economists across the building industry. According to an average of top industry forecasts (see table at right), total construction spending is expected to increase about 4 percent, steady with growth projections for 2017. Forecasters expect growth in 2018 to be led by increased spending in residential construction, forecast at 6.8 percent, with nonresidential construction reporting slighter gains of 2.8 percent.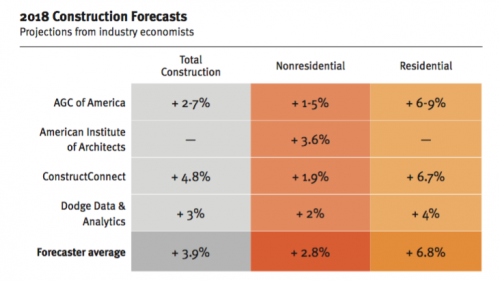 Sources: 2018 Design & Construction Outlook webcast; 2018 Dodge Construction Outlook.
"The U.S. construction industry has moved into a mature stage of expansion," says Robert Murray, chief economist for Dodge Data & Analytics, "After rising 11 percent to 13 percent per year from 2012 through 2015, total construction starts advanced [to] a more subdued 5 percent in 2016. An important question entering 2017 was whether the construction industry had the potential for further expansion. Several project types, including multifamily housing and hotels, have pulled back from their 2016 levels, but the current year has seen continued growth by single-family housing, office buildings and warehouses. In addition, the institutional segment of nonresidential building has been quite strong, led especially by transportation terminal projects in combination with gains for schools and healthcare facilities. Total construction starts in 2017 are estimated to climb 4 percent to $746 billion."
"For 2018, there are several positive factors which suggest that the construction expansion has further room to proceed," Murray continues. The 2018 Dodge Construction Outlook points to a 3 percent increase in U.S. construction starts for 2018 to $765 billion. "Overall, the year 2018 is likely to show some construction project types register gains while other project types settle back. By major sector, gains are predicted for residential building, up 4 percent; and nonresidential building, up 2 percent; while nonbuilding construction stabilizes after two years of decline."
During the webinar, "2018 Design & Construction Outlook: Cheery or Dreary?," economists from ConstructConnect, the American Institute of Architects, and the Associated General Contractors of America also pointed to moderate growth for U.S. construction in the coming year. Alex Carrick, chief economist at ConstructConnect, points to a more optimistic 4.8 percent increase in total construction spending in 2018, while Ken Simonson, chief economist for the Associated General Contractors of America, estimates growth in the low to mid-range (2-7 percent), with the residential sector faring generally better than the nonresidential.
Kermit Baker, chief economist at the American Institute of Architects, who also spoke during the webinar, says growth projections for construction can be seen in the AIA's monthly Architectural Billings Index. After trending down in 2015 and 2016, the index has remained strong throughout 2017, he reports. Of the design contracts component of the index, he says "An upturn in design activity should show up as an upturn in construction activity. [The ABI] leads by nine to 12 months, so that upturn we saw earlier this year should begin suggesting an upturn towards the end of this year, or the earlier part of 2018."
Nonresidential construction
Industry economists expect more sluggish gains in nonresidential construction spending in 2018, with some segments performing better than others. AGC's Simonson points to 1-5 percent gains in nonresidential building in the coming year. Simonson says he sees a mixed story in nonresidential building, with positive, though slower, figures for office and commercial spending, a relatively flat healthcare sector and cooling to negative numbers for lodging construction.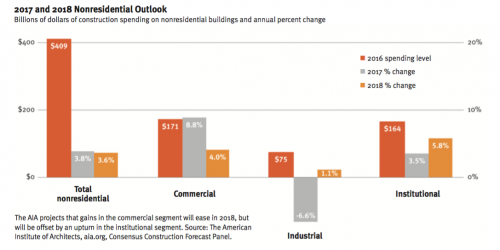 Source: The American Institute of Architects, Consensus Construction Forecast Panel.
Commercial
Simonson says that office starts have been cooling off steadily for several months, according to U.S. Census data. He says he expects the sector to grow by a slim margin in 2018. "We still have some companies relocating headquarters, but we have more people working from home and remotely, which saps the growth of office construction demand. The big growth is in co-working spaces," he says. "The typical suburban, low-rise office complex market remains cold."
In terms of retail, "the brick and mortar retail sector has been suffering of late," says ConstructConnect's Carrick. "The story here is not just the stores, it's the overhang, the empty space that's going to have to be filled before there is new construction. Our retail forecast is quite weak."
Forecasters indicate that after high levels in 2017, hotel starts will rapidly cool, declining into 2018. Of the highly cyclical sector, Simonson says, "markets seem to have saturation, with more competition from vendors such as Airbnb and the decline of resort market traffic by foreign visitors."
Institutional
Both Dodge and ConstructConnect indicate that institutional building will advance 3 percent, maintaining its upward track after this year's 14 percent jump. The Dodge Outlook projects that educational facilities should see more substantial growth next year, lifted by the passage of recent school construction bond measures. AGC's Simonson says he sees modest growth for 2018 in the educational sector, indicated by small declines in the school-age population, along with a potential decline in foreign students in light of harsher immigration rules.
The healthcare outlook trends upwards for forecasters, ranging from a more than 3 percent increase for Dodge to a better than 6 percent increase from ConstructConnect. Simonson says that while a growing number of seniors would suggest increased use of hospitals, the hospital building segment has stayed flat or declined. This is due to an increase in standalone emergency facilities, surgical offices, rehabilitation centers, hospices and clinics inside drugstores and big box stores. "Growth will be very marginal in hospital construction," he says. "Instead, we will see more growth classified as special-care facilities." He relates that hospitals may resume spending in 2018 if the Affordable Care Act is left intact.
According to the Dodge Outlook, the robust volume of transportation terminal projects in 2017 may not be repeated in 2018, but activity should stay at a high level. ConstructConnect's Carrick agrees, stating, "this is an area where there should be strong growth for many years to come." Simonson also reports that airports are a big part of the transportation growth segment, with most of the investment going into terminals and new gates, re-vamping security areas and adding retail.
Multifamily
The once-hot multifamily market will be a weak spot of construction in 2018. Dodge reports that multifamily housing will retreat 8 percent in dollars and 11 percent in units year-over-year. According to Dodge, multifamily appears to have peaked in 2016, helped by widespread growth across major metropolitan markets. That strength has begun to wane in 2017, given slight deterioration in market fundamentals (rent growth, occupancies) and a more cautious bank lending stance. The AIA's Baker says he anticipates that the segment will remain relatively flat for the next few years.
Renovation and restoration, on the other hand, is expected to post large gains. Baker says he expects a surge in upgrades to existing units in the otherwise slow multifamily sector.
Likewise, Simonson says there is growth potential for improvements in the multifamily housing market as rebuilding picks up following the hurricanes and wildfires of 2017. "We'll see a boost from those replacing housing destroyed in California and Texas, though that will take a lot longer to show up."
Issues to track
Economists point to a number of outside factors that will impact the U.S. economy and in turn the glass industry. These include labor issues, tax reform and the after-effects of the recent hurricanes and wildfires.
Labor
Labor challenges continue to plague the construction industry. More than 70 percent of construction firms report difficulty filling hourly craft positions, while 48 percent report difficulty finding project managers or supervisors, says Simonson.
The AIA's Baker attributes some of the industry's labor woes to the overall difficulty in rebuilding the labor force after the recession. However, he also indicates demographic concerns that present further difficulties. For example, the industry has not adequately recruited women and young people, he says.
"While women make up half of our national workforce, the construction industry has done a poor job of attracting women. Women make up 3 percent of the employment in the industry, and that has not changed in the last decade," Baker says. He also notes that construction relies on younger workers, and that millennials are not attracted to construction.
Changes to immigration policies could also exacerbate labor concerns. The construction field employs many immigrants—more than most sectors of the economy, Baker says. Immigrants make up 27 percent of the construction workforce; and unauthorized immigrants constitute an estimated 14.9 percent of the construction workforce, according to a study from the Pew Research Center. As a result, the construction-immigration work force is vulnerable to immigration enforcement and policies, Baker says.
Resolving construction labor problems is likely to require more extraordinary measures than simply rebuilding traditional training programs, Baker says. While companies are trying a variety of methods to entice workers, the industry may need to turn to labor-saving equipment, tools and machinery to help fill the gap, Simonson says.
Taxes, jobs and interest rates
Of the current market, Dodge's Murray says, "the U.S. economy next year is anticipated to see moderate job growth. Long-term interest rates may see some upward movement but not substantially. While market fundamentals for commercial real estate won't be quite as strong as this year, funding support for construction will continue to come from state and local bond measures."
Two areas of uncertainty include the potential passage of a federal infrastructure program and tax reform, Murray says. At press time, the GOP tax reform plan had not yet been passed. Baker reports that the plan could lead to growth for the nonresidential side of the industry but have a negative impact on the housing sector. "It's just too early to tell," he says.
Material and commodity costs
During the ConstructConnect webinar, Carrick and Simonson discussed potential impacts of rising costs. Carrick points to commodities as an overlooked factor in the construction outlook. "Almost all construction building materials have a commodity base," he says. "If there is an increase in commodity prices, you will also have an increase in construction materials cost."
Many construction material costs are also on the rise, according to Simonson. The Producer Price Index for all construction materials as of July 2017 was up 3.7 percent year-over-year. Diesel costs were up 30 percent compared to the previous year, steel up 7 percent, copper and brass up 18 percent, and aluminum mill shapes up 10 percent. Simonson says he expects costs for construction goods and services to continue to rise in 2018, with an estimated 3-4 percent increase.
Hurricane and wildfire impact
The toll of the massive hurricanes and wildfires that decimated parts of the country during 2017 will resonate through the industry for years to come. In many areas of California, Florida, Puerto Rico and Texas, the assessment phase is just beginning.
"The insured losses are the easiest to measure," says the AIA's Baker. In terms of uninsured properties, the homeowner or business may or may not choose to rebuild, he says. Short-term impact may include construction labor issues, materials costs and availability, and changes to the economic output of a region.
Longer-term impacts are difficult to estimate. A 2010 Housing and Urban Development study after Hurricane Katrina in 2005 found that, of homes with significant damage, 70 percent had been renovated. Half of the remaining 30 percent of properties were a cleared lot. "This is a process that will be measured not in months or quarters, but in years," Baker says.
Simonson concurs with the assessment, relating that there may eventually be an increased demand for new single-and multifamily housing along with reconstruction of commercial, public buildings and infrastructure, but that most rebuilding will take years to get funding, design and regulatory approvals in place.