The 2018 Top Glass Fabricators | The Market

1. A large majority—71 percent—of Top Glass Fabricators reported an increase in sales in 2017. However, this marks a decline from 2016, when 89 percent of companies reported a growth in sales.
2. Most Top Glass Fabricators increased production capacity in 2017. The reason for many companies is the growing market demand for more specialty glass products, from decorative products to oversized glass.
"We continue to see growing demand for decorative glass, as well as a need for design assistance. We are working with our customers to provide the information and design assistance that they need to successfully integrate decorative glass into their business and take advantage of this trend," says Josh Primmer, sales, M3 Glass Technologies.
Companies also report adding capacity in order to improve lead times, increase production efficiencies and better serve the busy construction economy.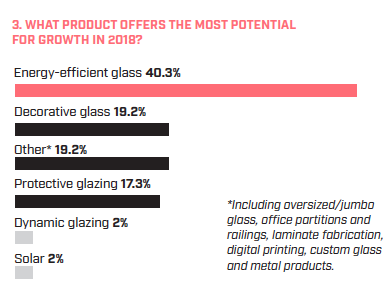 3. Top Glass Fabricators were asked to choose the one product area that offered the most opportunity for growth. Despite strong market potential for specialty glass products, many fabricators still eye energy-efficient, high-performance glass products as the top target market.
"In addition to an increased demand for larger sizes, the industry is moving towards more energy-efficient products … The interest in environmentally-conscious products in general is on the rise, and we are seeing more requests for energy-efficient [insulating glass units], bird-friendly glass and similar products," says Tad Diemer, marketing specialist, Glasswerks LA Inc.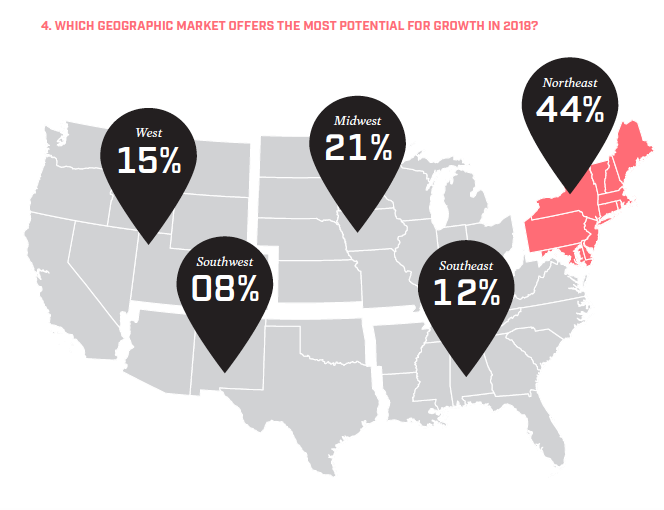 4. Companies were asked to choose one geographical region poised for growth. The Northeast came away on top, with 44 percent of the vote, followed by the Midwest at 21 percent.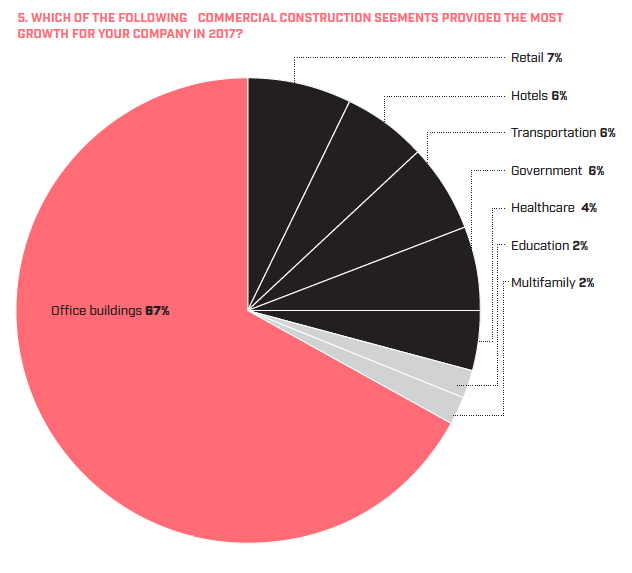 5. Top Glass Fabricators were asked to choose the one building segment area that offered the most growth in 2017. According to the survey, office building construction was by far the strongest segment for companies.
Labor Challenges Continue


Click here for larger image.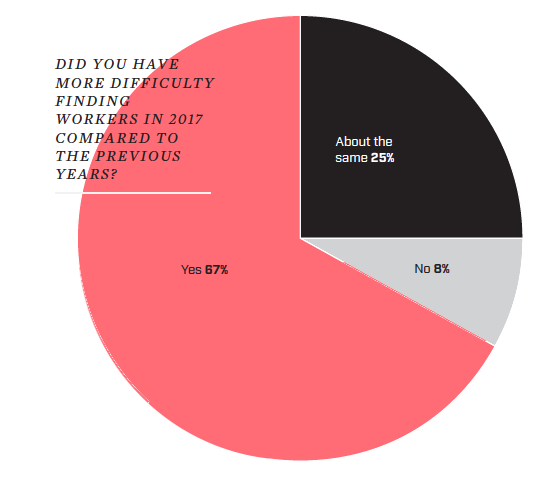 Fabricators continue to rank the labor shortage as the biggest challenge facing the industry, ahead of glass supply and capacity planning. Sixty-seven percent of survey respondents say finding labor was more difficult in 2017 than the previous year. A number of companies report they are leaning more heavily on automated machinery. Others say they are pursuing a wide range of methods for recruitment and retention, including:
Social media advertising
Incentivized employee referral programs
Competitive wages and benefits
Improved onboarding and training programs
Internship programs
High school graduate recruitment
Outside recruiters.


Click here for larger image.
"We have started to leverage social media more, such as Facebook, LinkedIn and Glassdoor to further enhance our presence," says Jordan Filenko, marketing and communications, Garibaldi Glass Industries Inc.
"We … encourage our team to invite skilled craftsmen they may know to join us as they understand our quality needs and market demands," adds Patrisia Yanez, product development leader, decorative products, Cristacurva.
Richard Wilson, president, AGNORA says his company focuses on training. "We hire for fit first and train our employees for skill," he says. "Our full in-house training program allows us to promote from within, which ensures a more harmonious working relationship with a strong workplace culture and low turnover."
Viracon Announces Closure of Utah Plant
Viracon Inc. announced plans to cease operations at its St. George, Utah, facility in March. The plant is the smallest of the company's three U.S. manufacturing locations. The closure follows several years of productivity improvement and new equipment and infrastructure investment at its Owatonna, Minnesota, and Statesboro, Georgia, facilities.
Saand Acquires Guardian Massachusetts Fabrication Facility
Saand Inc. acquired the Guardian Webster Inc. fabrication facility located in Webster, Massachusetts. In business since 1973, Saand is headquartered in Toronto, Ontario, and currently operates four glass fabrication facilities in the province of Ontario. The addition of the Webster facility, with its fabrication and insulating glass unit production capabilities, will enable the company to improve service and responsiveness to the Northeast U.S. market, according to the company.
Hartung Glass Industries Opens Dedicated Commercial IG Facility in Washington
Hartung Glass Industries opened a new, dedicated commercial insulating glass fabrication plant in Tukwila, Washington, in February 2017. The new facility includes inline inventory, cutting, tempering, insulating, crating and shipping specifically designed for large and oversized insulating glass units.
Bigger glass, bigger machines
To meet demands for larger glass sizes, a number of fabricators announced the installation of equipment capable of processing larger sizes. Glasswerks announced its jumbo glass facility in southern California that is capable of producing annealed, tempered, laminated, and even bent glass products. The company offers products in sizes up to 130 by 300 inches. Glenny Glass Co. installed a tempering furnace and insulating glass line capable of producing 106-by-142-inch units. Glassfab Tempering Services upgraded its tempering furnace to 130 by 315 inches. Vitrum announced digital printing in sizes up to 110 by 200 inches.