AGI Brings Glass to the Classroom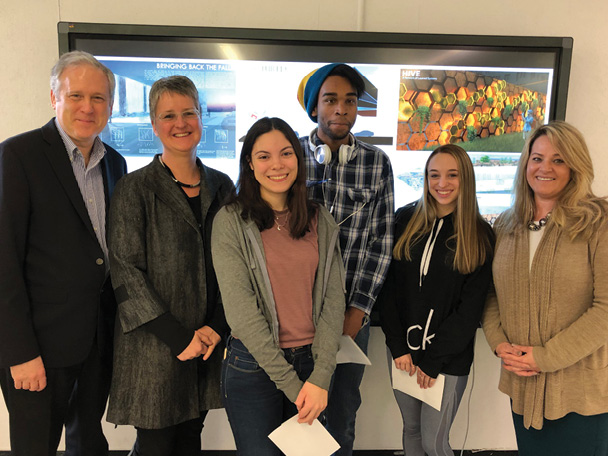 From left: Jefferson University Prof. Jim Doerfler, Dean Barbara Klinkhammer, first-place winner Emily Potenza, second-place winner Cevan Noell, third-place winner Kaitlyn Cusumano, and AGI's Stephanie Staub.
The Architectural Glass Institute teamed with Philadelphia's Jefferson University on a student design competition that challenges students to create innovative glass-centric projects, all while connecting the next-generation building professionals to the glass and glazing industry. In January, the AGI sponsored the Third Annual Architectural Glass Student Design Competition, in which third-year architecture and industrial design students participated as part of required coursework.
"This competition pushes our students to gain knowledge of glazing systems and challenges them to create innovative designs," says Professor and Director of Architecture Programs James Doerfler.
"Opportunities like this are great for our students," adds Studio Coordinator Jeff Kansler. "Any time they can connect to industry, engage with individuals in a client role, and work with real-world constraints, it adds an extra dimension to the academic experience and expands the range of learning outcomes in a typical academic studio."
In the 2019 competition, students were challenged to design a 200-foot-long, 12-foot-high parking area screen for a new development in Philadelphia. The design solution would incorporate architectural glass, metal panels and lighting technology. The winning project, Bringing Back the Falls from student Emily Potenza, uses glass, lighting and other materials to recreate the effect of the rushing waterfalls that once stood at the East Falls, Philadelphia, building site.
"As the glazing industry, we need to do our part to make sure our products and systems are recognized in the curriculum—that the next generation of architects understand these systems and these players," says Stephanie Staub, marketing director for AGI. "We want to make sure they understand the facets of the industry, from the manufacturers to the glaziers to the craftworkers, as each plays a vital role."
Staub says it is important for the glass industry to get into the classroom. "We have the knowledge and the expertise. We are a resource," she says. "The sooner we can get in front of [future design and construction professionals], the sooner we can educate them on glass, the technicality of systems, the better for our industry."
Check out the winning designs.
Click on the images below to see the winning projects.
From left to right: First Place | Emily Potenza | Bringing Back the Falls; Second Place | Cevan Noell | Fractured; Third Place | Kaitlyn Cusumano | Hive
Companies from all parts of the glass and glazing industry have implemented innovative, out-of-the-box ideas to improve business from the ground up. Here's an Idea showcases these sometimes small behind-the-scenes ideas that can make a big impact on a company's bottom line. If you have an idea that you would like to share, contact Norah Dick, ndick@glass.org.