Alaska Psychiatric Institute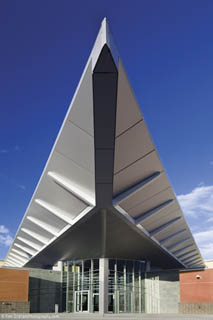 Aluminum and glass combine in the $35 million facility for the Alaska Psychiatric Institute in Anchorage. The renovation modernizes the image of API to mirror prevailing treatments, maximize openness and ensure security.

"The building program of the old API building reflects psychiatric treatment philosophy that is nearly a half-century old," says Ken Burkhart, project architect from Koonce Pfeffer Bettis Inc. in Anchorage. "The new building planning goals were that the building should be safe, secure, welcoming, and non-institutional, and would capture natural light into as much of the building as possible."

The design begins to achieve these goals at the entrance, where a wall of floor-to-ceiling glass storefront beneath a V-shaped canopy of aluminum cladding greets patients and visitors, Burkhart says.

Alucobond cladding material from Alcan Composites USA in St. Louis makes up the canopy before stretching along the building's sides above and below the windows. The earth-toned colors of the concrete masonry units along the base and the near 10,000 square feet of cladding—consisting of a plastic core sandwiched by two sheets of 0.02-inch aluminum—allow the building to blend in with the surrounding woodland environment, Burkhart says.

While patient and employee security remained the most critical aspect of the design, the architects strove to maximize daylighting, Burkhart says. They used about 5,000 square feet of glazing, 900 of which is ballistic-resistant. Clerestory windows of 1-inch tempered insulating glass, both vision and spandrel, line much of the building to provide ample natural light. In addition, skylights from Evergreen House Inc. in Kirkland, Wash, in a patient atrium and in the main commons, allow for further light penetration.

The patient rooms feature fixed windows with blinds sandwiched between a lite of tempered glass and an inner lite of polycarbonate to provide security. Tempered, 1-inch insulating and low-emissivity glass was used around the administrative areas, and clear tempered, 1-inch insulating glass was used at the greenhouse. Lites of 9⁄16-inch ballistic-resistant glazing was used in the evaluation and admission clinic.

Choosing the interior glazing took much consideration, Burkhart says, with most lites in patient areas consisting of two pieces of tempered glass laminated together. For safety reasons, no wired glass was used in any of the patient areas, he says.

"The interior materials flow naturally while meeting the particular security needs that apply to each individual space," Burkhart says.

Glazing contractor Bucher Glass of Fairbanks, Alaska, spent about 10 months on the project, installing the composite and the interior and exterior glazing. Neeser Construction of Anchorage was the design-build contractor. Hartung Glass Industries of Seattle provided most of the glass; Globe Amerada Architectural Glass of Selma, Ala., provided the ballistic-resistant glazing.