Art in Architecture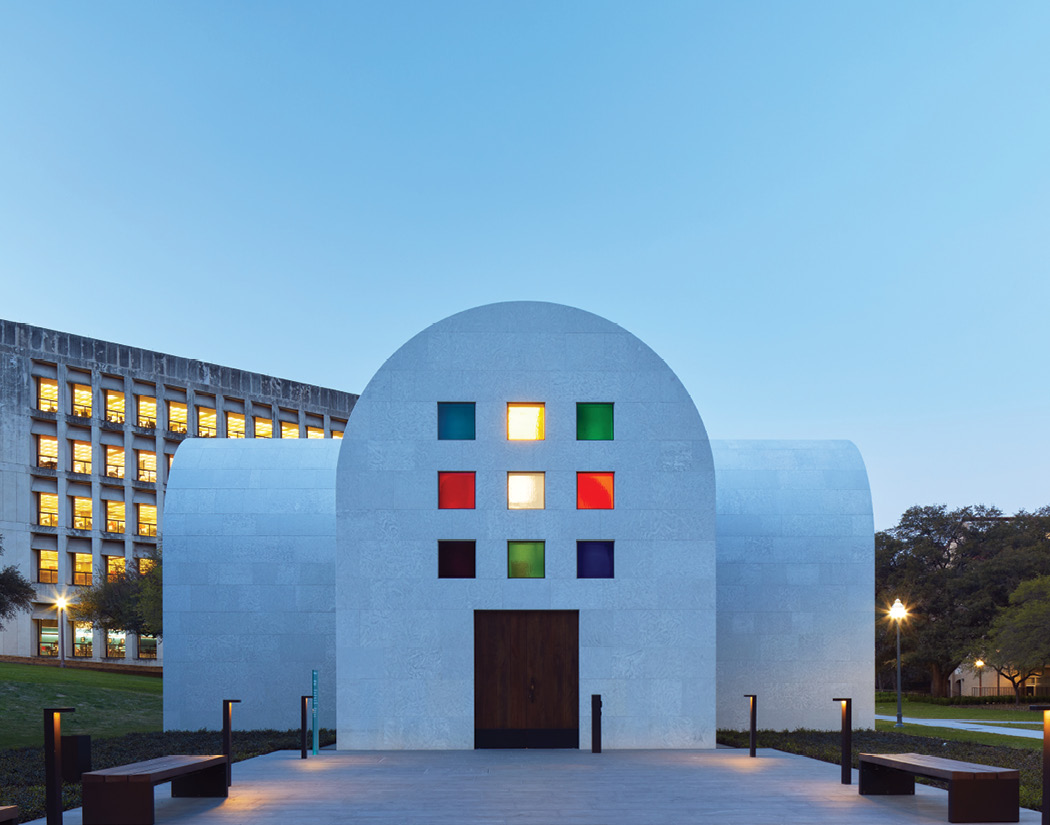 Ellsworth Kelly's "Austin" at University of Texas Blanton Museum of Art features Bendheim's Lamberts mouth-blown art glass. Photos by Leonid Furmansky
There is a dramatic shift in the way mouth-blown art glass is used in building design. In years past, it was primarily known as "stained glass" and found almost exclusively in houses of worship and luxury residences. Today, architects and designers increasingly incorporate art glass into contemporary commercial and civic spaces to humanize them and introduce a sense of craftsmanship. Colorful artisanal glass can be seen in modern facades and feature walls at airports and transit stations, hospitals, courthouses and commercial building lobbies.
1 - Color and light in biophilic design
There is a new appreciation in the design community for the concept of biophilia—the idea that people are drawn to connections with nature. Studies have shown that daylight filtered through colored glass is easily perceived by building occupants, helping them become more attuned with the cycles of the day. In turn, they gain a sense of connection to the outdoors, improved comfort and well-being.
With a rich palette of hundreds of standard hues and custom color options, art glass is a versatile biophilic design element. Its colored light makes spaces more peaceful, entertaining and attractive. Its unique handmade textures play with light as if bouncing off rippling water, enhancing the sense of proximity to nature. In one recent example, Ellsworth Kelly's "Austin" at the University of Texas Blanton Museum of Art uses mouth-blown glass windows to bring dappled colored light into the space and enliven the monochromatic interior.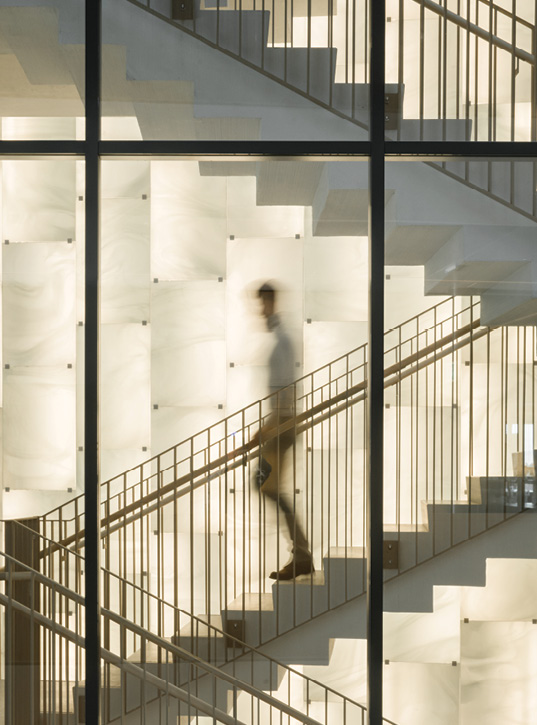 8-story feature wall made of Lamberts mouth-blown art glass at the Biomedicum research laboratory in Stockholm, Sweden.
2 - Artisanal appeal
There is a universal movement in design to recognize the use of handmade products, such as artisanal architectural glass. Mouth-blown art glass is made using a centuries-old method practiced in Germany. It begins with a gather of molten glass at the end of a blowpipe, which is continuously blown and spun to create an elongated bubble. The bubble is then worked into a cylinder shape, slowly cooled, cut lengthwise, reheated, opened and flattened into a sheet. While the textures and colors of mouth-blown glass sheets are quite consistent, no two pieces are completely alike. The minute details, such as small air bubbles and striations, add unique character to each piece. This authentic handmade quality is palpable and appreciated in today's architecture.
Mouth-blown art glass carries a lot of history as the primary window material of the past, and now it creates expansive facades, interior claddings and contemporary building accents. Its rich palette of colors and textures enhances occupants' experience of the space and elevates its architecture.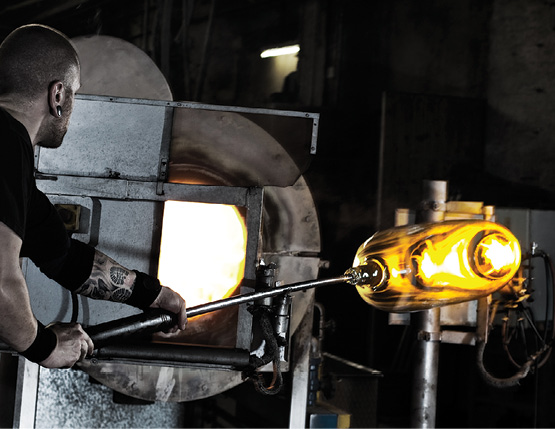 The process of making mouth-blown art glass.
3 - Trends in art glass applications
The divided-lite aesthetic, made popular during the turn of the century, is reemerging in modern hospitality, commercial and residential interiors. Decorative glass panels are captured in segmented dark metal frames to create retro-chic doors and partitions. This design trend is ideal for handmade art glass with its average panel size of approximately 2 by 3 feet, growing the demand for the material.
Interior wall cladding is another emerging trend in art glass design. Columns, staircases and feature walls are becoming outfitted with this expressive ornamental glass to enhance the ambiance of the space. In a recent project in Sweden, a multi-story staircase in a commercial building is clad in backlit, gently swirling mouth-blown glass clasped in compression fittings. In another example, the Children's Hospital of Alabama features expansive silicone-laminated art glass panels by Guy Kemper, reaching 19 feet high by 5 feet wide.