Atlanta in Glass
Glass-clad projects to check out after hours at GlassBuild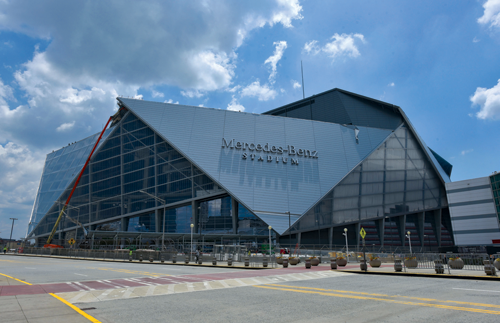 MERCEDES-BENZ STADIUM
441 Martin Luther King Jr. Drive NW
Mercedes-Benz Stadium, designed by HOK and set to open in August, features an eight-panel retractable roof that resembles a pinwheel, and a glass wall that opens with the roof, to allow in fresh air. The roof design includes eight triangular translucent panels, comprised of ETFE-pillow-clad triangular "petals." These retract to reveal a 380-foot-long and 305-foot-wide oval opening overhead.
Holder, Hunt, Russell, Moody Joint Venture served as the general contractor. Viracon fabricated its VRE1-46 glass panels for the project. Crown Corr Inc., crowncorr. com, installed the glass façade systems. Raydeo, raydeo. com, manufactured the glass railings. Glass Stream installed the interior glass systems. The stadium will target LEED Platinum certification and an environmental product declaration credit from LEED v4. Photo by Hyosub Shin, flickr.com.
WORLD OF COCA-COLA
121 Baker St. NW
The World of Coca-Cola, completed in 2007, features a 180-foot by 40-foot glass and stainless-steel mesh curtain wall, with an etched Coca-Cola logo, fabricated by On-Site Systems, fgdglass. com. At the entrance, a 30-foot iconic Coke bottle hangs suspended in a 90-foot high glass block of simulated ice, fabricated and installed by structural engineer and glazier Novum Structures. Made up of tempered, laminated glass in 6- by 12-foot panels, the tower's icy effect is achieved by 14 different ceramic frit, silkscreened patterns.
Rosser International designed the building. Selbert Perkins Design Collaborative developed graphics for the exterior. Design Communications Ltd. served as the signage specialty contractor. Photo by Brett Kiger, flickr.com.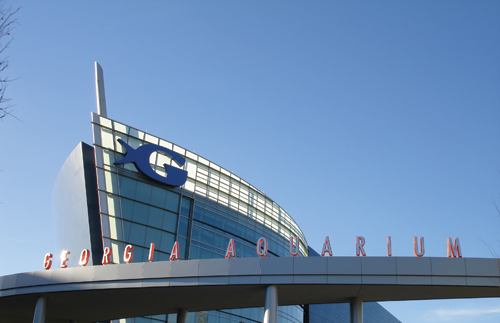 GEORGIA AQUARIUM
225 Baker St. NW
Next door to World of Coca-Cola is the Georgia Aquarium. A glazed, hull-shaped structure serves as the front door to the aquarium, which opened in 2005. Designers chose to use a combination of clear and fritted glass on the ark façade, which is backlit for a lantern-like effect.
Thompson, Ventulett, Stainback & Associates was the project architect. Viracon supplied its VE1-2M and VH11-75, 1-inch low-emissivity insulating glass and for the ark façade, using low iron, ultra-clear Starphire glass from Vitro for much of the skylight glass. Gardner Glass & Glazing served as the glazing contractor, and Brasfield & Gorrie as the general contractor.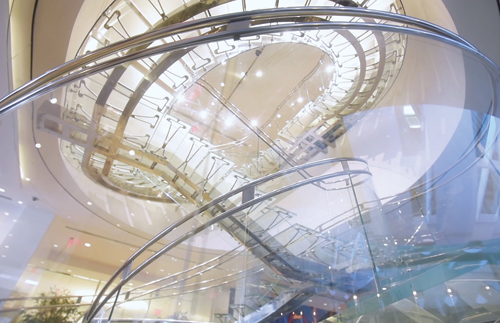 HOTEL INDIGO
230 Peachtree St. NE
The focal point of Hotel Indigo Atlanta Downtown, opened in January 2016, is a grand glass staircase, connecting the lobby to the hotel rooms and restaurant. Hotel and staircase were both designed by Atlanta's own John Portman & Associates. According to Robert Halverson, project manager, the staircase was conceived as a sculptural element that unifies the hotel's interior spaces.
Conti Glass Corp. served as a glass fabricator, custom metal fabricator and glazing contractor for the staircase. Precision Glass Bending fabricated the clear curved glass railings, using Vitro Starphire. R.F. Knox Co. provided additional custom stainless steel hardware fabrication and installation services. Holder Construction Co. served as the general contractor, utilizing labor assistance from JAMCo.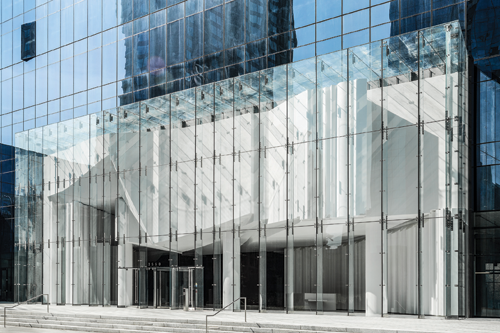 THREE ALLIANCE CENTER
3550 Lenox Rd NE
Visitors to Three Alliance Center, opened in January, are greeted by a glass box, point-supported structural entrance and roof, all supported on base-loaded triple-ply laminated glass fins. Mack Scogin, Merrill Elam Architects designed the 118-foot wide by 41-foot tall, with an 11-foot-6-inch trapezoidal glass skylight roof return, façade to have maximum transparency and minimal support structure. W&W Glass LLC supplied Pilkington Planar Optiwhite glass panels, connected to fins with Pilkington Planar 905 series countersunk fittings. Viracon fabricated VRE1-54 and VE1-2M units for the project. A SentryGlas laminated glass transfer beam was used to transfer loading from the fins above the doors to the end fins coming to the ground.
Turner Construction Co., served as the general contractor, and Harmon Inc. as the contract glazier. Photo courtesy of W&W Glass.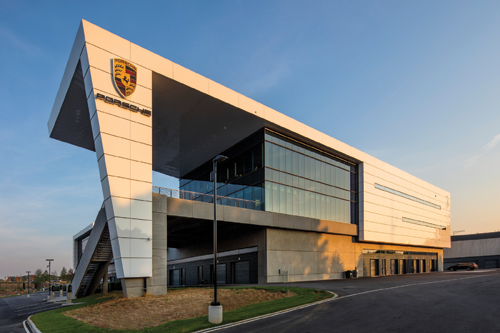 PORSCHE CARS NORTH AMERICA EXPERIENCE CENTER AND HEADQUARTERS
1 Porsche Drive
Completed in 2015, the 200,000-square-foot Porsche Cars North America headquarters features a façade of crisp, clean lines, sleek glass and complex geometric shapes. Design firm HOK focused specifically on acoustic performance for the PCNA headquarters. Kawneer Corp. curtain wall products and Reynobond panels were utilized throughout.
The building's double-skin curtain wall, made from Kawneer 1600UT System 1 and 1600 Wall System 1 Curtain Wall with acoustical glazing, creates a thermal buffer and sound-deadening cavity, bringing the sound transmission class rating up to 52. Viracon fabricated the glass for the project, using VE29-2M. The 4-millimeter FR core Reynobond ACM panels, in two custom finishes, cover the soffits, columns, entryways and a large portion of the overall façade. Photo courtesy of Kawneer.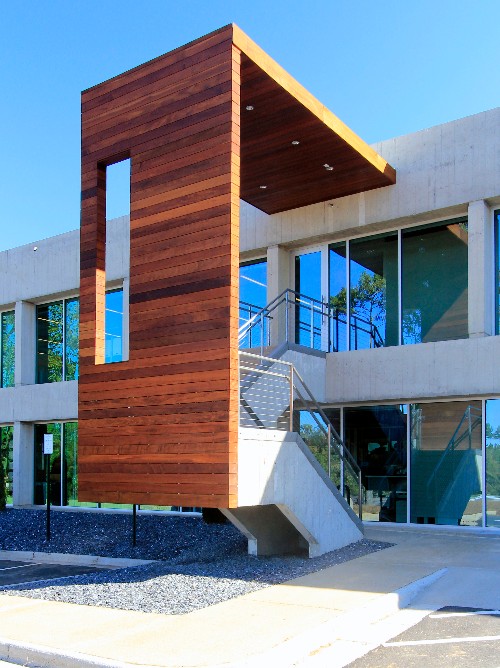 Photo by Brilliance Photography
JE Dunn Southeast Headquarters
2555 Cumberland Pkwy SE
Glass Stream, a commercial glazier based in Atlanta, was tasked by contractor JE Dunn to source the exterior glass for its new Southeast headquarters, a completely retrofitted office building.The original building, cut back to the concrete, gave JE Dunn and the building team a clean slate to design a unique entry foyer and a façade that allows abundant natural light to reach the interiors while managing solar heat gain, an important consideration given the hot Georgia summers.
Low-emissivity, triple silver SunGuard SNX 51/23 coated glass from Guardian Glass, was fabricated by independent Guardian Select fabricator Oldcastle BuildingEnvelope and installed by Glass Stream. The glass has a visible light transmission of 51 percent and a solar heat gain coefficient of 0.23.