Attendance tops 27,000 at Greenbuild in Phoenix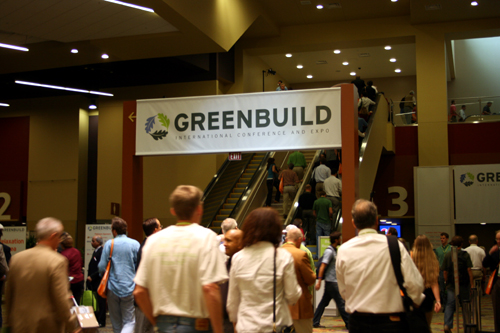 The Greenbuild International Conference and Expo, hosted by the U.S. Green Building Council, Washington, D.C., hit the Phoenix Convention Center last week. The event featured an exhibit floor of more than 1,800 booths and hosted more than 27,000 attendees, according to USGBC officials. Attendance was slightly down from the 29,752 from last year.
News updates
Nov. 13
Companies from glass industry gather at Greenbuild
Of the more than 1,000 exhibitors at the Greenbuild International Conference and Expo in Phoenix, Nov. 11-13, about 35 companies were in the glass products business and almost 60 in the door, window or skylight business, according to the conference catalog.
White House adviser outlines Obama's green investments during Greenbuild
Nancy Sutley, chair for council on environmental quality for the White House and President Obama's principal environmental adviser, provided an update on the President's achievements in changing energy and environmental policies since he took office, and outlined future plans during the closing plenary for the 2009 Greenbuild International Conference and Expo, Nov. 13, in Phoenix.
Nov. 12
New player enters the smart glass market
RavenBrick, Denver, debuted a smart-window technology during the 2009 Greenbuild International Conference and Expo in Phoenix, Nov. 11-13. RavenWindow, the company's thermochromic switchable window, automatically tints when the glass temperature rises.
Nov. 11
Gore: Improve economy, national security and environment with green building
Green construction will do much more than reduce emissions and better the environment; it will also make the United States more secure and improve the economy, according to former Vice President Al Gore, Nobel Laureate, and author.
Major growth projected in green building and green jobs
The green building market, including nonresidential and residential, is likely to more than double from today's $36-$49 billion to $96-$104 billion by 2013.