Beyond the Cubicle
Employers look to interior glass in office design to maximize daylighting, space and productivity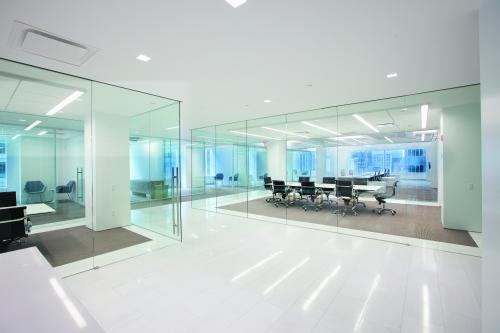 Photo by Dorma Interior, www.dorma.com
In an effort to free employees from the confines of the cubicle—and the low morale it can foster—employers are relying more on office designs that incorporate interior glass. "Studies continue to indicate that employees enjoy their work environment and are more productive when natural daylighting and visual access to the outdoors are incorporated," says Meghan Beach, architectural manager, AGC Glass Company North America. "The desire to create healthier and more enjoyable interior spaces, along with the need for the security of open and visible spaces, and aesthetic appeal are all contributing factors in the growth we are experiencing in interior glass products," she reports.
"When designers talk about 'daylight harvesting,' glass office fronts are one of the things they mean," adds Jeff Phillips, national sales manager, Dorma Interior. "These products help make the most of daylighting for interior spaces."

Beyond the benefits of natural daylighting, interior glass offers employers the ability to create open work environments, industry suppliers say. "The interconnectivity that [the use of interior glass] generates provides the interaction the office team needs to increase the productivity of the overall organization," says Jessy Servol, architectural business manager, Klein USA.

"There is a trend in office interiors to make more work visible to encourage interaction and increase collaboration among employees and teams," agrees Diane Turnwall, market segment director, Interiors, Guardian Industries. "This is increasing the amount of glass being used [in office environments]."
As a multi-functional material, glass also appeals to employers' desire to optimize floor space. "[Interior glass] makes it easy to divide space properly; you can condense the footprint of an office without making it feel smaller," Phillips says.
In offices where square footage is at a premium, glass can provide additional work surfaces for employees. Glass marker boards, for example, offer one multi-use surface solution. "Commercial buildings dedicated to offices use a large amount of the vertical wall space for whiteboards or other types of interactive surfaces," Turnwall points out. "Glass is a great material to accomplish this level of functionality."

And then there are the aesthetic possibilities interior glass offers employers. "We see decorative glass used as artistic or focal features, as well as for wall cladding to add visual interest," Turnwall reports. "Glass can be integrated into furniture or cabinetry in a commercial environment; however, the most common applications in commercial buildings would have to be walls. Glass provides a surface that can integrate into any design concept. It can be processed to bring dramatic texture, color and light into any space."
Klein USA
Extendo 4 Telescopic Door System
"We see more and more projects where 'feature' areas are desired that use more glass and less traditional sheet rock wall," says Jessy Servol, architectural business manager, Klein USA. "That's the case with this conference room located at the entrance/lobby. This design is gaining more popularity among clients who want their employees to feel comfortable using the conference room not only for professional meetings, but also as a lounge or relaxing area."
The Extendo 4 telescopic door system features four sliding frameless glass doors that can open simultaneously on each side. It is only necessary to move the lead door to open the trailing door as well, Servol explains. The system can accommodate glass panels from 3/8-inch to ½-inch thick, measuring up to 10 feet tall. It is typically used in openings measuring 14 feet to 30 feet wide, according to the supplier. The top-hung sliding system facilitates large, clear openings without the use of a floor track; the track instead can be recess- or surface-mounted to the ceiling or wall. Find more information here.
Dorma Interior
Frameless Pure Glass Walls
"Most of the growth [in interior glass] is happening in office fronts … because interior glass is helping support changes in work styles. These structures help with the corporate image, and the aesthetics they offer are outstanding," says Jeff Phillips, national sales manager, Dorma Interior. Several interior glass wall systems are available under Dorma Interior's brand, including the frameless Pure glass walls with sliding doors. The frameless Pure systems create simple, elegant fronts with extended transparent sightlines, according to the supplier, and work well in applications where space is limited. The Pure glass wall system with pivoting doors, pictured, provides different packages for different mounting configurations: ceiling mount or wall mount, for example. Also available is the demountable Dorma Reveal system, offering sound attenuation with fully framed and interlocking double glass panels, and the Fusion glass wall system, which merges cool transparent glass walls with warm wood doors. Find more information here.
Guardian Industries
UltraClear Low-iron Glass
"Office and other commercial walls have been transitioning to glass in many areas because it gives all building occupants access to daylight. LEED is rewarding [such] projects," says Diane Turnwall, market segment director, Interiors, Guardian Industries. Part of the Guardian InGlass line of interior glass solutions, Guardian Ultra-Clear low-iron glass provides outstanding light transmission, color neutrality and clarity, the supplier reports. The Quicken Loans building in Detroit, pictured, uses Guardian UltraClear low-iron glass to make a design statement and delineate the function of its spaces. Fabricated by Glass and Mirror Craft, the laminated glass walls on the perimeter offices are accented by natural light. UltraClear provides exceptional transparency with no distortion because of the low iron oxide content that reduces discoloration of the float glass, Guardian reports. UltraClear can be laminated, painted, curved, silk screened and tempered, and is suitable for applications such as doors, partitions, display cases, furniture and tabletops, showcases and decorative surfaces. Find more information here.

Photo by Richard Barnes
Bendheim Wall Systems
Lamberts U-shaped Channel Glass
While interior glass has experienced significant growth in the commercial office building sector, officials from Bendheim Wall Systems say they are seeing gains in other building segments as well due to its "maintenancefriendly, versatile and beautiful material" characteristics.
The exclusive North American distributor of Lamberts U-shaped channel glass, Bendheim Wall Systems offers channel glass in six surface textures in regular and ultra-clear low-iron glass, three thermal coatings, sandblast treatments and hundreds of permanent enamel frit colors. It can configure the U-shaped channel glass as single or double-glazed interior partitions. Glass channels can be oriented vertically or horizontally, and vertical channel glass systems can be custom-curved for a striking design aesthetic. The company's proprietary interior frames are engineered for the demands of each specific application, it reports. Pictured is Bendheim's Lamberts U-shaped channel glass at AMB Property Corp. at Pier 1, San Francisco, Calif. Find more information here.
Modernfold
GWS Moveable Glass Walls
A Dorma Americas company, Modernfold offers GWS moveable glass walls, designed to illuminate open-floor-plan interiors with natural light. Standard systems are provided with clear glass. Custom systems can be specified with a variety of options, including smoke gray, bronze, etched, and silk screen. Other specialty solutions are also available. The maximum height for GWS walls is 120 inches. Maximum panel width is 48 inches, and maximum panel weight is 330 pounds. Find more information here.
AGC Glass Co. North America
Krystal Klear
"The most [commonly used glass on the interior] is standard clear float glass or ultra-clear lowiron glass—tempered or laminated," reports Meghan Beach, architectural manager, AGC Glass Company North America. "But we are beginning to see growth in demand for interior glass products that are translucent in the form of acid-etched, textured, digital imaging or electrochromic glass. In addition, we are receiving more requests for fire-rated butt glazing systems."
Among the supplier's interior glass offerings is Krystal Klear. The low-iron glass is available in a range of thicknesses—3 millimeters, 6 mm, 8 mm, 10 mm and 12 mm—and provides 91 percent visible light transmittance. This ultra-clear glass is suitable for commercial interior and exterior, residential and specialty applications. When combined with DuPont Sentry Glas interlayer, Krystal Klear maximizes the benefit of this ultra-clear low-iron glass for long-term durability in structural glass applications, the supplier reports. Interior applications include entrances, walls and partitions, glass flooring and handrails. Find more information here.