Bird Glass Collisions
Making glass the solution, not the problem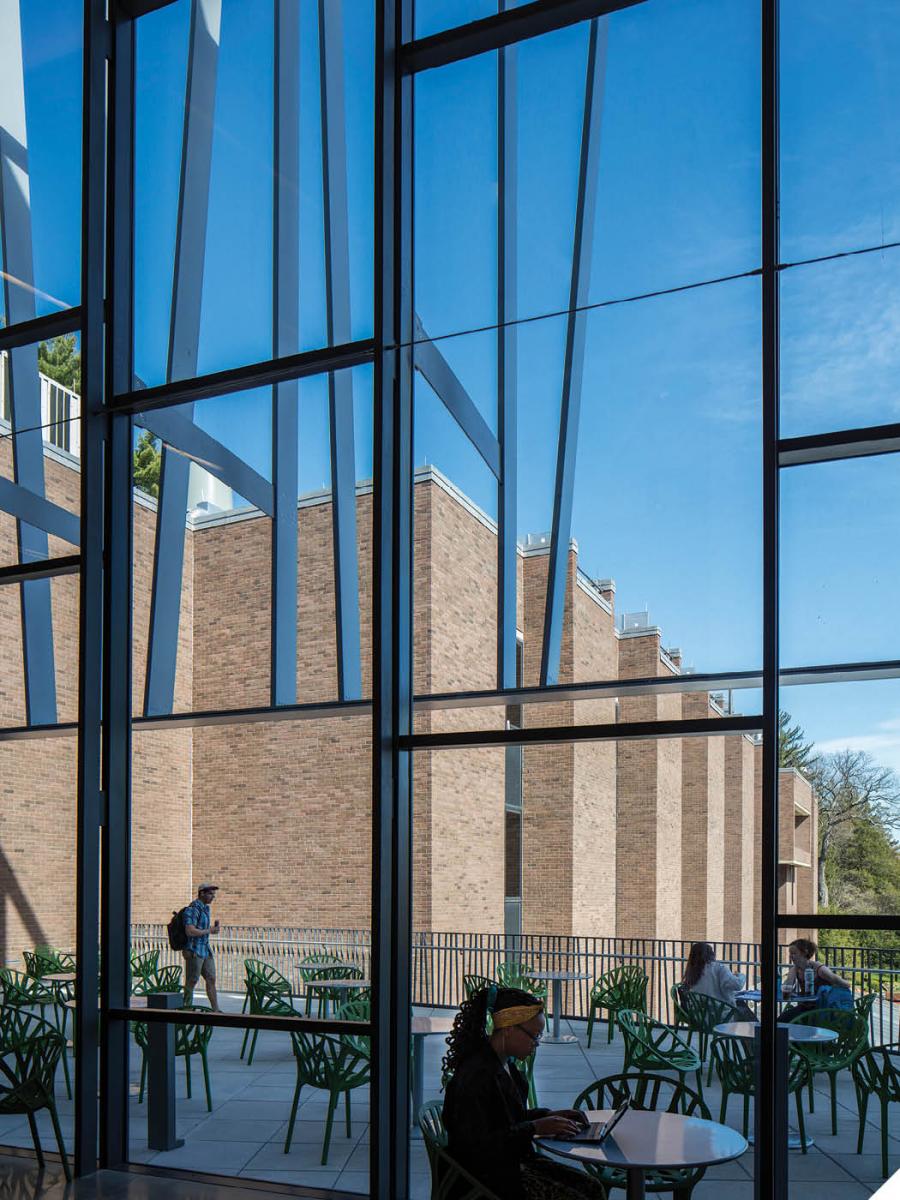 Bird-friendly glass clads the Integrated Science Commons at Vassar College in Poughkeepsie, New York. The project, designed by Ennead Architects, features Isolar Ornilux Bird Protection Glass from Arnold Glas. The glass features a patterned UV-reflective coating that is visible to birds while remaining virtually transparent to the human eye. This reduces the risks of bird collisions. According to Arnold Glas officials, even at the planning stage, the design specifications for the façade stipulated that the glass should be bird-friendly. Covering an area of about 13,000 square feet, the installation is one of the biggest areas of completely transparent bird protection glass to be installed in the United States to date. Photo courtesy of Arnold Glas.
Editor's Note: This article is based in part on a joint presentation by Krista De Groot, landbird biologist for the Canadian Wildlife Service, Environment and Climate Change Canada, and consultant David Bruce. De Groot and Bruce spoke at the 2018 Summer Conference for the Insulating Glass Manufacturers Alliance, held in Vancouver, Canada.
Glass is a leading cause of bird deaths in North America. Between 365 and 988 million birds are killed every year in the United States due to collisions with glass; in Canada, the estimate is 16 to 42 million, says Krista De Groot, landbird biologist for the Canadian Wildlife Service, Environment and Climate Change Canada. "The Deepwater Horizon oil spill was considered a disaster in terms of bird deaths. But the number of bird deaths each year, according to the lowest estimates in the U.S., equates to 455 Deepwater Horizon spills every year," says De Groot.
Bird/glass Collision FAQs

When do most collisions occur?
Birds are vulnerable to collisions with glass year-round. However, in most regions the number of fatalities is highest during bird migration periods, says Krista De Groot, landbird biologist for the Canadian Wildlife Service, Environment and Climate Change Canada.
Where do most collisions occur?
Major cities adjacent to large bodies of water, e.g., Toronto and Chicago, can be hot spots for bird-window collisions during bird migration. In addition, birds can be drawn off course by city lights during their nocturnal migration. At daybreak they need to seek food and shelter, surrounded by a sea of glass.
Buildings near green spaces with a high percentage of glass, adjacent trees and shrubs are also good places to focus collision prevention efforts, says De Groot. This includes institutional buildings, for example on college and university campuses, commercial buildings and homes. "There are more homes on the landscape than any other building type, therefore these structures are responsible for a significant percentage of bird-window collisions," says De Groot.
Is bird glass necessary on all stories of a building?
Collisions generally occur in the lower stories of a building. "Bird-friendly glass is typically specified on the first three floors/up to 60 feet on the building," says Sarah Wansack, Guardian Glass, marketing manager, interiors, North America. If a building is surrounding by taller trees, bird-glass protections should extend to the height of the trees.
Why aren't the signs of bird deaths more visible?
The signs of bird collisions can go largely unnoticed. Scavengers—whether cats, raccoons, rats, gulls or crows—can quickly carry off dead birds, says De Groot. Building maintenance crews also perform clean-up, often in the early morning, to remove dead and injured birds from building perimeters and sidewalks.
Since the 1970s, a large number of North American bird species have lost over 50 percent of their population. "Several widespread species have lost over 70 percent of their population," De Groot says. "Although it is difficult to quantify population change due to a single source of mortality, the cumulative effects of both habitat loss and other human-related sources of bird mortality is causing steep declines in many different species of birds," she adds.
Why does this matter? According to ornithological consultant David Bruce, birds are essential to the environment. They provide vital ecosystem services like pollinating wildflowers, dispersing seeds and helping to control pest populations. "Birds consume over 100,000 metric tons of insects daily including flies, mosquitos, and forest and agricultural pests," Bruce says, while larger birds like owls and falcons help reduce larger pests like voles, rats and pigeons.
Unlike many other leading causes for bird deaths, such as loss of habitat or the effects of climate change, bird/glass collisions are easily preventable, says De Groot. "The solution is simple: make glass visible to birds. This isn't climate change. This isn't complex. Implementing the solution isn't always easy, but we know what to do," she says.
Numerous glass manufacturers have added bird-friendly product options in recent years. And demand is growing, driven by new incentive programs and, in some jurisdictions, bird-friendly glass requirements. "The issue isn't going away. In fact, we see it gaining momentum, becoming mainstream," De Groot says. However, the work is just beginning.
While the solution to reducing glass-related bird deaths may be straightforward, it remains a niche market. It is a value-added product, and most owners won't make the investment until they are required to do so, according to one supplier. Additionally, "there is both a lack of education and availability," De Groot says. "The conservation and glass manufacturing communities need to work together to fix it."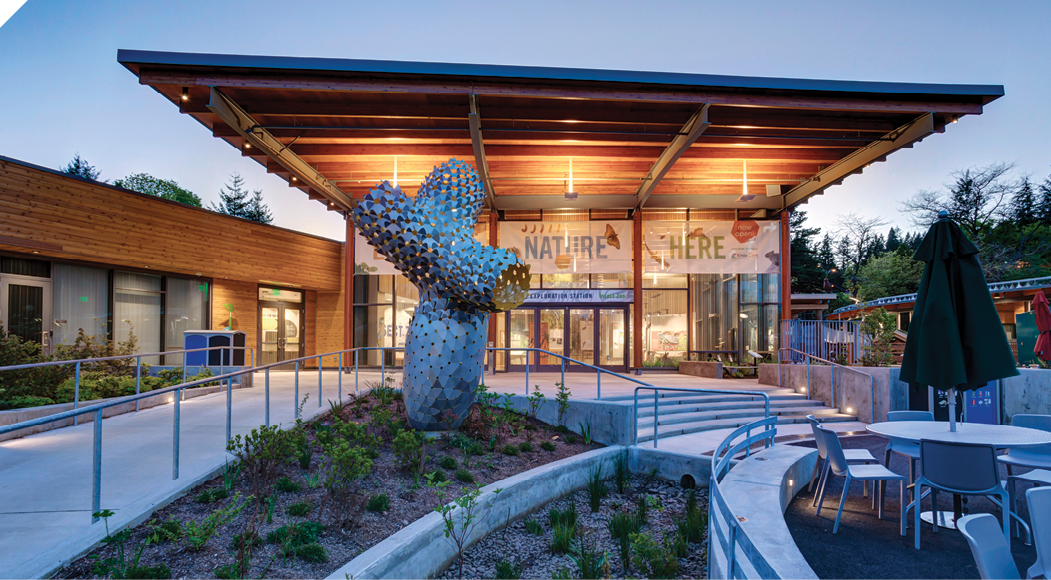 Opsis Architecture designed the Oregon Zoo Education Center with a primary goal of keeping birds safe. Architects closely observed and studied how birds see and fly, and identified the biggest hazards they face when flying near buildings. The design team specified Walker Textures, AviProtek E bird-friendly, acid-etched pattern on Solarban 70XL solar control low-emissivity glass by Vitro Glass for the building. Intended to be a hub of environmental learning and activity, the 20,000-square-foot facility, which opened in March 2017, features extensive use of bird-friendly floor-to-ceiling glass with an etched pattern of varying line widths and spacing. This visual marker enhances visibility and prevents bird collisions, while supporting the center's mission of education. The building is designed for net-zero annual energy use, aided by the high-performance glass, plus passive ventilation, solar panels, LED lighting and more. The project is designed to achieve Living Building Challenge Net-Zero Energy certification, along with LEED Platinum certification. Photo by Rick Keating.
Bird-friendly industry products
A two-fold problem
Glass presents a two-fold problem for birds: clarity and reflectivity. "Birds behave as if clear and reflective glass is invisible—[it] creates the illusion of clear passage," says Sarah Wansack, Guardian Glass, marketing manager, interiors, North America.
"Birds do not recognize reflective and transparent glass as a barrier, nor do they recognize architectural clues alerting to the presence of the glass," adds Brad Thurman, vice president, sales and marketing, for GGI.
Glass' transparency becomes a particular concern in walkways, greenhouses, bus shelters and glass railing systems. "The birds can see through the glass to the sky and vegetation on the other side," says De Groot. This phenomenon is not unique to birds. "I'm sure many of us have collided with glass doors or walls at some point," says De Groot. But the collision is much more harmful to birds than other species. "Birds are usually traveling at much higher speeds than most which makes the impact much deadlier," she says.
Glass' reflectivity, on the other hand, acts as a mirror of the area surrounding it, so birds may think that they are simply moving from one tree to another or flying into the continuing sky. "This is even more likely when a bird has been spooked or is being pursued by a predator," De Groot says.
A straightforward solution
The solution to bird/glass collisions is straightforward: make glass visible to birds. Applying visual markers to glass, be they simple patterns or intricate decorative designs, allows birds to see and avoid the glass. To be successful, however, the markers must meet certain contrast and spacing requirements.
To create enough contrast for a bird to be able to see the visual markers and thus avoid collisions, the deterrent markers should reside on the No. 1 surface. Many species of birds have low resolution frontal vision due to their laterally facing eyes. If the markers are not on the No. 1 surface, reflections on the glass can overwhelm the deterrent pattern at certain times of the day, De Groot says.
Spacing—the density of the deterrent pattern—is also vital. Birds can fly through small gaps at high speeds. (This is why even small windows present a hazard to birds.) Gaps in the visual markings on the glass should be no more than 2 inches horizontally and 4 inches vertically. This is referred to as the 2-by-4 rule.
"Research from the American Bird Conservancy shows that songbirds, the most numerous victims of collisions, will not fly into a space that is less than 2 inches by 4 inches," says Wansack. "Songbird body size averages 2 inches tall with a 4-inch wingspan, so if a pattern on the glass observes this guidance, birds will usually avoid this area."
One increasingly common option is glass with ultraviolet patterns. "Most birds see light in the ultraviolet spectrum," says Thurman. Glass with a UV-reflective coating "makes it visible to birds while remaining virtually transparent to the human eye," he says.
Another collision deterrent are glasses fabricated with more traditional decorative techniques, such as acid-etched or fritted glass.
"Bird-friendly glass can be an acid-etched or ceramic frit design applied to the glass surface that is visible to both humans and to birds," says Thurman.
For aftermarket options, there are a number of films, tapes and markers that can be added to glass that fulfill the 2-by-4 rule. Building owners can also consider adding grilles, screens or shades to the exterior of windows, says De Groot.
Left: Arnold Glas'Ornilux Mikado UV-patterned glass appears in high contrast to birds, but the pattern is invisible to the human eye in most conditions. Pictured, the Ornilux Mikado pattern is visible with the light at a certain angle.

Right: Acid-etched patterns on the No. 1 surface provide a decorative bird-safe glass solution. Pictured, the Walker Textures AviProtek E bird-friendly, acid-etched pattern on floor-to-ceiling Solarban 70XL solar control low-emissivity glass by Vitro Glass at the Oregon Zoo.
Requirements and incentives
Increasing research and development of bird-friendly glass and building product options can be attributed to three main drivers: municipal bird-friendly building development guidelines, green building program incentives and lawsuits targeting building owners with high bird collision rates, says De Groot.
A growing number of municipalities are adopting bird-safe regulations and guidelines, say suppliers. "We have been in the bird-friendly glass business from the start. I can tell you that we hear more and more about the need for it. Municipalities across North America are adopting guidelines to protect the bird population," says Danik Dancause, marketing operations manager, Walker Textures.
"There are many areas in North America that have adopted regulations, including Toronto, which was the first large city to create bird-friendly codes," adds Guardian's Wansack. There is a "broad sampling of different types of municipalities responding to this issue," she says.
Jurisdictions in California, Illinois, Maryland, Minnesota, Michigan, New York, Oregon and Washington have adopted some form of bird glass regulations, voluntary or required, says Charles Alexander, business development director, Walker Textures. In Canada, requirements are in effect in jurisdictions in Alberta, British Columbia and Ontario.
Of particular note, CSA, the Canadian Standards Association, is poised to publish a bird-friendly glass performance standard for new and existing buildings. The voluntary standard is expected to be approved and published in July 2019, says Alexander. In the United States, there is also a pending bill, The Federal Bird-Safe Buildings Act of 2017, that would require bird-safe glass for GSA projects.
However, several sources note that, while the publication of voluntary standards helps improve knowledge of the problem, the adoption will be limited to more environmentally focused owners and architectural firms until the standards are required.
In addition to the codes, green certification programs are also driving demand for bird-friendly design. For example, the U.S. Green Building Council's Leadership in Energy and Environmental Design program includes Pilot Credit 55 for the use of glass with bird-friendly patterns.
A third push for bird-safe building could come from the courts. Lawsuits over bird deaths are also becoming a greater concern, particularly in Canada. In one high-profile case, real estate developer the Menkes Group was charged under Ontario's Environmental Protection Act for bird deaths at its Consilium Place towers in Toronto. The suit alleged that light from the reflective surfaces of the towers caused death to birds. The group was acquitted, but Menkes Group still took steps to treat the glass.
In another case, several charges were brought against commercial real estate company Cadillac Fairview for bird deaths at the glass-clad Yonge Corporate Centre. Cadillac Fairview was charged under the Ontario EPA for emitting a reflected light "into the natural environment and that these emissions caused injury or damage, including death, to animal life," according to court documents. The firm was also charged with contravention of the federal Species at Risk Act, which prohibits killing of a threatened or endangered species.
The case against Cadillac Fairview could be precedent-setting, says De Groot. "The judge ruled that building owner had contravened both the Ontario EPA and the federal Species at Risk Act. But Cadillac Fairview began testing bird-friendly films on their building's most lethal facades prior to charges being laid, and the company's due diligence in preventing deaths resulted in acquittal," she says.
Looking ahead
The growing demand for bird-safe glass presents a key opportunity for glass suppliers—those that are already working in the market and those who aren't, says De Groot. "We need these products—a range of these products at different price points," she says. "We see this as an opportunity for [the glass] industry."