Building a Booth
Seven tips for trade show success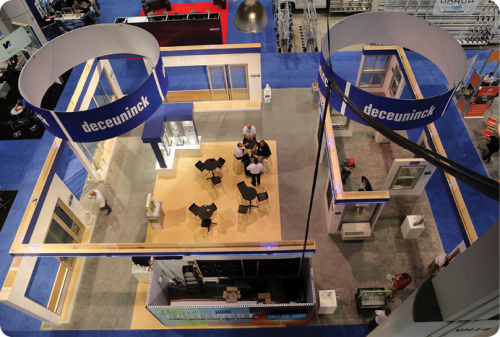 Deceuninck North America received the Best in Show award for Large Booth during 2016 GlassBuild America.
Photos by Robb Cohen Photography & Video
Trade shows offer a prime opportunity for companies to cultivate leads, interact with customers, build brand awareness, launch new products and gauge industry trends. To capitalize on trade show opportunities and to ensure trade show success, exhibitors should focus on developing a stand-out booth. "Your booth defines your show experience. It is the reason you're there," says Max Perilstein, owner of Sole Source Consultants, a marketing and communications strategy consulting firm for the building products industry. "When exhibitors put little effort into their booth, they usually end up having a bad or unproductive time at the show. You just have to make attendees feel comfortable enough stepping onto that different-colored carpet, and it's pretty simple from there." Glass Magazine asked recent winners of GlassBuild America's Best in Show exhibitor recognition program to offer tips on how to best design a booth and create a memorable experience for visitors.
Narrow the focus
Several Best in Show winners recommend that exhibitors choose one product that will wow attendees and focus their booth design around that product. All pre-show promotions should highlight that one product.
"We determine what core product/service we want to showcase and make it central to the booth experience," says Jeff Jones, public relations manager for Elias/Savion Advertising, representing Deceuninck North America, the 2016 Large Booth Best in Show winner.
While booth design and promotion should emphasize a single product, a more comprehensive product line can be displayed inside the booth, exhibitors say.
"We focus on displaying one thing, knowing we can share more once people approach the booth," says Rina Chakour, vice president of marketing and business development, Phoenicia Flat Glass Industries, winner of the 2017 Best in Show First Time Exhibitor award. "Put the best product in the front to create demand for other products."
Work with organizers
A good booth starts with talking to the show's contractor and staff, Best in Show exhibitors say. Before arriving at the show, exhibitors should submit a booth layout to show organizers. The organizer will be able to work out any questions or concerns the exhibitor may have about booth layout, placement and size, or any accommodations that need to be made.
Prior to the event, show organizers can assist with questions big and small. Where should an exhibitor place their banner so that it can be seen from furthest away? How can a small booth exhibitor stand out against competitors with much larger booths? What is the most effective layout for a particular product? Contractors and staff know the ins and outs of the show, the floor and the convention center. They can provide valuable insights about the show that exhibitors and attendees may have never considered.
Once at the show, exhibitors should take advantage of onsite services available from the show contractor and organizer. This is particularly true when things don't go as planned, exhibitors say. For example, in 2017 several of the exhibitors at GlassBuild America reported they were delayed because of Hurricane Irma, and accommodations regarding their arrival and booth setup had to be made. "We had to adapt," says Chakour. "A few members of our staff weren't able to come at the last minute because of the hurricane. We had to let go, and let [the show organizers] help. For every challenge we faced we received help or found a solution."
Research the show
Prior to the event, exhibitors should familiarize themselves with the floor layout, the company's booth location, event schedule and more.
"I would recommend reading all the exhibitor information provided to you by the show. Make sure you have a booth layout made well in advance and submit it to the show management, so they can work with you," says Jessica Metz, marketing manager, Erdman Automation, the 2016 winner for Best Machinery Booth.
Some Best in Show exhibitors recommend starting this research a year in advance.
"If possible, walk the show the year before to get a feel for who is attending, layout and companies you want to be near. Note what works in the booths and incorporate the ideas into your booth design. Look at the floor plan online, think about traffic flow for the show and which direction people will be seeing the booth from," says Deceuninck's Jones.
Once on the floor, exhibitors should be aware of the show's schedule. Foot traffic may be light because a certain event is happening, or a rush may be coming because lunch just ended, exhibitors say. The more familiar with the show's schedule an exhibitor can be, the easier it is to work within the flow of the event.
Design with intent
Booth design presents the opportunity for exhibitors to show who they are—to display their company and their products in a way that is tangible to potential customers. Exhibitors should determine the message they want to bring to customers and design the booth around best expressing that message.
The first priority of booth design should be brand recognition. Exhibitors should ensure branding is clear, concise and consistent. A booth visitor should immediately know which booth they are stepping into. "We look to create an inviting showplace that draws participants in while at the same time surrounding them with everything Lisec," says Bob Quast, president, CEO and CFO, Lisec America Inc., the 2017 winner for Best Machinery Booth.
The exhibitor should then consider product promotion. If a product is a company's centerpiece for the show, it should be displayed it its best light, exhibitors say. "Guardian Glass believes the best way to view a product is in application," says Andy Russo, director of marketing, Americas, Guardian Glass. Guardian received the award for Best Large Booth in 2017. "Glass is a unique product to showcase. Reflection, scale, fabrication and, most importantly, lighting factor into the product experience."
A shower stall can be set up to display a shower door, or machinery can be set up to do a demonstration. If the products can't be displayed on site, exhibitors should use high-resolution, eye-catching graphics, and think outside the box, exhibitors say. "Be unique. Appeal to the senses. Give your audience something to touch or experience," says Corey Faciane, product manager, perimeter systems division, Southern Aluminum Finishing Co. SAF received the Best Small Booth award in 2016.
Booth products should never just be flopped on a table, says Max Perilstein. Exhibitors should instead use tables for print materials like brochures and other lead retrieval devices. Additionally, companies should refrain from displaying too many products or informational materials, as it can take away from the booth's focus and create a cluttered look. "We don't let typical exhibitor display items distract from our machines. They speak for themselves," says Erdman's Metz.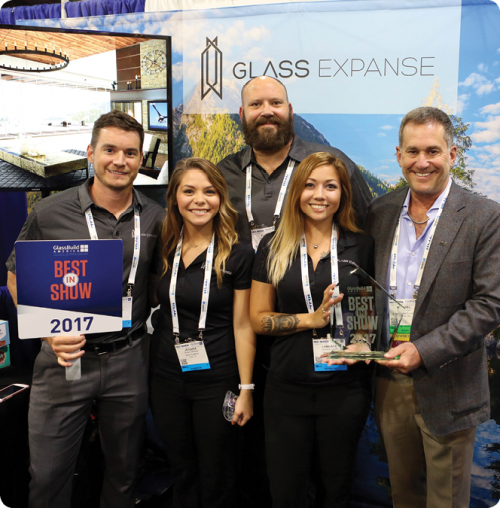 Employees for Glass Expanse display their Best in Show award at 2017 GlassBuild America.
Staff your booth with purpose
A booth could look perfect, but it won't matter if the employees staffing the booth aren't positive and friendly, or are inattentive.
"Trade shows are more about building relationships than being a smooth salesman. Getting attendees to your booth is less about design and more about people. A person needs to catch your eye. Make small talk with potential customers, not about the product, but about life, how their show experience is going," says Adam Conley, president and CEO, Glass Expanse, winner of the Best Small Booth category in 2017.
Additionally, exhibitors should ensure there are always enough people in the booth to give attendees and potential customers the best service possible. "Traffic comes in phases, so even when the show seems to be emptying out around certain events, make sure you always have people in your booth. A few key leads may trickle in when it seems there's no one around," says SAF's Faciane.
Create customer relationships
Below: Guardian Glass offered on-the-spot expert consultations at its Glass Solutions Hub during 2017 GlassBuild America.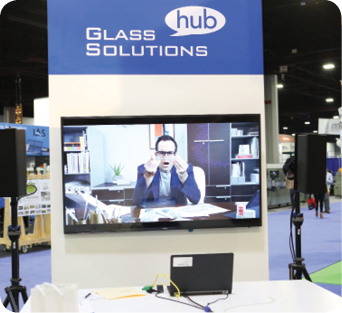 When trying to create leads, exhibitors should strive for quality over quantity. Hundreds of people may pass through a booth, but if none become customers, then nothing of worth came of the exhibitor's efforts, exhibitors say. Quality drives profits, not quantity. "We'd rather leave the show with having only had 20 visitors, and 12 are solid leads, than have 200 hundred visitors who all mean nothing," says Faciane.
A booth should not only draw attendees in, but also keep them interested. Along with all the eye-catching products and branding, exhibitors should create a sit-down area with things like coffee machines and phone-charging stations to give attendees a place to rest their feet and learn about the exhibitor while they're there.
"The goal for the Guardian Glass team at every trade show is, first and foremost, to enable conversations in the booth that bring value to our customers and visitors new to Guardian Glass," says Russo. "We design with various visitors in mind. From decades-long relationships to brand-new connections, we work to create a welcoming and informative space.
Follow up
After the show, exhibitors should make sure to follow-up with leads. Without prompt follow up, exhibitors will probably lose the interest of potential customers after the excitement of the show has come and gone.
"An essential component of the plan, but one that is easy to neglect because it's not part of the at-the-show experience, is follow-up with booth visitors. This is the reason you're at the show," says Russo "Don't lose the momentum by waiting too long, or worse, not communicating at all, with your customers."
Gear Up for GlassBuild
2018 promises to be another exciting year for the glass and glazing industry, and this year's GlassBuild America: The Glass, Window & Door Expo, set for Las Vegas, Sept. 12-14, will enhance the exhibitor and attendee experience to capitalize on industry success. GlassBuild America show organizers offer opportunities to promote exhibiting companies and products in advance of the show. Visit GlassBuildAmerica.com or GlassMagazine.com/March2018 to find out how.
Additionally, to support a successful show for everyone, show organizers provide:
Display Guidelines, which are detailed in the GlassBuild America Booth Application.
Exhibitor Show Rules and Regulations, specific to the trade show facility and detailed for each exhibitor.
First-time Exhibitor Guide, which offers a specialized summary of general trade show information and specific GlassBuild America information.
Machinery Supplement, which targets valuable information for exhibitors displaying machinery and equipment.
New for 2018: Improved Exhibitor Console and enhanced promotional tools.
New for 2018: Additional exhibit hours on the first day for a welcome event on the trade show floor.
Find this information and more, including how to register as an exhibitor or attendee, at Glass
BuildAmerica.com.