Can't-Miss Equipment Innovations
Factory advancements address challenges with labor, production costs, more stringent energy codes and more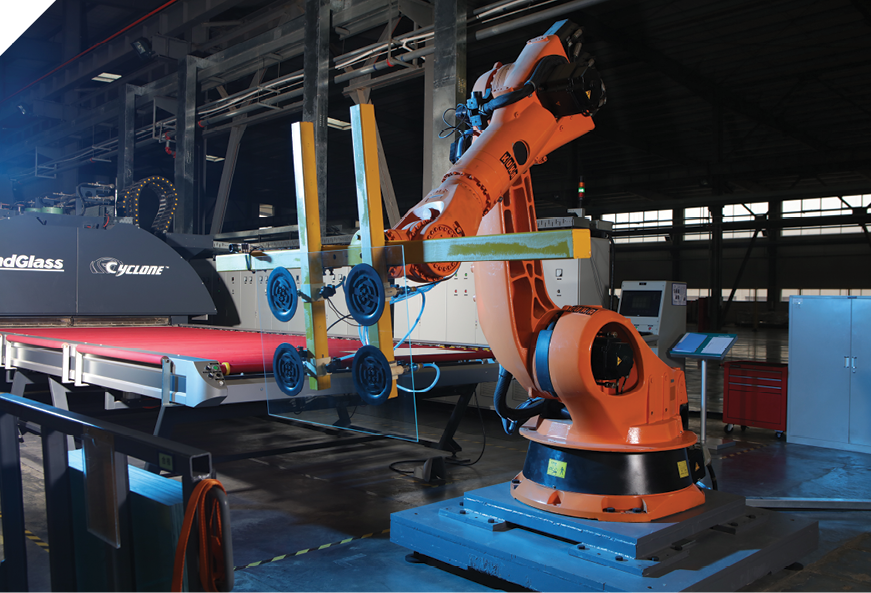 Above: Lights-out, complete automation is now possible for glass fabricators. Articulating robots, such as the loading/unloading system on the pictured LandGlass Cyclone tempering oven, are key to this automated future. Below: Vacuum insulated glass has arrived. VIGs, such as the LandVac from LandGlass, landglass.net, can be fabricated into a hybrid insulating glass unit on a fabricator's existing IG line. Photos courtesy of IGE Glass Technologies.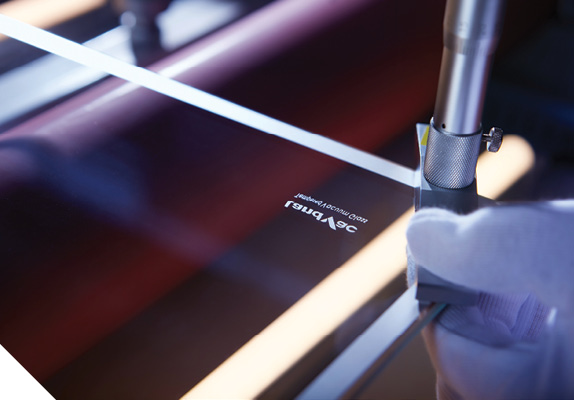 1 - Lights-Out Automation
Today, and for the foreseeable future, finding people will be the biggest problem facing our industry. The solution is automation—and not just a robot here and there, but total, lights-out automation. Automation solutions are available in everything from storage to cutting and breaking to pre-processing and tempering/laminated processing.
With total automation will also come software that maximizes and optimizes production, greatly reduces labor, handling and waste due to remakes among many other things, while increasing production and profits.
2 - Advanced Digital Printing in All Segments
When digital printing first entered North America, the majority of the market saw its advantages in the decorative glass segment. Now, with advancements in digital printing technologies, huge market opportunities are also opening up in the OEM and automotive segments. Colors, such as Ferrari red and Ferrari yellow, that were once considered impossible are now available, along with the highest resolution of 1440 DPI.
Digital printing will begin to replace silk-screen technology in the OEM, commercial/architectural and automotive markets. Moving away from silk screens means a reduction in manpower, and the elimination of costly screens and expensive screen storage space.
This technology promises to be a value-added product in the market.
3 - Closed-Loop Water Filtration
Water filtration is the biggest monkey on the back of every glass fabricator. The water after grinding glass contains very abrasive glass grinds or swarf that cause parts wear—diamond tool wear and general wear and tear of the overall equipment. Additionally, water is expensive and dropping down the sewer is expensive.
Closed-loop water filtration is green for the environment and green in the pocket. The automated systems feature no moving parts and don't require nasty flocculants. The systems also require only minimal weekly attention (measured in minutes) and are very inexpensive to maintain. The closed-loop system may keep a single charged and filled water tank for years without changing, saving users from water and sewage costs, and reducing labor requirements.
4 - VIG Filtration
Increasingly stringent building codes are driving the market for vacuum insulated glass, or VIG, in North America. Buildings are responsible for an estimated 40 percent of the world's carbon emissions, and an estimated $50 billion of energy is lost through windows each year. VIG can offer an answer, providing comfort, energy savings and incredible reduction in carbon emissions.
VIG units are hermetically sealed with all the air evacuated from the unit, thus, no molecular structure for transport of heat or cold. The VIG units have a metal (non-lead) seal along with tiny pillars to keep the glass separated. The units have an overall thickness between 6.7 and 12.3 millimeters.
Fabricators can incorporate VIG tempered glass units into a hybrid insulating glass system, using the inside glass panel as a VIG with the outside panel in any type of coated glass desired and produced on an insulating glass line. The market now has the ability to purchase windows and refrigerator doors with a 15.4 R-value as a stand-alone for residential and commercial refrigeration. For architectural curtain wall, we see an R18 center of glass and R10 overall skin.