A Change of Plan
Glaziers' roadmap to successful substitution requests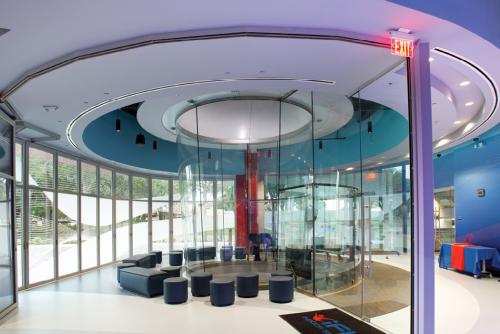 C.R. Laurence Co. coordinated with Stantec on the specification and subsequent substitutions for the glass and glazing system at iFLY Orlando Indoor Skydiving Facility. The project features a full-height glass partition comprised of CRL Cascade Series Glass Wall Office System that allows the interior space to be isolated from the exterior when the adjacent folding glass wall is opened. Photo by Tom Hurst Photography, courtesy of Stantec.
When reviewing a substitution request, architects typically ask:
Does the product manufacturer have a good reputation?
Does the product comply with contract documents?
Will there be any issues with schedule or installation?
Are the warranty and service comparable?
Does it meet sustainability objectives and codes?
Is the product compatible with other trades?
Architects regularly look for ways to reduce lead times and costs, while improving performance and aesthetics. To help architects meet these goals, contract glaziers can look to substitution requests—proposed changes in products, equipment or methods of construction from those that are specified by the architect.
Substitution requests are prevalent in construction projects of all scales, and they can offer benefits to glazing contractors. With every successful substitution request, a glazing contractor builds a stronger reputation because they've shown they can add value to projects. As a result, they have the opportunity to establish favorable relationships and increase the likelihood of repeat business. However, there is a right way and a wrong way to submit substitution requests.
The basics
A firm understanding of the procedures involved in substitution requests can increase the likelihood of the product being accepted. Glaziers should be aware of timing demands, substitution requirements and collaboration recommendations.
The most opportune time in the project lifecycle to submit a substitution request is during the bid phase when the general contractor is seeking out a glazing contractor. This creates a level playing field amongst bidders. It's possible to submit a substitution request during construction, but the process can be more complicated and should only be pursued when certain issues arise, such as unavailability of materials, excessive lead times or a change in code requirements.
There are several scenarios where substitutions are practical and feasible, such as lower cost, higher quality or better warranty. The substitution should add value and present clear advantages to the architect, and ultimately, the owner. It must also be equal or superior to the specified product and cannot adversely impact the project cost or schedule.
When submitting a substitution request, glazing contractors and product manufacturers should work directly with the bidding general contractor. Not doing so can be detrimental to the team dynamic and slow the project's progress. Although contacting the architect is possible, glazing contractors or product manufacturers risk immediate rejection. They also risk building a negative reputation for not following established protocol, which can cost them future work.
Submitting a substitution request
The best way to submit a substitution request is by reviewing the contract document and following the procedures set forth in Section 01 25 00 of Division 01. This includes filling out a Substitution Request Form, such as CSI Form 1.5C. If the general contractor does not readily provide the contract document at bid time, be sure to request it.
Substitution request procedures vary from project to project, especially during the construction phase. Some don't allow substitutions altogether. It's critical to read the procedures in Section 01 25 00 carefully to avoid incomplete or inapplicable submissions.
These are some of the most common substitution request deliverables:
The Substitution Request Form.
A detailed comparison between the substitution and the specified product that clearly outlines advantages in performance, quality, aesthetics, sustainability, installation, lead time, etc.
Product data including manufacturer name, test reports, drawings, and fabrication and installation procedures. This information should clearly show that the substitution meets specs. The test reports must verify that the product complies with local codes. In some jurisdictions, it may be beneficial to review substitutions with the Authority Having Jurisdiction.
A list of contract document revisions needed to accommodate the proposed substitution. Note, the fewer revisions needed the better.
A list of completed projects where the substitution was used. Projects should be similar to the one in question.
Warranty and service information from the manufacturer. Must be equal to current specification.
A substitution request is an involved process, which is why it becomes necessary to seek the assistance of a product manufacturer representative. An experienced representative will quickly respond to questions and can supply all the documentation needed for the substitution request. This includes test reports, drawings, fabrication and installation details, performance data, LEED Statements, costs and lead times.
The architect's perspective
The purpose of a substitution request is to convince the project architect or architects to accept a different product. In order to do so, the contract glazier or product supplier must understand what the architect is looking for.
According to architects, the top priority is clarity. Substitution requests should be thorough, concise, accurate and clear. They should explain exactly how the product meets specs and provide supporting documentation. If the architect does not have enough information to evaluate the substitution, or if the information is poorly organized, the request will be rejected.
"Making the comparison of products as easy and straightforward as possible for the architect increases your chances of approval," says Brian McClure, associate at Stantec. "The information provided should be complete and presented in an orderly fashion. Avoid conflicting test data because it makes it more difficult to determine equivalency between products."
Glaziers should also become familiar with the most common questions from architects regarding substitution requests. (See sidebar at right.) Affectively addressing the questions an architect asks will help a glazing contractor put together an effective substitution request. Remember that the less time consuming it is to review, the more likely it will be approved.
Architects also face a limited timeframe to review substitutions. That's why it shouldn't be left up to the architect to research the product. The burden of proof lies with the submitter, and they must ensure that their submittal is clear and concise to give architects enough time to make informed decisions.
"We don't have much time to review substitution requests because of demanding schedules," says Cherise Lakeside, specification writer, LSW Architects, and co-founder of letsfixconstruction.com. "If you submit a side-by-side comparison of the products with your request, it will save us valuable time and significantly increase your chances of getting the approval."
Additionally, glaziers should be aware that substitution requests often translate to additional services and billable hours on behalf of the architect. Because of this and strict schedules, it isn't possible for the architect to research every substitution to determine if it can be used in the project.