Co-Op City undergoes 130,000 window replacements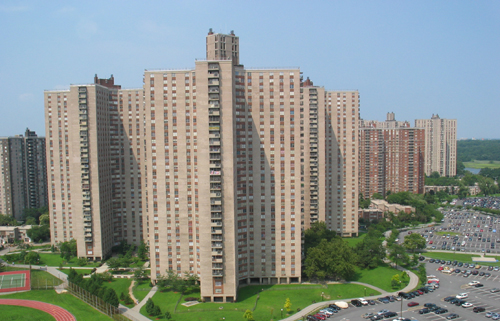 The basics: Installation crews are nearing completion on a multi-year project at Co-Op City in the Bronx, N.Y., to replace about 130,000 windows. The $60 million project, which started in 2007 and is scheduled for completion in 2012, is taking place while residents continue to occupy the 35 high-rise buildings that make up Co-Op City. During the project, the old fenestration systems are being replaced with highly energy efficient heavy-commercial aluminum windows, sliding glass and swing terrace doors. Co-Op City was built in the late 1960s, and has more than 15,000 apartments and 50,000 residents.
The players: Property manager, RiverBay Corp., www.riverbaycorp.com; architect, Ivan Brice Architects, www.ivanbrice.com; window installation, Tindel Windows; window manufacturer, Northern Building Products, www.northernbuildingproducts.com.
The glass and systems: Model 5000 aluminum double-hung tilt windows, Model 3050 aluminum picture windows, Model 7000 aluminum terrace out-swing doors, and Model 2001 aluminum sliding glass doors. The heavy-commercial rated products feature 1-inch insulating glass units, superior hardware, and narrow sight lines to complement the contemporary look of the buildings, according to a Tindel release.