Commercial Fenestration Continues Growth Trajectory
Vision area on the rise along with use of insulating and low-emissivity glass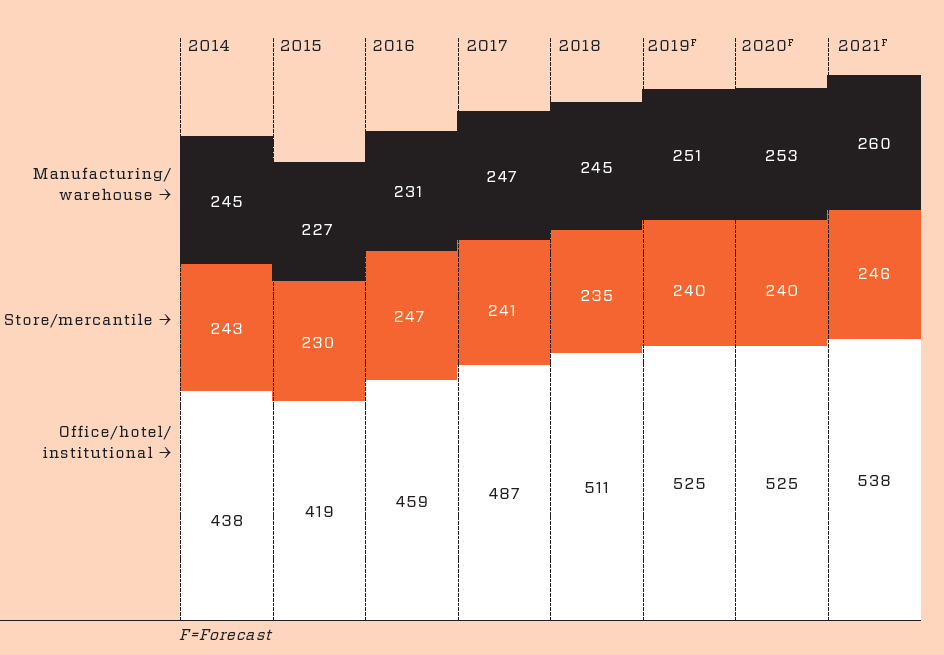 Nonresidential contract awards in millions of square feet of floor area
Nonresidential construction has grown steadily since emerging from the depths of the Great Recession in 2011. Contract awards for nonresidential floor area have been increasing annually. The trend continued in 2018 with contracts rising 4 percent in 2018 to a total of 991 million square feet, driven by growth in office, hotel and institutional building, according to the AAMA 2018/2019 U.S. Industry Statistical Review and Forecast.
Contract awards are expected to continue to grow in 2019 by 2.5 percent to 1,016 million square feet, nearly half of which is attributable to the Southern region of the United States, according to the report. Nonresidential contract awards are expected to level off slightly in 2020, before reaching a total of 1,043 million square feet in 2021. Again, with nearly 52 percent of the market, the focus is expected to remain on the office, hotel and institutional segment.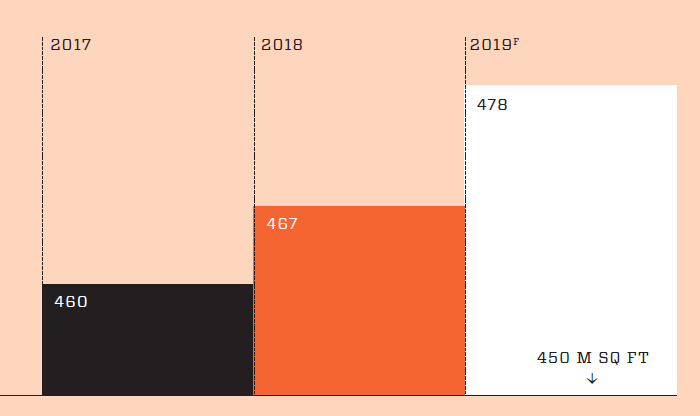 Nonresidential vision area in new construction and renovation in millions of square feet
Vision area
Based on average ratios, the vision area—separate from opaque wall area and other cladding—can be derived from total wall area. Per the AAMA 2018/2019 U.S. Industry Statistical Review and Forecast, the total nonresidential vision area in new construction and major additions was 306 million square feet for 2017. When renovation applications are included, the overall nonresidential vision area totaled 460 million square feet of vision area in 2017 and 467 million in 2018, with a forecast 478 million for 2019.
Looking at product types, of the projected 2019 total, approximately 22.6 percent is anticipated to be in the form of curtain wall installations, while 27.8 percent is attributable to storefront systems. The remainder is expected to be composed of individual commercial window units.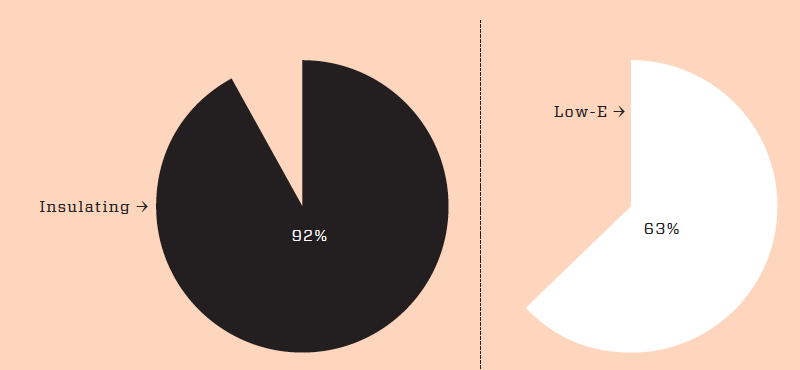 Adoption of insulating and low-emissivity glassPercent of market penetration
Glass types
Insulating glass continues to reign supreme in nonresidential fenestration in the United States and is approaching saturation at 92 percent. Exceptions to this are in far Southern and Southwestern states. While use of triple glazing is growing, it remains only a small single-digit share of the market, and while warm-edge spacers are well established in the residential market, the nonresidential market utilizes primarily aluminum spacers.
Most nonresidential fenestration systems are field glazed, with the exception of shop-fabricated windows and some unitized curtain wall. Low-emissivity glass continues to penetrate the market, representing 63 percent of the nonresidential glass with the highest market share in the shop-fabricated segment.
In 2017, the total market for hurricane impact glazing in nonresidential applications was estimated at 24.3 million square feet, with Florida comprising 91 percent of the demand.