Cost and Schedule Top Glazing Concerns
Vitro surveys architects and general contractors about glazing contractor performance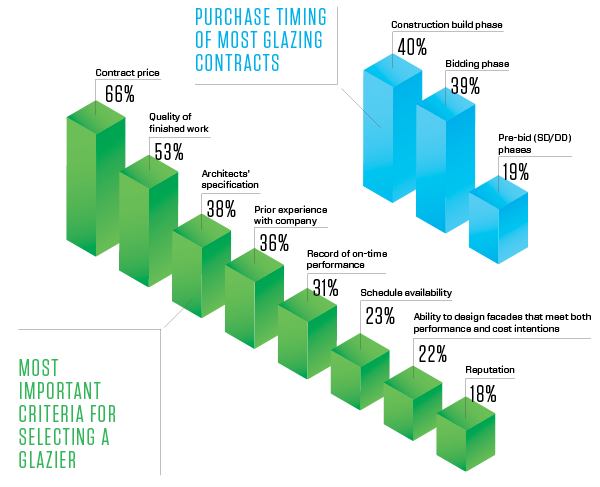 Source: Vitro Architectural Glass, General Contractor Research on Glazing Industry, March 2019. Click on images for larger view.
How can glaziers ensure project success? Stick to the schedule and watch the costs, according to a recent survey of nearly 150 decisionmakers from general contractors and construction management and design firms, published by Vitro Architectural Glass. Vitro officials say they organized the study to better understand purchasing criteria, expectations and improvement areas relative to glazing contractors, glass fabricators and glass manufacturers.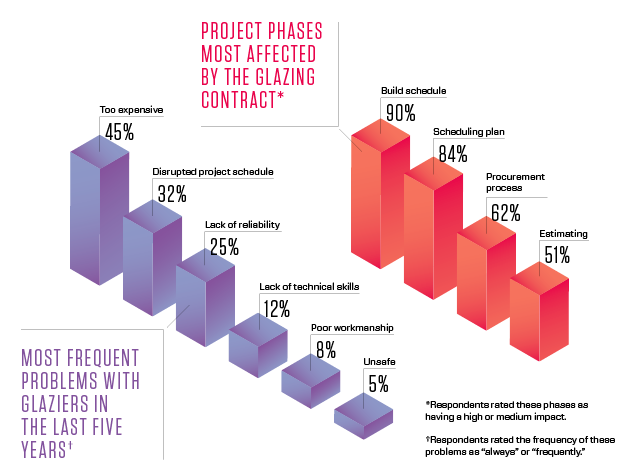 Schedule
Glazing contracts have a major impact on the success of a project, particularly when it comes to scheduling, according to respondents. An impressive 90 percent said the glazing contract has a high/medium impact on the build schedule, and 84 percent on scheduling plan. Meanwhile, "disrupted project schedule" was cited as the second-highest frequent glazier problem, according to architects and GCs.
"The project can't move to interior trades until glass and panels go on. … It is a critical inflection point of the project. Not many other trades will be in this category—maybe the roofing," says Pat Kenny, vice president of marketing for Vitro.
However, sticking to a schedule can be a challenge for glazing firms, due to late purchasing. Forty percent of respondents said glazing contracts are generally purchased during the construction build phase and another 39 percent said during the bidding phase. With most purchases occurring in later stages of the process, traditional glazing pre-jobsite activities such as shop drawings and material purchases are likely to be compressed, according to the survey.
"In the construction phase, building has already started. Even so, 40 percent are still buying façade. This puts a lot of pressure on the supply," says Kenny.
Costs
While scheduling proves essential once a project starts, price is the top differentiator among glaziers during the bid process, according to the survey. About two-thirds of respondents cited contract price as key criteria for selecting glazing, followed by quality of finished work at 53 percent. Similarly, when asked about the most frequent problems in the last five years with glaziers, "too expensive" topped the list at 45 percent.
While price may be a differentiator in selecting a glazier, quality is necessary to keep costs down during the process, says Kenny. "Anytime the quality isn't there, when there is any type of issue, everybody's margins start to go down," he says. "It is very expensive to retrofit and rework."