Curtain Walls of Steel
Protective features to consider when working with steel frames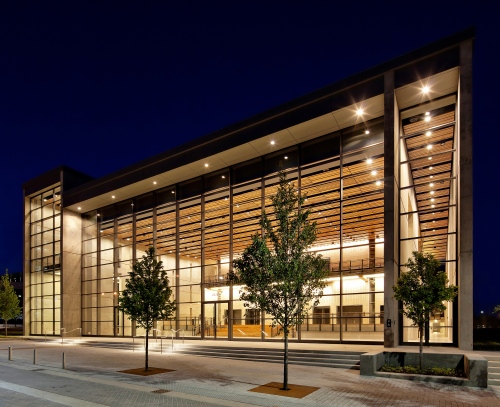 With proper preparation and installation, steel curtain-wall systems such as that on the Dallas City Performance Hall can provide enduring beauty. Photo by Technical Glass Products.
Due to its strength, steel is able to support larger free spans of glazing than traditional aluminum assemblies. But for years, corrosion concerns prevented architects and design professionals from utilizing its strength in curtain-wall systems. Steel rusts in the presence of moisture and oxygen, which is a seemingly irreconcilable problem since many curtain walls serve as the divider between exterior and interior spaces.

Thanks to manufacturing and fabrication advances, steel frames can now complement stunning expanses of glass for years to come, without corrosion. Quality steel framing systems have passed tests for dynamic water penetration (AAMA 501.1) and static water penetration (ASTM E331), as well as for air performance (ASTM E283) and structural performance (ASTM E330).

Since steel frame developments are relatively recent to markets in North America, glaziers, installers and other industry professionals might have questions about how steel can be protected against moisture, rust and wear. This article provides answers to five frequently asked questions to help guide industry professionals on this topic. The information is meant as a starting point since specific questions regarding a given product's makeup, performance and installation should be directed to the manufacturer or supplier.
Powder Coating a Smooth Operation
Properly trained powder coating crews can reduce coating errors, improve quality and streamline delivery. One of the most important parts of the powder coating process is the initial frame preparation. Soils and surface imperfections impact the powder coat's ability to adhere to the metal. As such, it is important to properly prepare and seal the substrate.

Fabricators can prepare the substrate manually or with automated cleaning systems. The manual process requires hand wiping the metal with a solvent, sandblasting and then hand sanding the surface. Although that is effective, automated cleaning systems provide many benefits for fabricators and suppliers. These include reducing heavy lifting, minimizing damage during natural handling, eliminating air-born contaminates and improving coating adhesion.
After the steel has been thoroughly cleaned and sealed, it can be powder coated. A best practice is to apply the powder in a controlled environment to prevent air born contaminants. A single coat of powder is sufficient for many applications. However, for frames exposed to extreme weather or located in high traffic areas, a prime coat can enhance durability.

The final step in the powder coating process is to thermally cure the frames and components. This typically takes less than 30 minutes in a furnace set to 400 degrees Fahrenheit. While liquid-applied paint can take up to 30 days to achieve a full cure, powder coatings are fully cured upon removal from the furnace. Compared to wet coating, this improves operating efficiency, expedites the assembly process and allows fabricators to improve project lead times.
From left to right: Steel frames exit the furnace after being cured in Technical Glass Products' new powder coating facility.

Powder coatings are available in a wide array of color options.

A custom powder coating facility at Technical Glass Products streamlines operations and improves frame fabrication efficiencies.
How do Steel Curtain-wall Systems Protect Against Moisture Intrusion?
Curtain-wall systems must protect against dynamic and static water penetration, regardless of the material. Advanced steel curtain-wall systems are available with a continuous gasket across the full width of the steel frame. This gasketing prevents water in the glazing cavity from coming into direct contact with the steel back members. It also keeps water off the tops of insulated glass units and directs it to the verticals. As such, glaziers and installers do not need to zone dam each glazed lite to help manage water flow within the curtain-wall system. Steel curtain walls with gasketing and no zone damming scheme still provide a water penetration resistance of 15-20 psf.

Basic steel system components for a 'plug-and-screw' connection of framing components utilize a shear block-type assembly. They allow the framing joints to be watertight and readily assembled without welding. The installer must seal the lapped gasket joints at the horizontal-to-vertical connections to prevent water intrusion to the steel back members and interior occupied spaces.
How are Steel Curtain-wall Systems Protected Against Corrosion?
Steel frames are unique in that they do not require cladding or reinforcement to support expansive captured and non-captured curtain-wall systems; when properly sized, the primary frame members can act as structural elements. They typically can be finished, thereby serving as the finished, exposed material. To help protect against rust and preserve the steel's appearance, double-sided pregalvanization can be applied to the raw material (prior to forming and finishing).

For instance, steel framing can be prefinished and top-coated with a factory-applied curable primer and finish color to match virtually any design scheme. No special coatings beyond these are required to prevent corrosion. For high-end storefronts or applications in coastal areas, the exterior caps or interior back mullions can be made from stainless steel. Depending on the material thickness, stainless steel finishes can be brushed or bead-blasted.

Generally, galvanic action in steel curtain-wall assemblies requires steel and aluminum components (or two other dissimilar metals) to be in direct contact with each other. The configuration of advanced steel curtain-wall systems can help prevent such contact. Stainless steel screws indirectly connect the aluminum pressure plates to steel back members. Since stainless steel and aluminum have similar anodic polarity, this reduces the potential for corrosion to occur. Steel curtain-wall manufacturers and suppliers can help prevent galvanic action from
occurring by furnishing stainless steel pressure plates.
How do Finishes Perform on Steel?
After stainless or carbon steel framing components are fabricated and before they are installed, manufacturers can powder- or wet-coat steel systems using any coating suitable for Architecturally Exposed Structural Steel.

While liquid-applied paints common to aluminum are readily understood by fabricators and glaziers, they can release from steel over an extended period of time, even with a primer. By comparison, powder coatings typically remain tight with adhesion. The coating chemically reacts in the presence of heat to produce long, densely cross-linked molecular chains that resist breakdown. The result is a finish that better protects against human and object impact, moisture, chemicals, UV light and extreme weather conditions (see sidebar, "Powder Coating a Smooth Operation"). As with any finish material, significant surface abuse will affect its appearance.

The following tips can help glaziers, installers and other parties involved in the frame selection process ensure a quality steel frame finish: verify the use of a protective primer for applications subject to harsh weather conditions and in areas with high occupant traffic levels; use frames with finishes designated for interior applications in interior applications only; they do not provide adequate UV resistance for exterior applications; and use factory painted frames, which help protect the steel during transportation and installation.
Are Fire-rated Steel Curtain Walls Available?
Fire-rated steel curtain-wall frames are currently available with one- and two-hour ratings. They can provide fire protection (against the transfer of flames and smoke) or fire resistance (against flames, smoke, and heat transfer). Manufacturers can apply thermal insulation and isolation concepts to steel frames that earn the fireresistive classification.

While modern fire-rated steel curtain walls are available in slender profiles and various custom shapes, the details shown within manufacturer literature often indicate the extent of the design selection. If a custom solution is necessary, it is important to discuss possible approaches with the manufacturer, as additional assembly testing may often be required. Testing ensures frames and all components provide the same level of fire protection.
What Type of Maintenance do Steel Frames Require?
A thorough annual cleaning of finished steel frames can help ensure a high-quality, long-lasting finish. Steel frames in environments with high pollutants require more frequent cleaning. Best practices for cleaning and maintaining finished steel surfaces include: undertaking work when temperatures are below 77 degrees Fahrenheit; using clean water with small amounts of neutral or slightly alkaline detergents; using a soft, non-abrasive cloth; and testing any cleaning solution for a reaction on a small, hidden area.

Greasy, oily or sooty substances can be removed with the help of naphtha hydrocarbons free of aromatic compounds. For more information, refer to AAMA 609 and 610, "Cleaning and Maintenance Guide for Architecturally Finished Aluminum"; AISC's "Cleaning and Descaling Stainless Steels"; and GANA's "Proper Procedures for Cleaning Architectural Glass Products."
Investigate Before You Install
Since each steel curtain-wall framing installation is subject to different environmental conditions, mullion spacing, design wind load and glass size requirements, it is important to review architectural drawings, specifications, approved shop drawings and manuals well in advance of pricing and installation.

It is also important to consult and understand the manufacturer or supplier's specific installation instructions. This is particularly true for advanced steel curtain-wall systems. Their air and water integrity is typically different than that of other systems the glazier might be familiar with, and incorrect installation risks the manufacturer's warranty from being extended. Many manufacturers are more than willing to support the installer and ensure he or she correctly understands what these new systems require for proper installation.