Decorative glass highlights renovated Olympic ice rink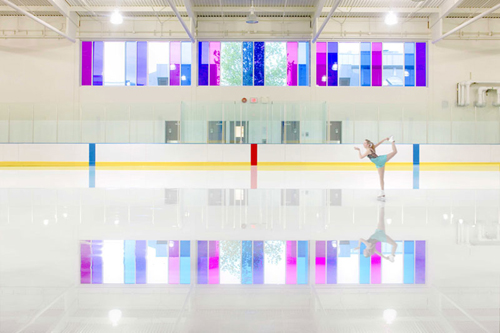 Photos by Nic Lehoux www.niclehoux.com.
The basics: One of the legacies of the 2010 Vancouver Winter Olympics is the new community rink at the Killarney Community Centre in Vancouver, BC. The rink was used for short-track speed skating training sessions during the 2010 Winter Games and has recently undergone conversion to community recreation use. Decorative, impact standard and clerestory windows surround the rink, bringing in natural daylight and providing privacy. The rink was built to achieve Gold certification from the U.S. Green Building Council's Leadership in Energy and Environmental Design program.
The players: Architect, Acton Ostry Architects, Vancouver; general contractor, Haebler Construction Projects Inc., Vancouver; glass fabricator, Lami Glass, Vancouver, a division of Hartung Glass Industries, Seattle; glazing contractor, Transparent Glazing, Burnaby, BC; interlayer supplier, Saflex, St. Louis, a unit of Solutia Inc., St. Louis.
The glass and systems: Custom Impact decorative laminated glass with two lites of 5-millimeter clear tempered glass surrounding a Vanceva interlayer in several colors, sapphire blue, ruby red and true blue.