Editor's Notes | Rarely Just One Thing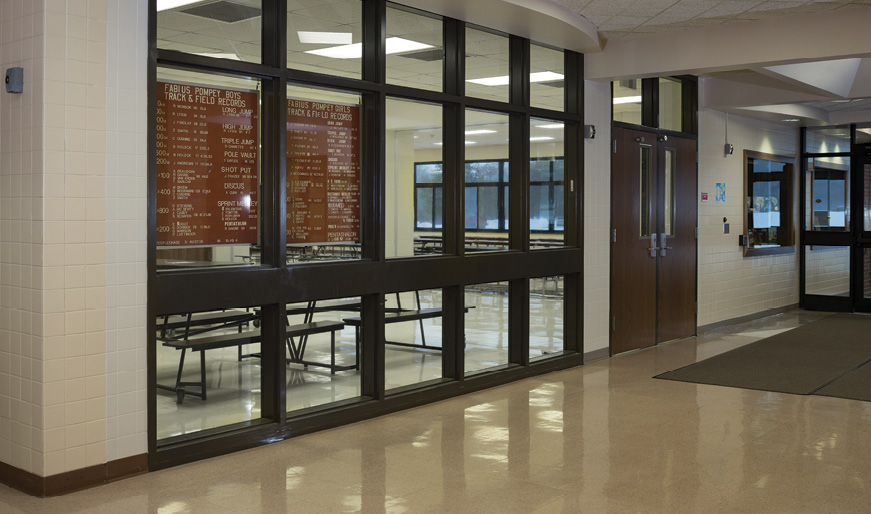 Vetrotech Saint-Gobain Keralite SafeGuard fire-rated and security glazing was installed at Fabius-Pompey High School in New York.
With its May issue, the Glass Magazine team set out to address the critical, potentially lifesaving topic of security glazing in schools. However, in speaking to industry experts about best practices and key considerations on the topic, it became clear that security glazing products are rarely just for security.
Whether in schools, offices, health care facilities, retail spaces and more, glass is rarely intended to serve just one function, to do just one thing. Glass is shielding against intruders while meeting fire-rated requirements; it is offering hurricane impact protection while achieving higher levels of thermal and energy performance; it is balancing seismic codes while meeting demands for larger lites, more open views, maximum daylight. Glass is a multifunctional material, often meeting two, three or more project performance goals in any given application.
"There isn't a type of glass that you could specify that we couldn't build," says Kevin Norcross, general manager, Vetrotech Saint-Gobain North America. "We supply security glazing for all threat levels along with fire-protection or fire-resistive [ratings]. We can build glass floors that withstand rigid earthquake requirements and 2-hour fire-rated requirements. If you need blast, bullet and solar requirements, we can do that. If you need insulated, high-performance glass for the exterior of a building that's fire-rated, we can make sure it happens, and that it matches the rest of the façade."
Several suppliers interviewed note that the multifunctional demands on glass frequently come into play when discussing school security glazing and fire-rated protections. School buildings are a key application site for fire-rated glazing, as code requires fire protection in applications such as door glass and sidelites. Recent trends in school design push for more natural daylighting and views (studies have tied these factors to higher student performance), leading to even more interior glass wall systems, many of which require fire-rated products.
Glass & Metals 401: Guide to Protective Glazing addresses the balance of multi-functional glass protection, beginning with a look at security glazing for schools, followed by a section dedicated to trends in fire-rated glass.
And, of course, protective glazing goes far beyond just fire-rated and security products. For information on the benefits of hurricane glazing, check out Market Intel and visit GlassMagazine.com/May2019 for links to other recent protective glazing coverage.