Editor's Notes | Take 5 with Andrew Haring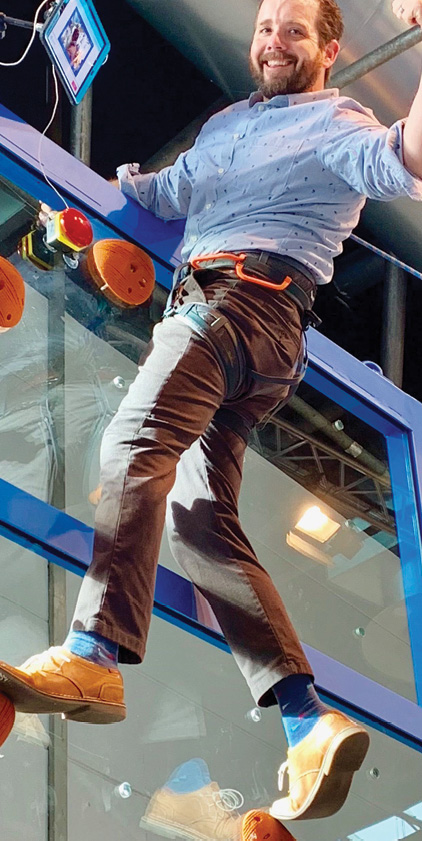 Right: Andrew Haring, reaching the summit of the Bystronic/Mammut glass climbing wall at glasstec 2018.
In October 2018, Andrew Haring joined Glass Magazine's publisher, the National Glass Association, as vice president of business development. A familiar face and name to many in the glass industry, Haring spent the last decade working numerous roles at C.R. Laurence Co, most of it as vice president of marketing.
I pinned Haring down for a quick chat during the NGA's BEC Conference in Las Vegas last month to discuss everything from his work history to his transition from one of the largest glass and glazing industry companies to the industry's largest trade organization.
Katy Devlin: How did you find your way to CRL and the glass and glazing industry?
Andrew Haring: I've always been around construction. I worked construction and demolition all through college. I went to school for design and business, and I got plucked right out of college to work for KTGY Architecture + Planning, an Orange County design firm, working mostly in mixed-use residential. I was doing design for them, marketing, writing specifications.
From there, I went to work for a design-build environmental graphics company, JB3D. They work in wayfinding, architectural signage, corporate branding. I was doing design and marketing, but also shop drawings, and I got out on the fabrication floor.
CRL was always present. At JB3D, we used CRL hardware. I was familiar with their products from my time at the design firm. So, when I had the opportunity to meet with Don Friese [the previous long-time owner of CRL], I agreed. When I arrived, he asked me, 'so, what can you do for me?' Then he took the time to walk me around. He was the CEO of a billion-dollar company, and he walked the floor and knew everyone's name. It impressed me. He said, "CRL is still America. If you work hard and do well, there will always be places to grow."
KD: What is a key takeaway from your time at CRL?
AH: CRL was the perfect conduit for working with companies all along the supply chain. In calling on different customers, going to events, talking to people in all different roles, I began to understand their business needs. Serving customers means understanding those needs. Don't tell them what they need—ask them what they need. What are their pain points? How can we help solve problems? How can we make their job easier? Price point isn't the only value in a product or service. We need to give customers tools to grow their business.
KD: What makes the NGA a fitting next step for you?
AH: NGA gives me an opportunity to embrace the entire industry. As a former member and manufacturer, I saw the value in what the association is doing and what it provides. It's a move that lets me stay in the same industry—the industry that I've known better than any other. It allows me to work with everyone throughout the supply chain, to engage on a more productive, fulfilling level.
KD: What are your new job responsibilities?
AH: My job here is to bring a different perspective—to try to look at everything in a new way, to consider new ways of doing things. All of this goes back to the NGA's goal of helping members and providing solutions.
When asked what the association can do for its members, our Installing Committee chair, Matt Kamper of Woodbridge Glass, put it best: "Save me time, save me money, make me better." The industry is facing a wide range of challenges, from the labor shortage to adoption of more stringent codes. At the NGA we have the responsibility—and we have the bandwidth and capabilities—to help companies face those challenges in a way that an individual company can't.
KD: When you look at the industry, what excites you?
AH: The industry is always improving. That's what excites me. I like seeing people come together to solve a problem—whether they are making improvements mandated by code or they are taking the initiative to explore things that haven't been considered yet. I love the innovation.
KD: What's something that people would be surprised to learn about you?
AH: Most people don't know that I have an art degree. I have always liked to draw, ever since I could hold a pencil. There was a stretch where I wanted to be an editorial illustrator. I've exhibited with the Society of Illustrators in New York and Los Angeles. Also, I like to box. I'm not necessarily good at it, but I like to box.
Get in touch with Haring by email at aharing@glass.org or on Twitter at @andrewharing.