Face-lift
Recladding trend beginning to accelerate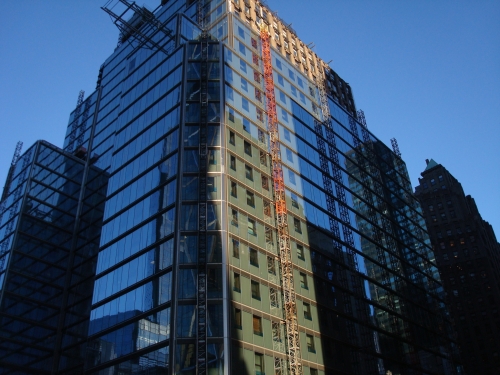 3 Columbus Circle in New York City is being transformed from a masonry building dating back to the early 1900s, when it was the headquarters of General Motors, to an iconic modern glass structure spanning the entire block between 57th Street and 58th Street, and 7th Avenue and 8th Avenue. A complicated reclad project, the exterior masonry of this older brick building was not well maintained over time and does not present a sufficiently sturdy anchor for the new façade. Gamma International has taken the unusual step of designing pockets in the exterior masonry for anchoring back to the main structure of the building. The players: Architect: Gensler, New York City; General contractor: Tishman Construction, New York City; Reclad company: Gamma International, with offices in Quebec, Miami and New York City; Glass supplier: Viracon, Owatonna, Minn.; Metals supplier: Fisa, Ecuador.
Over the next two to three years, it might look like there is a lot of new construction underway in major cities across the United States, but most likely, this activity will not involve brand new projects. With construction spending slashed due to the national economic downturn and tighter lending conditions, building owners and developers are instead looking to revitalize existing properties by recladding their exterior faces: a trend that is beginning to accelerate.
In the New York City metropolitan area alone, 10-15 buildings will be reclad in coming years, worth some $200 million to $300 million in construction spending, according to Gamma USA estimates. Some of these buildings include 3 Columbus Circle, the Javits Center, the United Nations, 475 Park Avenue South and 330 Madison Avenue.
Recladding also is expected to be part of the dramatic growth in green building retrofits over the next 10 to 15 years as owners seek to make buildings more energy efficient. (See Trends & Analysis on Page XX)
What does recladding involve?
Recladding refers to replacing or resurfacing the exterior skin of any building. The new building skin can be all-glass with aluminum framing, glass and metal panels, or glass and stone panels. There are two principal ways to accomplish this replacement or resurfacing.
The first, and most efficient way, is to construct a new, secondary skin over the existing building skin. This method allows building tenants to remain in place without having to vacate the premises and is the approach Gamma has taken for the reclad of the old General Motors headquarters building at 3 Columbus Circle in New York City. There, the Gamma team is changing the building from a dated masonry structure to an iconic modern glass building on one of the city's premier street corners.
The other way is to remove the existing façade and then construct and apply a new skin to the existing structure. It is almost like constructing a new building, and tenants have to vacate. Usually, this approach is taken when the building is empty, the façade is in bad shape or structurally impaired, or the original structure can't carry the weight of two façades: the newly designed one and the old one.
In New York City, about 75 percent of projects employ the first approach, according to Gamma USA estimates, where a secondary façade is placed over and anchored to the original building itself. This method can save as much as 25 percent of the cost of stripping off the old façade and emptying the building of its tenants. Stripping off the old façade also removes an additional insulation layer.
What is driving the growing recladding trend?
Owners of high-rise commercial and residential buildings want to make their properties more attractive to tenants and obtain a greater return on these assets. And they want to do so without trying to secure difficult bank financing. Money is scarce and credit is tight.
So, instead of seeking hundreds of millions of hard-to-come-by dollars from the banks to refinance a building or construct a new one, owners are financing the far lower $50 million to $100 million cost of renovating the building out of their rent rolls. These renovations include the outside façade of the building, elevators and even the lobby. Now, owners also can include energy and environmental upgrades. With these improvements, they can eventually refinance the improved, more valuable building and subsequently increase the rent.
The most energy and environmentally efficient buildings qualify for government tax credits, providing another financial incentive to owners. The majority of buildings in New York City and other major U.S. metropolitan areas are more than 50 years old, according to the article "New York's Aging Buildings," in the Feb. 1, 2010, edition of The Commercial Observer. Most of these buildings use a monolithic glass that is non-insulated and metal framing that is non-thermally broken. Thermally broken curtain wall panels, however, have a much higher energy ratio and provide better insulation depending on the type of glass used, its thickness and reflectivity, as well as the thickness of the insulated bar. Leadership in Energy and Environmental Design buildings—those that meet the U.S. Green Building Council's nationally accepted benchmark for the design, construction and operation of high-performance green buildings—are attractive to tenants, command rent premiums and deliver higher occupancy rates and sale prices.
Other forces also are encouraging owners and developers to reclad their buildings. In addition, owners and tenants of high-rise commercial office buildings are now examining new "green leases." Spurred by groups like the Natural Resources Defense Council, interest in revising standard commercial real estate leases is increasing. The purpose is to find ways, through the lease mechanism itself, to share improvement costs with tenants, who also share the benefits of reduced operational costs. Previously, landlords were exclusively responsible for these costs.
Changing the face of our cities through recladding is a trend that is already well underway. It's not simple, but it offers owners, developers and tenants real advantages. Reclads update the history and heritage of original buildings, creating a living experience for passerby as the buildings morph. They also result in more environmentally sound and pleasing structures.
Recladding represents work for thousands of people in cities across the country—from architects, engineers and design consultants, to glazing contractors, project engineers, project superintendents and field personnel. If designed properly, a reclad project can also create "green" jobs, with functions that range from engineering and design to installation, materials handling, rigging and scaffolding. Glass is the product that is directly involved, and new opportunities are presenting themselves every month.