Fighter for the Industry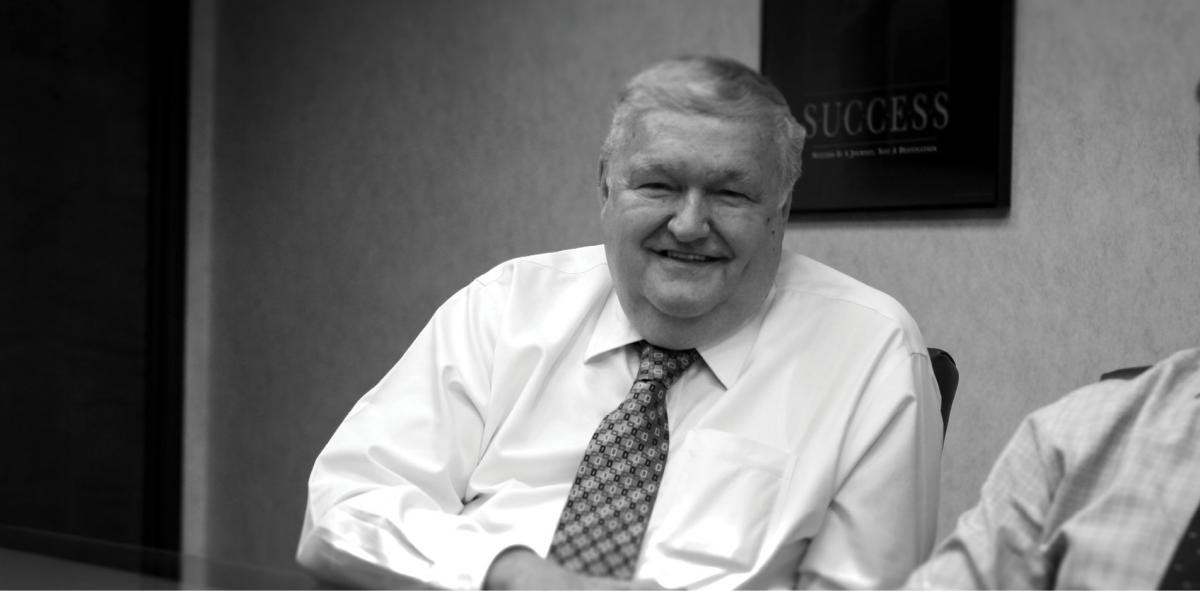 Don Friese during a 2015 interview with Glass Magazine at C.R. Laurence Co.'s Los Angeles headquarter facility. Photos by Lizz Mulis.
Don Friese's key legacy in the glass industry, say clients and colleagues, is not necessarily the tremendous growth and change he fostered in his six decades at C.R. Laurence Co. It is not the impressive story of how he helped transform the business from a $20,000-per-year supplier of truck windows into a multinational firm that makes or distributes more than 65,000 products for the architectural, construction and automotive industries. Nor is it Friese's high-profile, $1.2-billion sale of CRL to Oldcastle BuildingEnvelope in 2015.
According to those who have worked with Friese over the years, his lasting legacy comes from decades of tireless fighting for the glass industry. In his 58 years in glass, Friese fought to lift-up his customers big and small. He pushed for higher quality products. And he made it a mission of CRL to innovate and find solutions to customer problems. In short, the North American glass industry would not be what it is today without the lasting impact of Don Friese, they say.

"He changed the industry for the better," says Randy Steinberg, president, Glasswerks Inc.
"Don is a big inspiration, showing what we all can do … in providing customer service, providing quality, giving our best," says Anne-Merelie Murrell, chairman of Giroux Glass. "Don always gives the best he can for his clients in quality and value."
The client is always key to Friese, says Dick Carol, former president of Sommer & Maca, the glass machinery company that was acquired by CRL in 2008. "Don was always looking out for the glass man—worried about the glass man," he says. "In any transaction, he wanted to know, 'were the customers treated fairly?'"
Friese's attention to the client reflects not only a desire for customer service, but also a drive to improve the industry. In particular, he worked to clear industry roadblocks for small or start-up glass businesses.
"Don Friese has always looked out for the little guy," says Andrew Haring, vice president of marketing for CRL. "He has gone out of his way to help people start glass businesses. He's gone out of his way to help new glass businesses. He wanted to make this industry a special place for anyone to enter and survive and grow."
His unwavering advocacy for customers continued even after the company became too large for him to work individually with all clients. And that advocacy became part of the culture of CRL, customers say. "I never met Don personally, but I … am still friends with a former CRL employee … who literally went to battle for me countless times to ensure that my clients were taken care of," says Dustin Anderson, president, Anderson Glass, and spokesperson for glass.com. "I attribute this to a piece of the success of my company."
"I [can] remember when I was the driver, and I often needed help with an order. Mr. Friese was always there to lend a hand to make sure my orders were complete," says Todd Zaun, owner, Zaun Glass Co. "He has never changed, even with the constant growth of CRL today. And best of all, he has passed on his knowledge, compassion and willingness to help anyone."
An important piece of this industry support and improvement revolves around product development. CRL's tens of thousands of products—from machinery to systems to tools—reflect his investment in creating and providing solutions to the industry. Friese spoke to Glass Magazine about this commitment to innovation during a 2015 interview.
"CRL encourages customers to bring us their problems. With that, we will find solutions," he said. "We are constantly looking for new ideas, new products, new innovations. … We want to know: how do we help our industry become a better industry?"
CRL partners with industry innovators as part of its commitment to product development. Anderson, for example, worked with CRL on developing four different glazing tools for the industry. "CRL partnered with me to not only market, but to manufacture and distribute [the tools]," Anderson says. "This was the only way the glazing world would have seen my tools, because I didn't have the means to get my ideas out to the world like they did."
When Friese sold CRL in 2015, he assured customers, employees and the industry that the company would not change—that the culture he worked to build over six decades would remain, even with new ownership. "Together we are going to be better," Friese said, in the 2015 interview. "We made a commitment to customer service, and that commitment is going to be the same. Every day, we have to earn the right to be in business. The customers have to feel that we still care and are concerned about them—that we respond to every need. It really is important to us."
Lloyd Talbert, president of CRL, will succeed Friese in leading the company, and continuing to promote industry growth, product solutions and customer service. Talbert has been with the company for over 25 years and will maintain his role as president along with assuming CRL's leadership.
"I believe, as a company, we have allowed glaziers to enhance their wealth and their position within the building community. They have been able to do things that may not have been possible were it not for some of [what] we have done. That has to continue," Talbert told Glass Magazine in 2015. "We have growth plans for the organization. To attain those growth plans … [means] growing our industry and allowing glaziers to be successful." During the interview, Talbert said the company's legacy of innovation and customer support will continue, now with CRL as part of Oldcastle BuildingEnvelope.