Fire-rated Glazing Breaks Barriers
Three case studies demonstrate flexibility in design and performance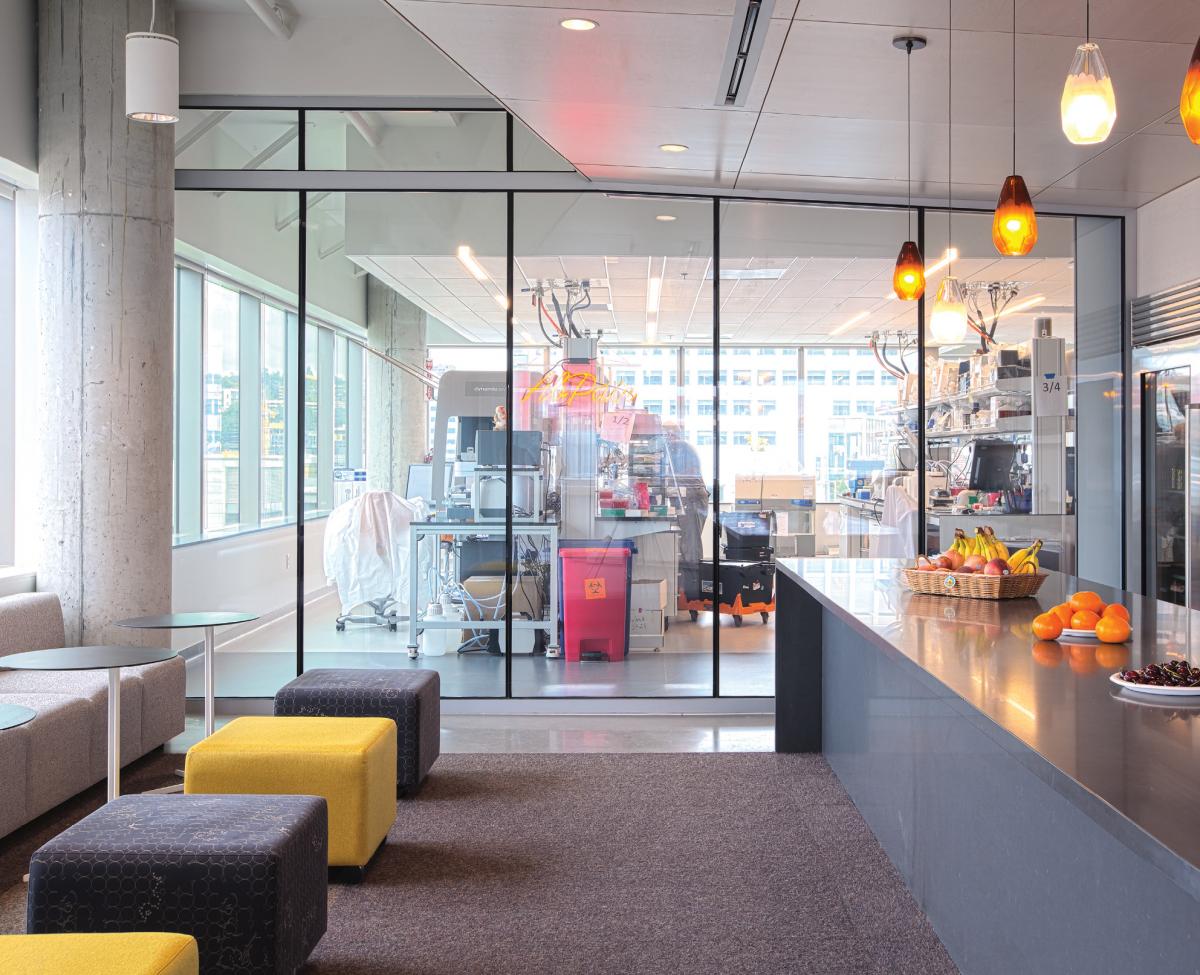 Juno Theraputics
Fire-rated glazing, once synonymous with wired glass and tinted color, has diversified dramatically over the past few years to meet the challenges of higher code standards and evolving design specifications, as exemplified in the following case studies.
As a protective glazing, much of the change in fire-rated systems is code-driven. Code changes have required more fire-resistive glazing be incorporated on the exterior of buildings, say industry members, and the 2012 International Building Code significantly raised performance standards for fire-rated products. The new standards require that fire-rated products pass testing based only on their own performance, unsupported by supplemental systems, such as sprinkler systems.
Rather than being a bar to development, Jeff Razwick, general manager, Technical Glass Products, argues that these standards result in better products. "While fire-rated codes are constantly evolving to keep fire and life safety at the forefront of building design, the good news is increased standards lead to increased innovation," he says.
Examples of this innovation include larger-sized glass, as well as combining fire-rated protection with other performance qualities. "We see an increasing focus on achieving multiple capabilities within the same glass," says Rob Botman, general manager, Glassopolis. "In addition to fire ratings, customers are demanding higher levels of security, whether forced entry or ballistic, higher levels of impact safety, better thermal performance and solar control."
Key to maximizing the product's performance and design flexibility is early engagement with the glass supplier, industry officials say. "All too often these products are incorporated without a supplier's involvement and there are negative impacts on both aesthetics and bottom line," says Tim Nass, vice president of sales, Safti First. "Our ability to recommend products coupled with design features make us invaluable to ensuring the design and specifications meet code well within the owner's budget."
The three projects on the following pages demonstrate the performance and aesthetic qualities fire-rated glazing now offers. From a fire-rated system bringing needed daylighting to the collaborative workspace of a research facility, to the fire-rated glass protecting a historic staircase, glass suppliers are working with designers to change what fire-rated means, and to show what it can do.
Juno Therapeutics
Seattle
The basics: Researchers at Juno Therapeutics, a biopharmaceutical company developing innovative cancer treatments, can collaborate in a brightly lit environment thanks to floor-to-ceiling windows supplied by Vetrotech Saint-Gobain. The headquarters and research facility, which opened in September, brings together employees spread among three locations and is designed to enable teamwork. While a traditional research facility encloses and separates laboratories and office space, Juno features windows measuring over nine feet tall that separate the office area and labs.
The players: Architect, Flad; general contractor, Skanska; contract glazier, Goldfinch Bros. Inc.; fire-rated glass and glazing supplier, Vetrotech Saint-Gobain.
The glass and systems: Vetrotech Saint-Gobain and Goldfinch Bros. Inc. partnered together on lead time, space, storage and other logistics to create a fire-rated glazing solution that met project requirements and matched the architect's design vision.
Vetrotech provided Contraflam Structure 120, a fire-rated seamless butt-glazed solution, to separate the labs from the conference and common rooms. In case of fire, Contraflam provides up to two hours of fire-resistant protection to help keep occupants safe from radiant heat transfer and gasses caused by smoke and flames. Contraflam Structure also provides needed sound reduction with an Sound Transmission Class rating of 46 decibels.
Vetrotech also supplied the project with its VDS framing and door systems, further allowing light into the tall, narrow building.
Photo by Hannah Rankin Photography.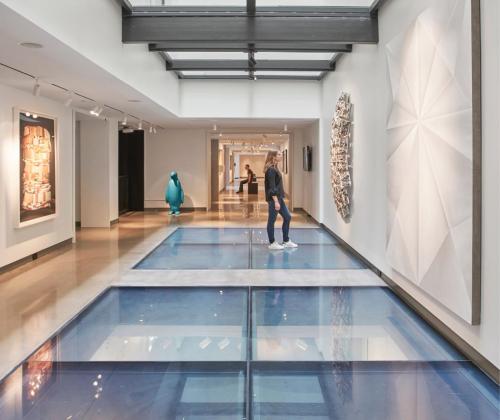 21c Museum Hotel
Nashville, Tennessee
The basics: Travelers staying at the 21c Museum Hotel can enjoy the complex's beautiful gallery spaces, whose featured contemporary works benefit from the natural daylighting provided by fire-rated lightwells. Located in the historic Printers Alley neighborhood of Nashville, Tennessee, the 21c Museum Hotel was completed in May 2017, and comprises a boutique hotel, complete with restaurant and spa, as well as 10,500 square feet of exhibition and event space, including a range of gallery space.
The players: Architect, Deborah Berke Partners; Perfido Weiskopf Wagstaff + Goettel Architects; contract glazier, Wall Brothers Glass LLC; fire-rated glass and glazing supplier, Safti First; non-fire-rated glass manufacturer, Pilkington; non-fire-rated glass fabricator, Oldcastle BuildingEnvelope.
The glass and systems: Safti First supplied the gallery with its GPX FireFloor system, allowing the design team to incorporate lightwells and increase daylighting, while also complying with fire-rated code requirements. Safti helped to revise the initial specification, proposing larger glass sizes as a solution that also reduced the amount of labor needed for installation.
The revised design specified two separate units, each comprised of four, 6-by-5-foot individual glass panels, which still met the required 100 pounds per square foot load standard. In total, the flooring constituted 240 square feet of space.
The glass in each unit is non-slip rated Starphire tempered laminated glass, with an overall thickness of 4 13/16 inches. The panels are covered in 1/8-inch non-skid white dots and insulated with custom SuperLite II-XL fire-resistive glazing, with a fire-resistive rating of one hour.
Photo by Mike Schwartz Photography.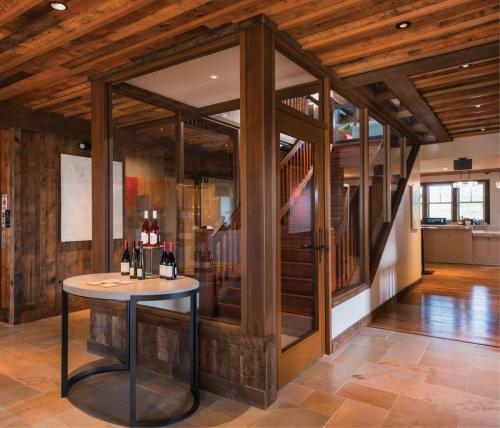 La Crema Estate at Saralee's Vineyard
Windsor, California
The basics: Patrons of the La Crema Estate at Saralee's Vineyard, located in Windsor, California, will be treated to a view of the tasting room's historic staircase, thanks to the fire-rated system provided by Technical Glass Products. Current fire-resistance requirements prescribed that the stairwell be enclosed by a barrier able to stop the spread of flames, smoke and heat transfer. The design team chose TGP's system for its performance, as well as its ability to blend with the beautiful wood paneling, framing and hardwood flooring that defines the aesthetic of the space.
The players: Architect, BraytonHughes Design Studios; contract glazier, Innovative Glass Solutions; fire-rated glass and glazing supplier, Technical Glass Products; glass manufacturer, Pilkington North America
The glass and systems: The project incorporated TGP's Fireframes TimberLine Series to surround the staircase. The fire-rated framing system is a high-strength steel sub-frame, disguised with a real-wood veneered metal cover cap, specified in Domestic White Oak, which maintains the original wood aesthetic of the room. Fire-rated up to two hours, the system's clear sightlines are courtesy of Pilkington Pyrostop's fire-rated glass.
TGP's system also includes its Fireframes Heat Barrier Series door, as well as its Fireframes ClearFloor. The ClearFloor system, consisting of a steel framing grid, and a tempered and laminated walking surface, allows the system to draw light from the upper level down to the ground floor, as well as providing fire-resistance.
Photo courtesy of Technical Glass Products.