Getting an 'Old Guard' Education
The Glass Advocate | Education, Advocacy and Technical Content from the NGA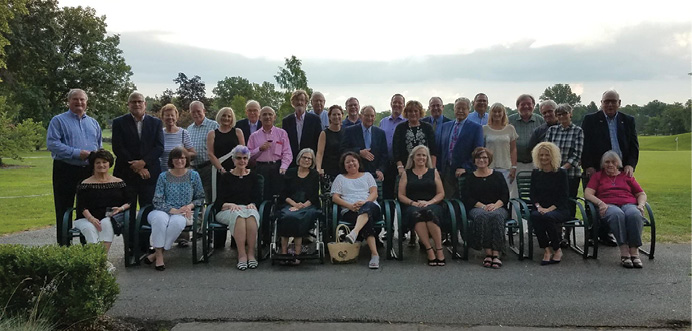 2018 Old Guard Reunion attendees, who tout more than 800 years of collective glass industry experience
Newcomers to glass fabrication can access quality education in many ways—seminars on best practices, hands-on training or online learning, need-to-know information in trade publications, or networking on trade show floors. One stand-out source of glass industry education, however, is one-on-one conversations with someone who has been there, someone with experience solving problems and finding solutions, someone from the glass industry "old guard."
Members of the glass fabrication old guard transformed the industry during their decades of work, says Ren Bartoe, former director, glass and industrial technologies, at Vesuvius plc. They developed processes to improve fabrication safety, efficiency and quality that continue to be used by glass companies today. They were instrumental in creating fabricated glass specifications and standards. They brought together the industry's technical organizations that eventually became the Glass Association of North America, which combined with the National Glass Association last year. When newcomers to the industry interact with the experts, "the lights go on," Bartoe says.
One such meeting took place at a luncheon during a glass fabrication seminar in Pittsburgh, Bartoe recalls. "A couple of gentlemen came up to me. They said they just opened a factory, just bought and installed a tempering furnace, and they were struggling in some areas," he says. "They had questions. I said, 'what are you doing for lunch? Would you sit at my table?'"
Bartoe reserved a table and invited several luminaries of glass tempering to join, including Stanley Joehlin, former vice president of engineering at Glasstech, and Bob Brown, former vice president of engineering for Virginia Glass & Mirror. Both have served as technical industry consultants. The newcomers shared their technical questions and challenges; the veterans used their experience and deep understanding of the process to offer suggestions and solutions. "They had open access to some of the best experts in the world," Bartoe says.
The old guard rely on decades of experience and countless glass lites broken over long careers to offer best practices, suggestions and potential solutions to newcomers, Bartoe says. "That kind of knowledge passed freely helps everybody," he says.
"Someone might come in saying, 'I'm breaking 7 percent of everything I temper.' They will ask, 'Where is it breaking? In the furnace or in the quench? Show me pictures,'" Bartoe says. "They take a look at all of that and can say, 'you have a bad edge, likely caused by the cutting or the scoring. Throw your cutters away per supplier recommendations. You think you're saving $6 on a cutting tool by using it longer, but you're losing $100s in broken glass.'"
Newcomers will have an opportunity to interact with experts of the old guard during the upcoming NGA Fall Conference, held Aug. 13-15 in Toledo, Ohio. The conference is being held in conjunction with the Old Guard Reunion, an annual gathering that brings together industry veterans and consultants, along with some active members of the glass fabricating industry. The OGR, initiated by Bartoe, Joehlin and Brown, has gathered annually since 2015 with an afternoon social hosted by the Joehlins at their home in Curtice, Ohio, and a dinner at the Belmont Country Club in Rossford, Ohio.
"During the last event, we asked attendees at every table to note the number of years [of] industry experience," Joehlin says. "We had more than 800 years of service to the glass fabricating industry."
For more information about the NGA Fall Conference and the OGR, visit glass.org.