Glass and Metals 301
A guide to the interior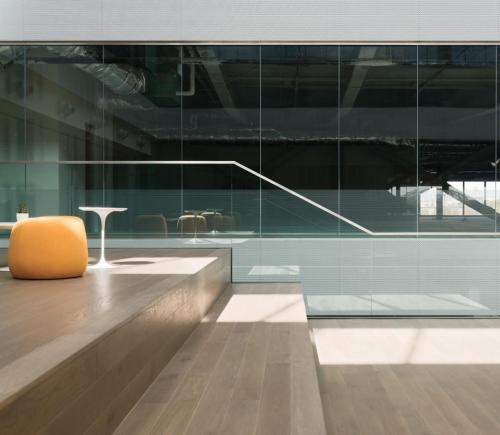 C.R. Laurence – U.S. Aluminum, supplied the CRL GRS TAPER-LOC Glass Railing System and CRL Crisp Corner Cap Rail for the interior of 777 Aviation in El Segundo, California, as part of a major retrofit of the building led by architect Skidmore, Owings & Merrill. CRL also provided the curtain wall, doors and entrance system. Triview Glass and PRL Glass Systems handled the glass fabrication; Guardian Glass was the glass manufacturer. Glazing Concepts and Electrolurgy Manufacturing were the glazing contractors. Photo by Geoff Captain.
The last decade has seen an ever-widening array of interior glass solutions for doors, partitions, balustrades, stair treads and more in projects of all shapes and sizes. These applications are featured across a range of interiors, from board rooms to classrooms. At the same time, glass is being asked to multi-task in those applications, meeting aesthetic demands and performance requirements, while bringing natural light further into buildings, ensuring privacy, controlling sound and more.
"Advances in technology, environmental awareness,and effects of daylighting have brought glass to the forefront of building design," says Dan Stachel, vice president of Trex Commercial Products. "These initiatives allow both architects and glass fabricators to push the limits on options for specialty decorative glass."
The multipurpose nature of interior glass makes it more than a simple building material, sources say. It connects people, improves energy performance and benefits occupant health, all while opening the door for near unlimited design expression.
"Interior glass creates a more collaborative, engaging environment where people can maintain a visual, social connection," says Sarah Wansack, interiors segment manager, Guardian Glass. "It also provides a blank canvas to create inspiration and add color or texture, via back-painted glass or company branding, without blocking off spaces or limiting the footprint."
The growing popularity of interior glass and glazing, combined with demands to push the envelope of system design and performance, make tracking trends, best practices and code requirements even more critical. Glass and Metals 301: A Guide to the Interior presents architects and specifiers with the most up-to-date information on interior glass usage.
Editor's note: The six-part series "All About Glass and Metal: A Guide to Glazing for Architects and Specifiers" provides an in-depth look at specification and design for glass and glazing. The series begins with "Glass and Metals 101: An Introductory Guide to Glazing for Architects and Specifiers," and continues through "Glass and Metals 601: The Architect's Guide to Complex Façades." The following pages present an update of part three of the series, "Glass and Metals 301: A Guide to Interior Glass." To download the complete guide, which also addresses topics including specifications, protective glazing and complex façades, visit GlassMagazine.com/April2018.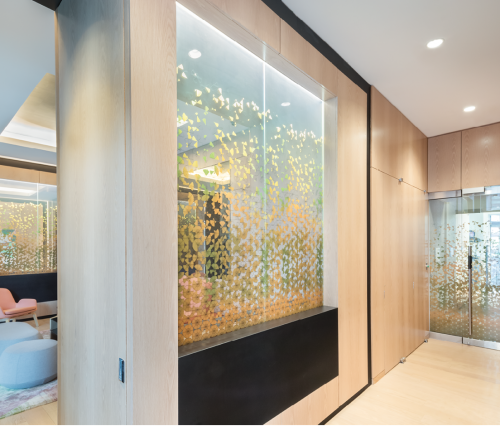 Above: GGI supplied three-ply laminated glass with Alice digital printing technology for The Ashland, a luxury residential tower in Brookyln, New York. Different parts of the pattern were printed on each piece of glass in order to create a 3-D effect when laminated. The lead architect was FXCollaborative, formerly FXFowle, with SPAN Architecture handling the interior. Photo by Brett Beyer. Below right: Bohle developed the SlideTec Optima 150 Sliding Door System, capable of moving all-glass doors of up to 330 pounds. The ceiling-mounted system minimizes visible hardware and can handle laminated or tempered glass.
Part 1 | Trend Watch
Large sizes, decorative designs and more
Larger sizes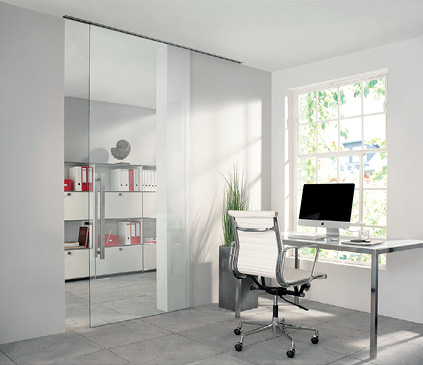 "Across the board, people want to see larger, cleaner lites and less hardware. …They are trying to make glass the main attraction."—Stephen Balik, director of architectural sales, GGI.
Workplace Benefits of Daylight and Views, by the Numbers
Increase in product output | 25-28%
One manufacturer documented productivity and product output improvements when it moved to a new daylit facility. Productivity increased by more than 5 percent and product output increased 25 to 28 percent, "making the new building more cost effective than first predicted," according to the study.
Decrease in absenteeism | 15%
One California-based company reported a 15 percent decrease in employee absenteeism after moving to a daylit building.
Decrease in turnover | 200%
An Iowa-based firm reported a 200 percent decrease in employee turnover in one of its business groups after moving to a new daylit building. The group also received a record number of job applicants and an increase in transfer requests from employees at other buildings.
Processing time improvement | 6-12%
Workers in a call center processed calls 6 to 12 percent faster when they had the best possible view.
Improved mental performance and memory | 10-25%
Office workers performed 10 to 25 percent better on tests of mental function and memory when they had access to the best possible view.
Sources: National Renewable Energy Laboratory, and Heschong Mahone Group, daylighting studies.
Tip: When working with large lites, determine transport and delivery logistics early in the process. This is particularly important in renovation projects. Industry representatives recommend early collaboration with the supplier and installer to assist in coordination.
Minimal hardware
"Everybody wants minimal hardware. We are trying to make things smaller, shrinking rails about as far as they can go. Suppliers have done things to hide all of the hardware, coming up with systems from below the floor and above the ceiling, so it's just a piece of glass swinging."—Scott Welch, director for hardware products, Bohle.
Tip: Hidden hardware in the floor and ceiling requires additional site preparation and cost. Collaboration with the supplier and installer can ensure a smooth process.
Privacy
"It is a lot easier today than in recent years to customize glass for privacy. People can achieve that transparency and visibility, while ensuring privacy. We see digital frit printing solutions, and demand has picked up for specialty glass for privacy. We developed a product where you see a different kind of finish depending on where you're standing. When looking directly at the glass, it is completely opaque. When you're looking at an angle, you see partial views."—Balik.
"We're also seeing more acid-etched glass … in those applications when more privacy is required. Acid-etched glass is a happy medium, keeping the look and allowing for even dispersion of light—spaces seem to glow from within, especially when using low-iron glass—while adding some separation. This product is also durable and fingerprint-resistant, an added bonus for upkeep."— Sarah Wansack, interiors segment manager, Guardian Glass.
Decorative design
"Decorative glass allows the designer and end user to have personalized designs. Some people want [decorative glass] for purely stylistic reasons, some are trying to tie the glass in with the branding of the company. [The industry offers] as little or as much as you want."—Balik.
Tip: Many glass fabricators offer decorative glass collections, allowing designers easy access to patterns, textures, colors and more. Several suppliers say that complete custom designs have been made more accessible with the emergence of digital printing on glass.
Low-iron glass
"Low-iron glass [helps] create uninterrupted views in office design … [and] reduces the greenish cast of standard float glass for enhanced clarity."—Wansack.
Acoustic control
"One of the biggest concerns we hear: how do we handle sound abatement? This is a growing concern. We are seeing more laminated systems for sound. Suppliers are coming up with new ways to control for sound, for example, in sliding door systems."—Welch
Part 2 | Built for People
Interior glass maximizes health and performance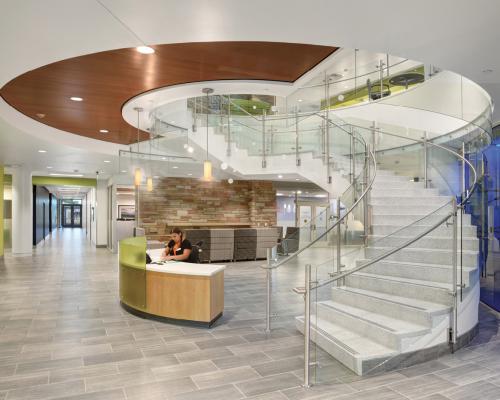 The Colorado State University Health and Medical Center in Fort Collins, Colorado, designed by Bennett Wagner Grody Architects, features curving glass railings on the spiral staircase and overlooks, in addition to a point-supported glass smoke baffle. Trex Commercial Products supplied its Vista railing system for the project. Glasshape North America LP was the glass fabricator, and ISEC-Colorado was the glazing subcontractor. Photo by Time Frame Images.

Numerous studies have been conducted in the last two decades to look at the relationship between windows and occupant health and performance. The findings offer a repeating theme: access to daylight and views improves occupant health and comfort.
"Studies have shown that daylight improves productivity. They have shown that views of nature reduce stress," says Helen Sanders, strategic business development, Technoform Glass Insulation NA Inc.
In offices, this translates to increases in productivity and product output, and decreases in absenteeism and employee turnover. In hospitals, studies show decreases in stay and in use of pain medication. In schools, test scores and productivity improved.
Interior glass is critical to bringing natural light and access to views further into a space. "Incorporating interior glass means many occupants enjoy that benefit, not just the people on the perimeter," says Sarah Wansack, interiors segment manager, Guardian Glass.
"Instead of putting up opaque walls, many offices are using glass. You can still have private offices on the outside perimeter of the building without stealing views and daylight from other spaces. Meeting rooms can still be in the core, with glass. They have access to some daylight and feel more open," Sanders adds.
However, Sanders notes that the benefits of daylighting and views can be negated if thermal comfort is not addressed. "Recent studies have shown that thermal comfort is one of the most important factors of occupant comfort and wellbeing. If you're cold, you can be more dissatisfied with the air quality and other factors," she says.
Workers in Daylit Offices
Work environments have been a key focus of daylighting studies. Workplace studies have investigated how access to daylighting and views affect overall occupant wellness in addition to productivity, attention and output.
"Natural light increases attention and alertness during the post-lunch dip and has shown to be helpful in increasing alertness for boring or monotonous work" according to officials from the National Renewable Energy Laboratory in the 2002 report, A Literature Review of the Effects of Natural Light on Building Occupants. The studies also demonstrate an increase in employee absenteeism and worker retention.
"Having a better view out of a window, gauged primarily by the size of the view and secondarily by greater vegetation content, was most consistently associated with better worker performance," according to the executive summary of the 2003 Heschong Mahone Group Inc. report, Windows and Offices: A Study of Office Worker Performance and the Indoor Environment, from Heschong Mahone Group Inc. Read some findings from the NREL and HMG studies in the sidebar at right.
Part 3 | Heavy Glass Door Guidelines
Best practices for design
Source: Glass Association of North America Heavy Glass Door and Entrance Systems Design Guide, originally published in 1999. An updated version of the guide is set for release later this year, from GANA, now part of the National Glass Association.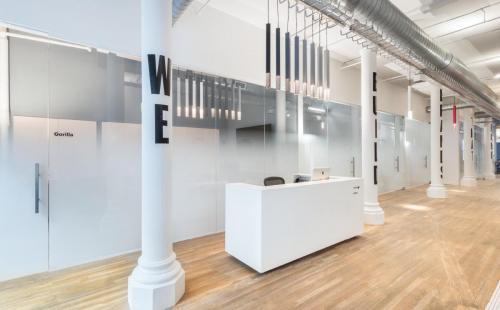 The Red Peak Offices in New York City feature doors and walls of 1/2-inch tempered Starphire glass with a white fade gradient, printed with Alice Digital Ceramic Printing, from GGI. The gradient provides privacy while still allowing light to shine through and create a clean aesthetic. Vitro manufactured the low-iron Starphire glass; Raymond Glass was the installer. Photo by Brett Beyer.
Door size
Door sizes need to be limited due to glass flexibility and hardware limitations. Closers and pivots have weight limitations. Doors that are too wide are difficult to control in windy conditions and may exceed hardware limits. Larger doors may be used when locked open or infrequently used. Full top and bottom rails are recommended for larger door sizes.
Self-closing hinges
A self-closing hinge eliminates the need for a separate closer. A patch lock, mid-panel lock or integral locking pulls are required to secure this style of door.
Floor closers
Floor closers can typically handle heavier and wider doors than a concealed overhead closer but may not be suitable due to floor condition limitations, such as slab thickness. Floor closers are used in conjunction with top pivots, either walking beam or surface-applied top pivots.
Top-hung doors
When the weight of a sliding door is supported by an overhead track, it is often referred to as "top hung." Top-hung sliding systems are more versatile than floor-mounted systems. Top-hung sliding panels are easier to maintain because the operating hardware is located away from traffic areas.
Floor-mounted systems
Floor-mounted systems use rollers mounted into the bottom door rail and roll on a floor track. This type of sliding door operates on single or multiple parallel tracks, commonly used in double track or bi-parting configuration. Because the slider and the fixed sidelite are not on the same plane, acoustical and security issues need to be addressed.
Fail-safe handles
Fail-safe electric strike handles should not be specified for secure applications. Card readers and/or an exterior keyed cylinder are the only means of entry from the exterior while the lock is energized.
Drilled holes
Holes for door handles must be drilled in the glass prior to tempering. Because of the hole pattern or size, not all handles can be mounted to heavy glass. Designers should consult with the glass door manufacturer or hardware supplier as to the suitability of a particular handle for mounting onto heavy glass.
Maintenance
To ensure a long and useful life, a maintenance program should be established for the fully tempered or tempered laminated glass entrance system. This program should include adjusting hardware and periodic cleaning of the glass and metal parts. Aluminum and stainless-steel parts require periodic washing, but brass and bronze, being copper-based metals, need special care. Copper-based metals are very unstable and are subject to rapid oxidation, thus creating a tarnished appearance. Certain cleaners can damage glass surfaces; others can damage the metal finishes.
Part 4 | Glass Railings
Code changes to watch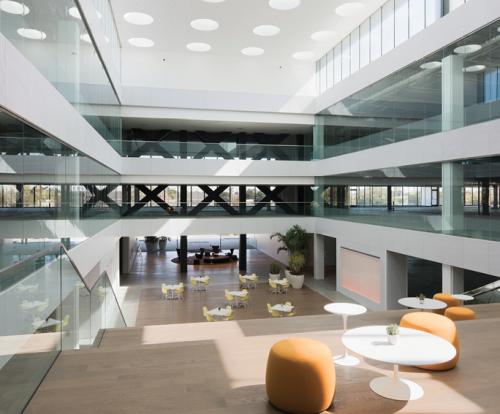 777 Aviation in El Segundo, California. Photo by Geoff Captain.
The 2015 and 2018 updates to the International Building Code included several provisions addressing glass railings.
"The biggest change came in 2015 when IBC Section 2407 was updated. It required that tempered laminated glass be used in all glass railing installations where there is a walking surface below. This occurs in over 90 percent of projects," says Brian Clifford, director of architectural railings and metals, C.R. Laurence Co.
If there is no walking surface, or the walking surface is permanently protected from the risk of falling glass, monolithic tempered glass is acceptable so long as it's accompanied by a handrail or cap rail, Clifford says.
The 2015 IBC also put forth updated requirements for minimum design load requirements for glass guardrails.
1607.8.1 Handrails and Guards. Handrails and guards shall be designed to resist a load of 50 pounds per linear foot (plf) (0.73 kN/m) applied in any direction at the top, and to transfer this load through the supports to the structure.
1607.8.1.1 Concentrated Load. Handrails and guards shall be able to resist a single concentrated load of 200 pounds (0.89 kN) applied in any direction at any point along the top, and to transfer this load through the supports to the structure.
1607.8.1.2 Intermediate Rails. Intermediate rails (all those except the handrail), balusters and panel fillers shall be designed to withstand a horizontally applied normal load of 50 pounds (0.22 kN) on an area equal to 1 square foot, including openings and space between rails.
2407.1.1 Loads. The panels and their support system shall be designed to withstand the loads specified in Section 1607.8. A safety factor of four shall be used.
The requirements in the 2018 IBC continue to evolve, Clifford says. "Reviewing Section 2407.1.1 Loads, it appears 2018 IBC is combining verbiage used in 2012 IBC and 2015 IBC concerning the safety factor of four. All stakeholders should interpret this section carefully," he says.
One change in the 2018 IBC alters the Exception Clause for structural glass baluster panels. The 2015 clause states "panels shall be designed to withstand the loads specified in Section 1607.8." The 2018 version, however, states that "panels shall be tested to remain in place as a barrier following impact or glass breakage in accordance with ASTM E2353."
"It appears the ICC may have concerns—as do I—about excluding a cap rail or handrail when the glass baluster panels are laminated glass comprised of two or more glass plies of equal thickness and of the same glass type," Clifford says. "The cause for concern stems from interlayer variables not defined or specified in the code. Depending on the interlayer type, not all applications will remain as a barrier upon failure without a cap rail or handrail."
Frequently Asked Questions
What is the biggest misconception of interior glass railings?
"Many architects assume that if ½-inch tempered monolithic glass works for the project then so will 9/16-inch tempered laminated glass, since it's thicker. The reality is that ½-inch monolithic glass is roughly 30 percent stronger than 9/16-inch laminated glass."— Brian Clifford, director of architectural railings and metals, C.R. Laurence Co.
What is often missed in the design of interior glass railings?
"The structural requirements for attaching a guardrail to a decorative stair are often overlooked. Cantilevered stair treads and narrow stair stringers create engineering challenges that may ultimately prevent the original stair design from being accomplished. It's important that architects consider the structural needs of the railing system."—Dan Stachel, vice president, Trex Commercial Products.
Is a cap rail needed to meet guardrail requirements for tempered monolithic glass?
"If a cap rail is not being used, you will need to install a continuous handrail with two handrail brackets per glass lite. The continuous handrail must be of the heavy wall thickness variety, which equals a thickness of 0.125-inch or greater. That being said, we always recommend contacting the local code official for verification."—Clifford.
What are the engineering requirements for railing hardware attachments?
"As a general rule of thumb, a railing will require no less than 2 ½ inches of bearing surface for attachment."—Stachel.