Glass dome highlights Olympic ice rink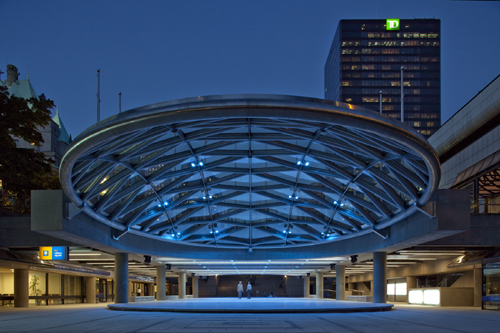 Photo by Michael Elkan, Vancouver
The basics: Vancouver, BC's newly renovated and reopened Robson Square ice rink, temporarily renamed GE Plaza for the 2010 Olympic and Paralympic Games, features a striking glass dome that presented hurdles for fabricators and installers. "Every single piece of glass on that dome is different," says Colin Rimes of Superior Glass, glazing contractor for the project. The project team also was challenged by strict scheduling implemented on all construction sites in the Olympic corridor. "We finished glazing the whole [project] with 20 guys in two back-to-back weekends. … It was a big challenge, and it was a big win for everyone," Rimes says.

Photo gallery
The players: Architect, Clive Grout Architects, Vancouver; glass laminator, Lami Glass, Langley, BC, a division of Hartung Glass Industries; glazing contractor, Superior Glass, Port Coquitlam, BC; glass fabricator, Garibaldi Glass Industries, Burnaby, BC; glass manufacturer, Pilkington North America, Toledo.

The glass and systems: Glass pieces of odd shapes and sizes, high performance, with a low shading coefficient and high light transmission to prevent the sunlight from melting the ice. One 6-millimeter lite with self-cleaning Pilkington Activ pyrolytic coating that offers solar control, 0.09-inch interlayer, and 6-millimeter lite of Pilkington Energy Advantage Low-emissivity glass.