Glass & metals 301
An architect's guide to interior glass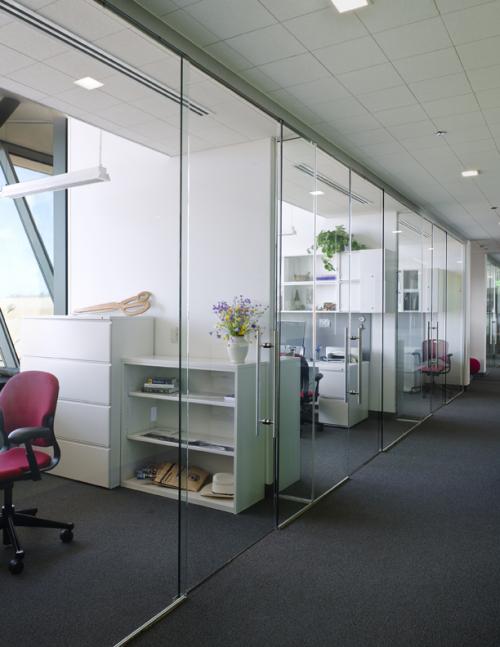 The San Diego National Wildlife Refuge Complex, designed by Line and Space LLC, www.lineandspace.com, features fixed and sliding frameless glass panels that create a modern and transparent look, while maximizing natural daylighting. The daylit design reduces energy needs and contributes to the project's Leadership in Energy and Environmental Design Gold rating. The complex features the Rollglass system from Klein USA, www.klein-usa.com. The system combines fixed and sliding frameless glass panels into a single extrusion and allows for a tight, 5/8-inch gap between the panels for a slick, open design.
Part three of Glass Magazine's popular "All About Glass and Metals: A Guide for Architects and Specifiers" series, "Glass and Metals 301" provides an introductory look at interior glass and the design possibilities it offers for nonresidential applications. It also addresses common questions and concerns regarding these types of products.
Interior glass has become an increasingly popular design option for railings, stairs, walls and doors in nonresidential spaces because of its performance and design capabilities, according to glass industry representatives. "Today, we are seeing [interior] glass ... in virtually every venue that we serve: bank lobbies, offices, conference rooms, retail [spaces], hotels, restaurants, stadiums/sports venues, schools, churches and car dealerships, to name a few," says Scott Ladd, marketing manager, Modernfold Inc., a Dorma Co.
A main driver of the interior glass trend is daylighting. Effective daylighting can provide substantial energy cost savings for building owners by reducing lighting and cooling costs, and interior glass is a critical component to earning daylighting credits in the U.S. Green Building Council's Leadership in Energy and Environmental Design program. "[The interior glass trend] is all driven by LEED-oriented products and projects," says Paul Witherby, business development manager, Klein USA.
The LEED Indoor Environmental Quality Credit 8.1: Daylighting and Views provides one point for functional daylighting that reaches 75 percent of regularly occupied spaces. The IEC Credit 8.2: Daylighting and Views provides an additional point for buildings that provide views to the outside in 90 percent of regularly occupied spaces, according to BuildingGreen.com. Depending on the systems used, the glass and metals in many interior glazing applications can also earn LEED points for recycled content.
"With the use of glass ... natural light is no longer limited to the perimeter of the building," Ladd says. "Interior office space, that was once limited to florescent lighting, now has the ability to share in the numerous benefits of natural daylighting."
Those daylighting benefits extend far beyond energy efficiency to the occupants themselves. "[Natural light] brightens patients' days; it makes workers more productive; guests will be more comfortable," Witherby says.
Joseph Jaroff, owner of Jaroff Design & Mison Concepts Inc., agrees. "Allowing natural ambient light is not only much more cost effective, it's much more desirable for employees. People want and need natural light," he says. Numerous studies show a connection between daylighting and productivity increases in various environments—from retail spaces to schools—and according to the National Institute of Building Sciences' Whole Building Design Guide, a 1 percent savings in productivity can nearly offset a company's entire annual energy cost.
Aesthetically, glass provides a modern, sleek feel. "Glass looks more upscale, is more inviting and makes the space feel better," says Brad Thurman, sales and marketing manager, Dorma Glas. As such, many owners are looking to glass for retrofit applications. Dorma has seen a "tremendous increase in retrofitting interior office space," Thurman says. "New construction starts are drastically down, and there is an overabundance of office space from coast to coast. One of the best ways for property owners to attract new clients is to get rid of the old wall systems and install clean glass products."
Glass is also more flexible than many other wall options. "Architects can be creative with glass," Thurman says. Diane Turnwall, director of interiors, Guardian Industries, agrees. "Glass is an extremely flexible material allowing architects and designers to make their own aesthetic statement within their projects. ... Glass can provide hundreds of design options including adding color, texture and pattern to a space in addition to integrating branding elements within the environment," she says. And products such as moveable walls and sliding doors provide the same creative options with additional design flexibility. "Interior moveable glass walls allow for unlimited design options while allowing the natural light to flow across all areas of the design," Ladd says.
The glass industry has also developed solutions to performance concerns regarding acoustics, privacy, maintenance and safety, including fire protection. "There is no longer a need to trade off the desire to use glass because of perceived performance limitations," Turnwall says. "Performance coatings can increase features like cleanability and scratch resistance, increasing the range of solutions where glass can be used."