Glass & Metals 401: Guide to Protective Glazing
Protect with Glass: Security for schools + fire-rated applications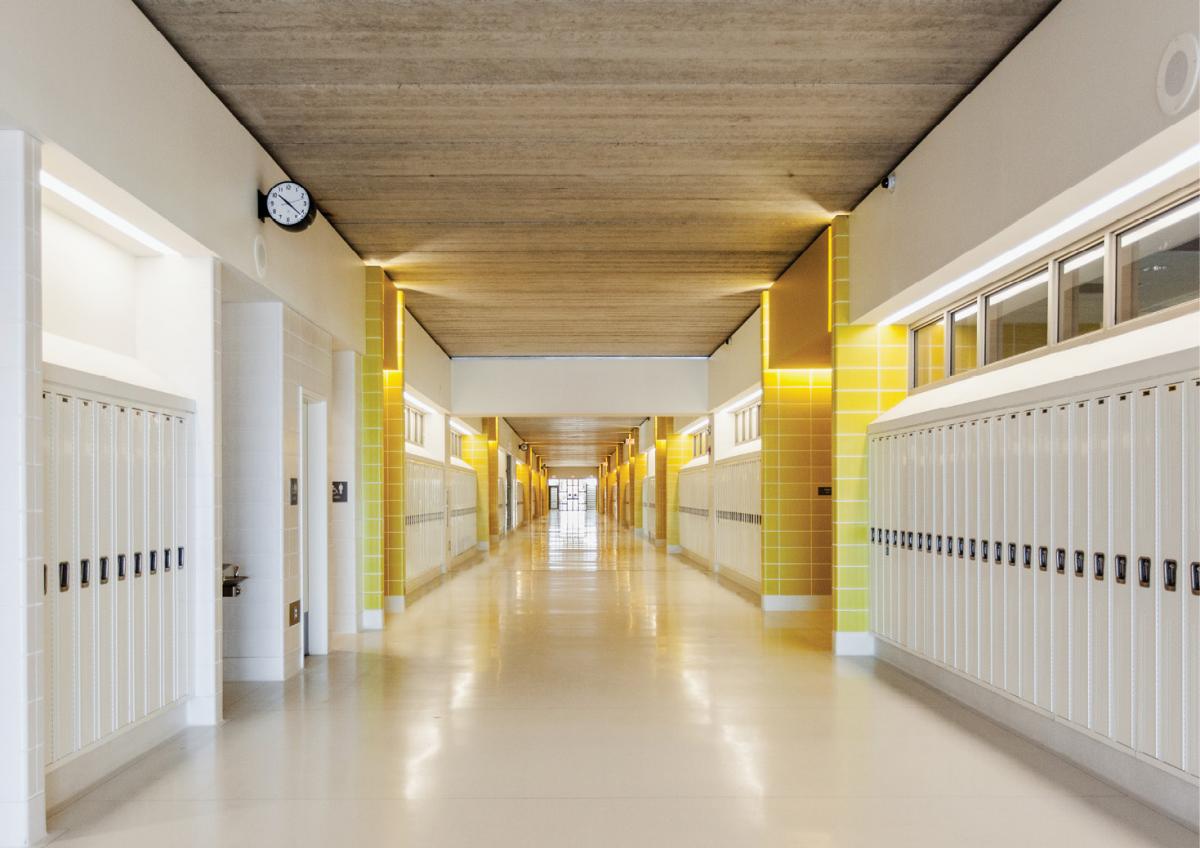 Innovative and affordable school security glass solutions are possible. Pictured, fire-rated Schott Pyran Platinum from Glassopolis was used in the transom areas of this new Chicago high school to fill the corridors with more natural light while also affordably addressing intruder security concerns, according to company officials.
Editor's note: The six-part series "All About Glass and Metal: A Guide to Glazing for Architects and Specifiers" provides an in-depth look at specification and design for glass and glazing. The series begins with "Glass and Metals 101: An Introductory Guide to Glazing for Architects and Specifiers" and continues through "Glass and Metals 601: The Architect's Guide to Complex Façades."
The following pages present an update of part four of the series, "Glass & Metals 401: Guide to Protective Glazing," with a focus on safety and security glazing solutions for educational facilities. To access the complete six-part guide, which also addresses topics including specifications, interior glass, building performance and more, visit GlassMagazine.com/May2019.
Protective glazing also goes far beyond products for intruder resistance and fire safety. For information on additional protective glazing solutions, such as hurricane-impact products, visit GlassMagazine.com/May2019.
Leading the trend in protective glazing: school security. "There is a heightened fervor on the topic," says Mike Nicklas, director of Invisiwall Glass Systems and Childgard Security Glazing, J.E. Berkowitz.
Driving current demand is an increase in funding for new school building and renovation—Dodge Data and Analytics reports that the education sector is expected to grow 3 percent in 2019 while the rest of nonresidential construction will remain flat. But an even bigger driver is this "heightened awareness" of the threats to the school environment and applicable product solutions, according to Nicklas.
School districts increasingly ask architects to develop design solutions to better protect students in the event of threats, from fires to intruders or active shooters. This is what Rob Botman, general manager, Glassopolis, calls the "second wave of school security glazing. ... The first wave was to increase security by filling existing openings with thick, heavy laminated glass assemblies. Unfortunately, the cost of these extreme glazing solutions can be prohibitive. … Now that architects have had time to digest the new school security objectives, they are coming up with better building designs that don't require extreme sole-source glazing. Instead of putting expensive glass everywhere, they are being more selective in where they apply the glazing."
For the glass industry, the call for safer schools translates to requests for intruder-resistant products in addition to the already code-required fire protection solutions. And, designers want these solutions while still meeting stringent energy codes and maximizing daylighting and views. "Projects often have a mix of materials: high performance glazing in a few select spots and standard fire-rated glazing throughout the rest of the building," says Botman.
However, glazing suppliers say the market requires additional education and specification assistance when it comes to building safer schools.
"The main question we receive from architects is 'what's needed?'" says Vaughn Schauss, manager, technical consultancy, Kuraray America Inc. "Should they use ballistic glass? Should they use hurricane glass? Forced entry glass? … There is a lot of uncertainty in the market right now."
With its 2019 "All About Glass and Metal: A Guide to Glazing for Architects and Specifiers," Glass Magazine looks to address this uncertainty regarding protective and security glazing for schools. The guide:
Features key considerations for specifying security glazing in schools;
Presents standards and test methods to watch;
Answers frequently asked specification questions; and
Includes a section on fire-rated glazing products and trends.
While this guide focuses on the topic of protective glazing in schools, industry experts note that security glazing and fire-rated solutions are applicable for any project application. "It's not just schools. It's churches, government buildings, offices," says Urmilla Sowell, technical director, National Glass Association.
Protective glazing also goes far beyond products for intruder resistance and fire safety. For information on additional protective glazing solutions, such as hurricane-impact products, visit GlassMagazine.com/May2019.
Part 1: Secure Schools
School Security Glazing Checklist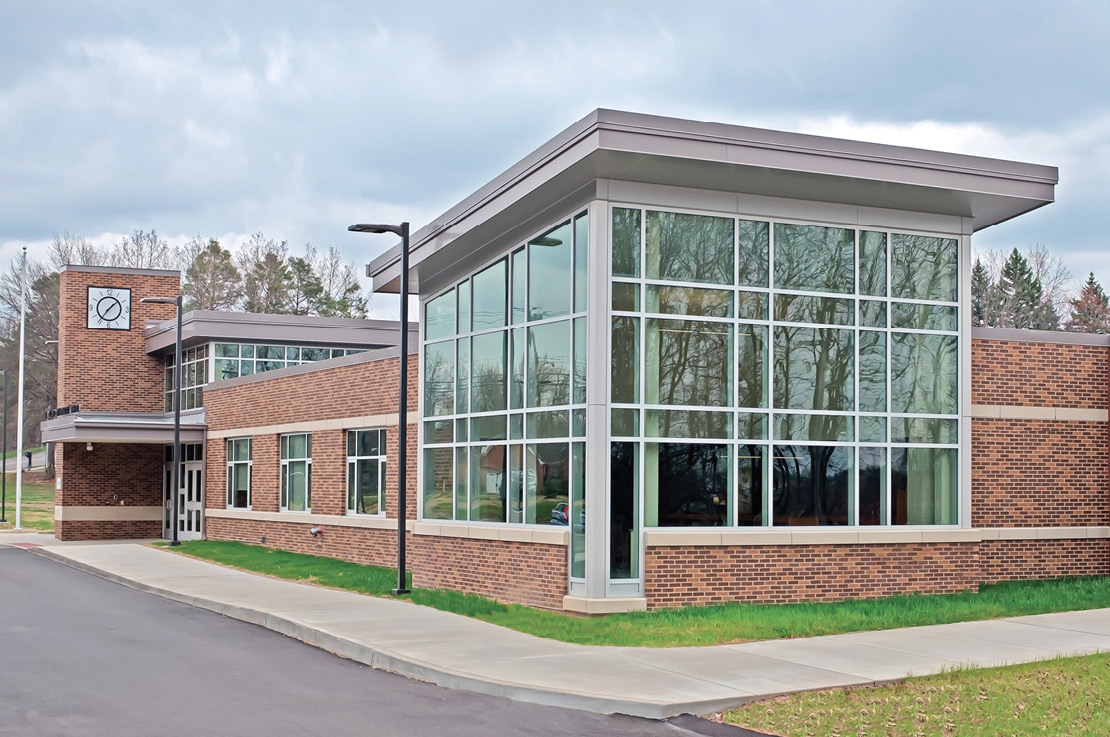 Childgard Security Glazing from Global Security Glazing on an elementary school in Pennsylvania.
Lessons from Parkland
Multifunction protection Hurricane-impact glazing might have saved additional lives at Marjory Stoneman Douglas High School in Parkland, Florida. The building features code-required impact glazing at all levels. Investigators say the shooter appears to have attempted to shoot through a third-floor window, firing 16 rounds into the glass. The laminated impact glass, however, did not break, according to Tampa, Florida's 10News.
Fire safety and security The fire alarm was set off shortly after the attack began at Marjory Stoneman Douglas High School. According to reports from the Miami Herald, faculty, staff and students began to evacuate the building during the alarm, putting them in harm's way.

The time How long will a system be required to stand up to a given threat? "The primary thing is buying time, delaying entry," says JEB's Nicklas. "If there is a police station across the street, you won't need to wait long for first responders. If you are in a rural community where police are 10 minutes away, the resistance level of the system might need to change," adds Mark Jacobson, North American marketing manager at Kuraray America Inc.
The threat Many school districts are looking to add intruder resistance to their school buildings, according to glass industry sources. "As these school shootings have become more prevalent, we started hearing demand for bullet-resistant doors, glass," says Kenny Webb, director of integrated solutions and marketing communications, Assa Abloy. However, traditional bulletproof or bullet-resistant solutions offer a level of protection beyond what is needed for intruder resistance. The goal for intruder resistance is to "deter access, delay access, giving time for first responders to arrive," Webb says.
The weak link When considering the protective properties of a glazing system, look first for the weak link. Glass will often be the weakest link in a system until some type of safety glazing is employed. Once the glass is taken care of, look to the locks and hardware. "If you can't break in through the glass, then you look at the locking," says Julia Schimmelpenningh, global applications manager at Eastman Chemical Co. "Multipoint locking is highly encouraged." Architects can also employ reinforced doors and frames to harden the system further.
Budget "We're talking about security and hardening in schools. How do we do that effectively and economically?" says Kevin Norcross, general manager, Vetrotech Saint-Gobain North America. Balancing performance demand and budget should be a key discussion early in the project process, he says. The glass industry offers a wide range of security solutions depending on the project budget. "You can have a simple piece of laminated glass with standard PVB all the way up to full ballistic Sentry resistance. You can protect for minutes or hours. It's just a question of what you need and how much you are able to spend," says Kuraray's Schauss. Work with suppliers to determine the best solutions for the project's budget.
Safe zones Suppliers recommend that architects consider using a range of protection levels for different areas of the building. For example, certain safe zones will require higher levels of protection. "Schools may want to create a safe room where they will have a large number of students in one place—the cafeteria, for example—and they will harden these areas," says Nicklas. Key points of entry should also be a focus. "The front entrance is a primary entry point. Schools may want to put in a security vestibule there. There is an opportunity to have bullet-resistant products, perhaps for a pass-through window," Webb says.
Alternate points of entry Front entrances aren't the only locations for security glazing. Ground-level windows and back and side doors should also be considered. "You want to make sure you're protecting all openings on the first floor," says Jacobson.
Interior openings Exterior solutions are a focus of intruder resistance. However, interior protections should also be considered. "How do you safeguard the classrooms? You need to put [protective] glass into the door lites and the sidelites and use special hardware in the door to close them down, lock them," says Nicklas.
Fire protections The addition of intruder resistance products must act in concert with requirements for fire protections. An aftermarket film applied to a fire-rated glazing system will affect the product's ability to perform in a fire. "Some other aftermarket products, such as barricades or wedges underneath the door, might be in conflict with the code," says Webb. The fire marshal can help a project team determine if the assemblies fully comply with fire code requirements. Read more about fire-rated glazing solutions and trends on page 54.
Codes & Standards: FAQs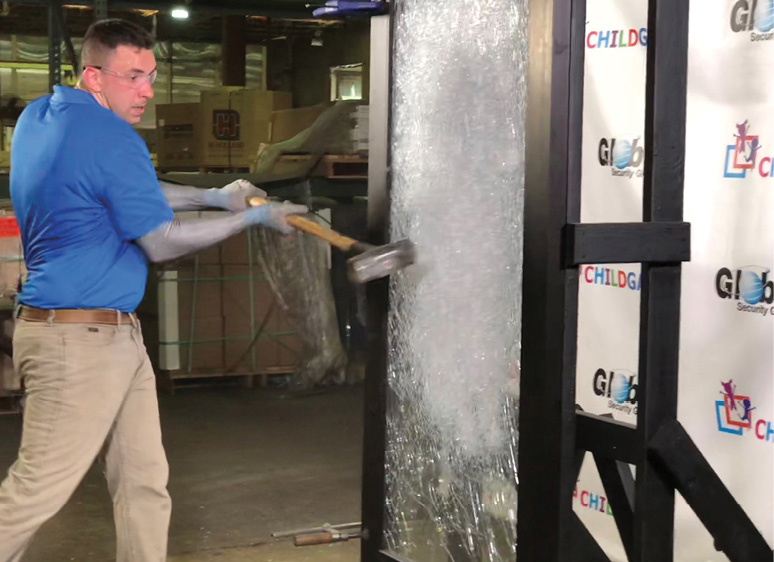 No industry-wide test standard exists specifically for school security glazing. Several companies have developed their own test methods to ensure products withstand intruder threats. Pictured, a test for Childgard Security Glazing from Global Security Glazing.
Resources
The National Glass Association offers manuals, Glass Informational Bulletins and AIA Presentations on the topic of security and safety glazing.
Security Glazing for Schools GIB*
*Updates underway.
Bullet Resistant Glazing GIB
Detention Facility Glazing GIB
Protective Glazing 101
Protective Glazing Manual
Laminated Glazing Reference Manual
NGA AIA Presentation on Protective Glazing
Visit GlassMagazine.com/May2019 for links and additional information. Continue reading about glass in school security and earn 1 AIA LU from NGA's new Glass & Glazing Design Academy in the June issue of Architectural Record.

Do any building codes require security glazing in schools?
No. However, a growing number of school districts nationwide are looking to meet voluntary security glazing standards to provide additional protection for their school buildings.
Is there a test standard for school security glazing?
Yes and no. "We often hear there is no standard for these applications. Well, actually, there are about 40," says Eastman's Schimmelpenningh. "There are impact standards, forced-entry standards, blast standards, burglar-resistance standards." However, standard organizations have yet to develop a standard or test method specifically for intruder resistance or active-shooter resistance in schools.
In the absence of an industry-wide test standard, several individual companies have developed their own test methods.
Is an industry-wide standard under development?
Yes. A task group at ASTM is working on a test standard to address mitigating armed attacks on buildings, with a focus on schools. "The industry has been trying to get some form of consensus spec put together. … The hope is that this design consensus will be in place in 2020," says Vetrotech's Norcross.
Additionally, the National Glass Association's Fabricating Committee formed a task group to update the NGA's Glazing Information Bulletin on school security glazing. The task group will explore developing a test method or guidelines for manufacturers looking to supply security glazing or systems for schools.
Of the existing standards, which is recommended for school security applications?
"Of all of the standards written right now, ASTM E2395 is the most applicable to the scenarios we're seeing," says Schimmelpenningh. "The committee looked at what was needed in the marketplace. We were being asked to have a very repeatable test to help people with schools and that type of entry."
ASTM E2395 Standard Specification for Voluntary Security Performance of Window and Door Assemblies with Glazing Impact was updated in 2018. The specification addresses systems intended to "frustrate opportunistic entry by unskilled and semi-skilled intruders," according to ASTM.
In the test, 2-by-4 missiles are projected at the glazing assembly with an air cannon. Then the system is hit 10 times with a ball-peen hammer. "This was designed to provide the schools options. If a school couldn't put in bullet-resistant glass, they can consider a glazing option that will offer some capability to deter entry," says Schimmelpenningh.
Existing standards, certifications and test methods
There are three main categories of security products: bullet-resistant, forced-entry and blast-resistant. Security-rated glass products must undergo certification and testing from an outside test lab. Key standards and test methods:
Forced-entry standards (voluntary)
ASTM F1233 Standard Test Method for Security Glazing Materials and Systems, which protects against blunt and sharp impacts, and thermal and chemical attacks
ASTM F1915 Standard Test Methods for Glazing for Detention Facilities, which protects against larger blunt and sharp impacts
HP White Ballistic and Ballistic Resistance Standards, testing blunt and sharp impact plus ballistics
UL 972 Standard for Burglary Resisting Glazing Material, which includes a ball drop test
ASTM E2395 Standard Specification for Voluntary Security Performance of Window and Door Assemblies with Glazing Impact, which test systems against different tools on the framing and missile impacts on the glazing
Bullet-resistance standards (voluntary)
UL 752 Ballistic Standards
NIJ 0108.01 Ballistic Resistant Protective Materials standard and test
WMFL ballistics and forced-entry test procedure
Blast-resistance standards (voluntary)
ASTM F1642 Standard Test Method for Glazing and Glazing Systems Subject to Airblast Loadings
Standard Practice for Specifying an Equivalent 3-Second Duration Design Loading for Blast Resistant Glazing Fabricated with Laminated Glass
ISO 16933 Glass in Building - Explosion-resistant Security Glazing - Test and Classification for Arena Air-blast Loading
General Services Administration blast-resistant standards
Department of Defense blast-resistant standards
School security standards (voluntary)
NFPA 3000 - Standard for an Active Shooter/Hostile Event Response (ASHER) Program, updated in 2018
(In process) ASTM Mitigation of Armed Aggressors in Educational Institutions (F12/E54), which held its second meeting in January 2019
(In process) ICC Ad Hoc Committee on Building Safety and Security, which is looking at current building and fire code requirements as they relate to developing the necessary balance between building security and fire safety considerations
What is security glazing?
The glass industry has developed a range of security glazing solutions that provide intruder resistance without the price tag of more traditional bulletproof or bullet-resistant products. The products are designed to delay a potential intruder until first responders arrive. Visit GlassMagazine.com/May2019 to read about protective glazing solutions for safe schools.
Below, left to right:
Single safety tempered glass lite applications, Applications: Safety | Daylighting;
Single lite with film/plastic, Applications: Forced-entry | Blast | Safety | Daylighting
Laminated applications, Applications: Enhanced forced-entry | Enhanced blast | Enhanced safety | Containment when broken | Impact (containment) | Enhanced acoustical | Daylighting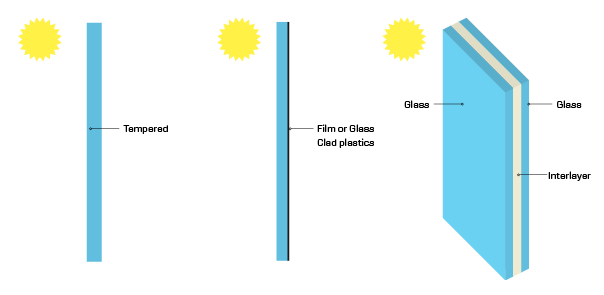 Laminated IGU
Applications: Enhanced forced-entry | Enhanced blast | Enhanced safety | Containment when broken | Hurricane impact | Enhanced acoustical | Energy efficiency | Daylighting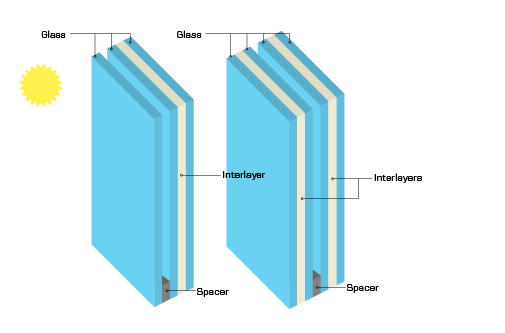 Multiple Ply
Applications: Enhanced forced-entry | Enhanced blast | Enhanced safety | Containment when broken | Ballistics | Hurricane/tornado | Enhanced acoustical | Daylighting