Glass & Metals 401: Guide to Protective Glazing
Protect with Glass: Security for schools + fire-rated applications
Part 2: Fire-Rated Glass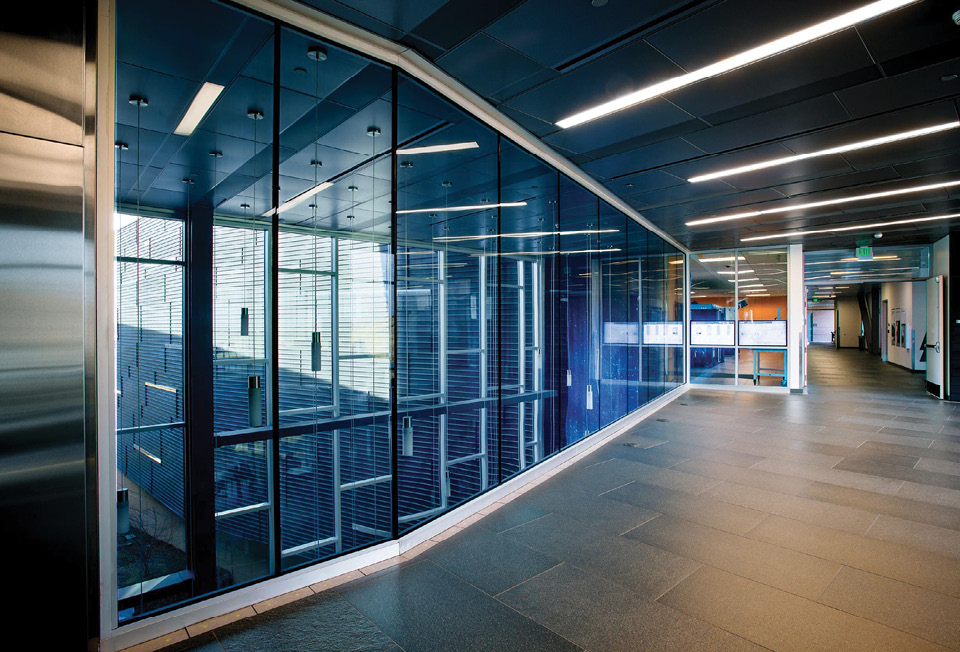 A 60-minute-rated butt-joint wall from Aluflam encloses a laboratory.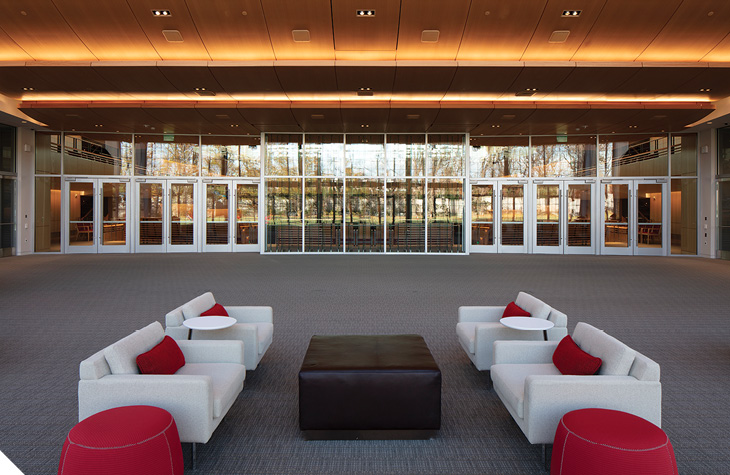 Harvard Business School's Klarman Hall in Boston features a 2-hour segmented fire-resistive wall using Safti First, SuperLite II-XL 120 with Starphire low-iron glass in GPX Architectural Series framing. The architect was William Rawn Associates. Photo by Andy Caulfield.
Top Fire-rated Glazing Trends

01 - Large expanses
Designers want bigger lites of glass and less framing," says Tim Nass, vice president of national sales, Safti First.
Driven by demand for more daylight and visibility, the glass industry has developed solutions that maximize vision areas of glazing systems, including fire-rated systems. Larger lites and butt-glazed systems, "whether it is two- or four-sided," are becoming more common, says Nass.
Jerry Cucchi, sales manager, Aluflam, agrees. "We see a lot of projects that require very tall lites of glass. In most cases, we are able to closely match the architect's design with our butt-joint glass options that offer large exposed glass areas that allow us to provide frame and glass options of up to 12 feet in height."
02 - Thermal performance
As is the case with other exterior glazing systems, thermal performance remains a primary consideration. Fire-rated glazing suppliers are "modeling the systems and understanding how they will perform in concert with the non-rated products as part of the building envelope," says Nass.
03 - Matching systems
Architects and owners want their fire-rated glazing systems to match with their non-rated systems, says David Vermeulen, national sales manager, Technical Glass Products. "Fire-rated frames tend be thicker to hold the fire-rated glass and provide the necessary level of fire defense. In addition, many have limited mullion and cover caps options. While these framing systems are effective from a fire and life safety standpoint, they can cause aesthetic discrepancies at the visual transitions between rated and non-rated assemblies," Vermeulen says. "We've seen an increase in projects calling for fire-rated glazing products that more closely resemble the look of ordinary window glass."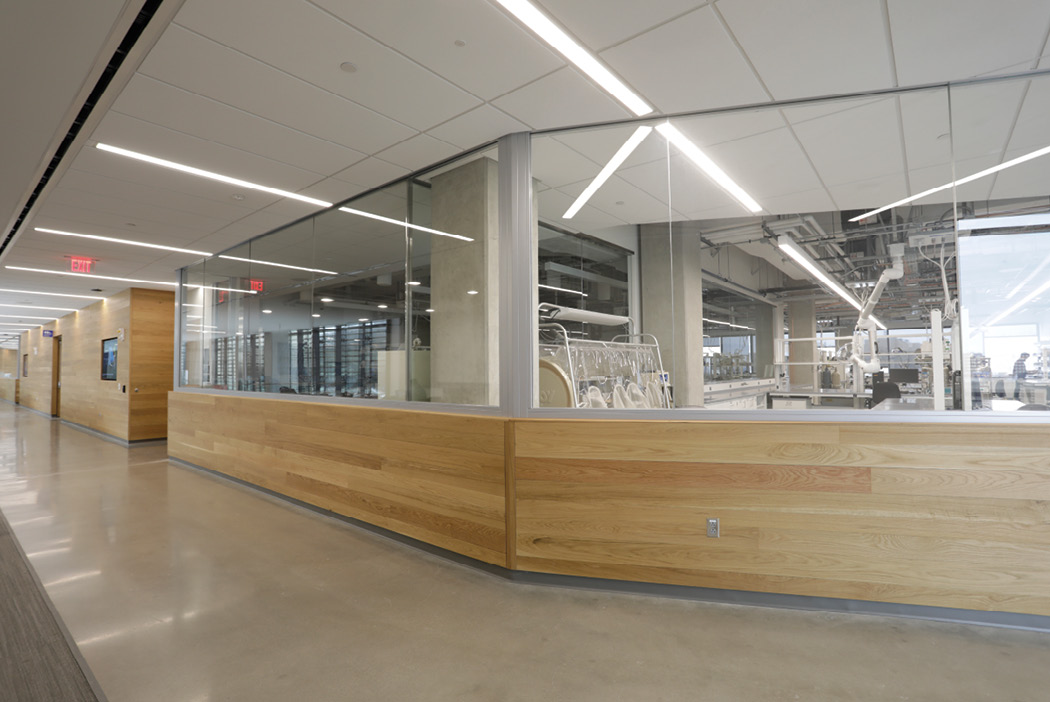 The project team from Cannon Design selected the Fireframes ClearView System from Technical Glass Products for the University of Kansas Earth, Energy & Environment Center to create a seamless glass aesthetic and provide critical fire resistance in the main entrance and second-floor corridor overlooking the main stairway. Photo courtesy of TGP.
04 - Multifunctionality
"Multifunctionality is a trend that took off a few years back and isn't slowing down anytime soon," says Vermeulen. "Design professionals want products that allow them to do more with less. Sometimes that means fire-rated glass needs to support structural loads and block flames, smoke and heat. Other times it means fire-rated glass needs to provide a high level of fire and life safety, offer bullet resistance, and withstand forced-entry attacks."
05 - Weight reduction
"Thick fire-rated and security glass is really heavy, makes doors harder to open and requires upgraded hinges and hardware. To avoid this, door companies are looking for lighter-weight options," says Rob Botman, general manager, Glassopolis.
The trend to fire-rated glass ceramics helps address weight concerns, Botman says. "Ceramics have a lower density than regular soda lime glass, so it's highly valued in doors and moving applications," he says.
06 - Fire-resistant over fire-protective
Two distinct performance categories—fire-resistant and fire-protective—dictate fire-rated building requirements. Fire-protective products block the flames, while fire-resistive products "don't just block the flames, but the gases and radiant heat as well," says Assa Abloy's Webb. "We're seeing a bigger push for fire-resistant glazing," he says.
This trend is, in part, driven by the demand for larger spans of interior glass. "A lot of corridors feature a lot of glass, and you need to provide safe egress in the event of a fire," Webb says. "In these applications, radiant heat is a big deal. Fire-resistant glazing stops the flames from spreading."
07 - Increasing inspections
Annual Fire and Egress Door Assembly Inspections are increasing, says Botman. "In many jurisdictions, fire-rated doors are required to be annually inspected to ensure they retain their full functionality over their lifespan. This not only makes it critical that any replacement fire-rated glass is fully certified, but also it drives fire-rated door manufacturers to glaze with lightweight [glass ceramic products] right in their factory to ensure that the whole door is in compliance," he says.
Fire-rated FAQs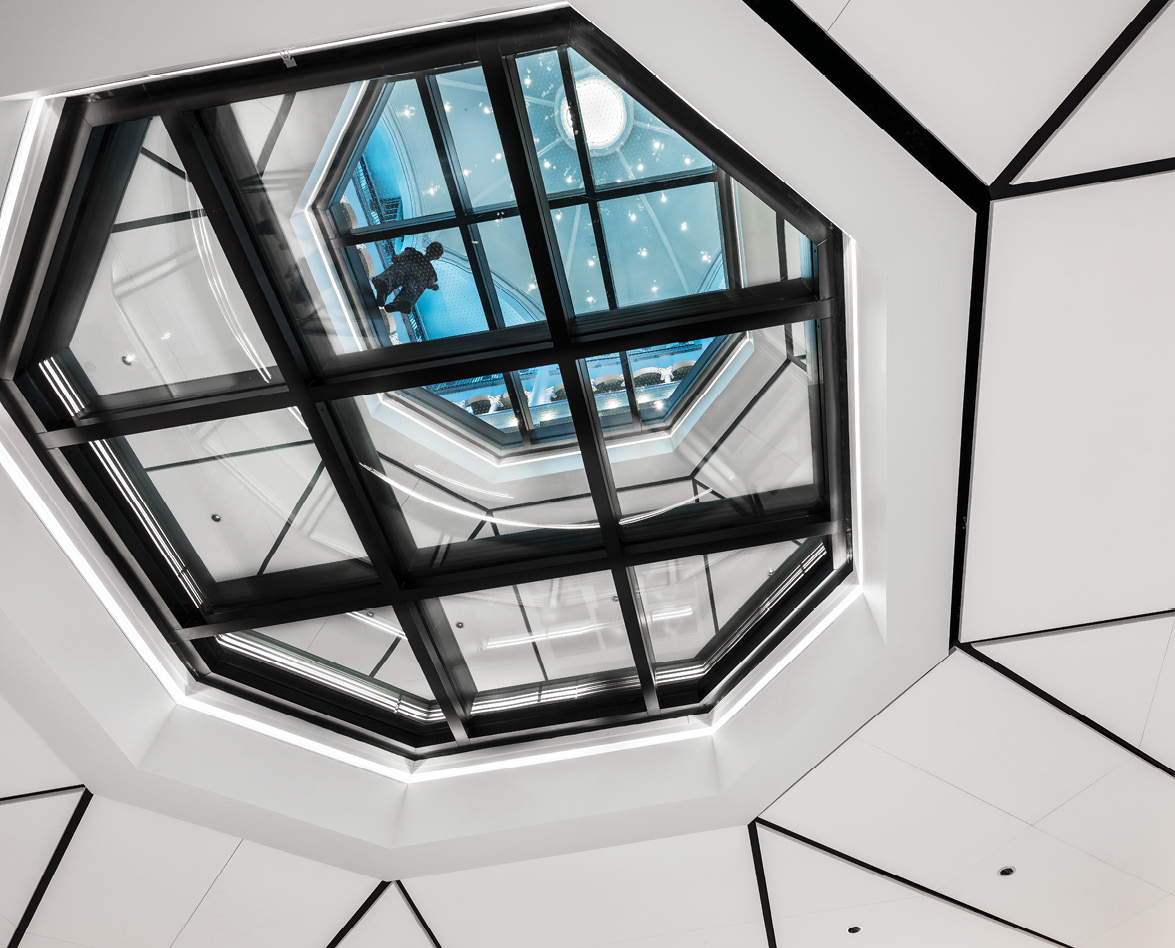 The historic Fayette County Courthouse in Lexington, Kentucky, features two Fireframes ClearFloor fire-rated glass floor systems from Technical Glass Products that provide views of the building's central dome. The fire-rated glass floor systems consist of Pilkington Pyrostop fire-rated glass; a tempered, laminated walking surface glass; and a steel framing grid. The systems are fire-rated for two hours and provide a barrier to flames and smoke, as well as radiant and conductive heat. The project architects were K Norman Berry Associates Architects, in conjunction with Deborah Berke Partners. Photos courtesy of TGP.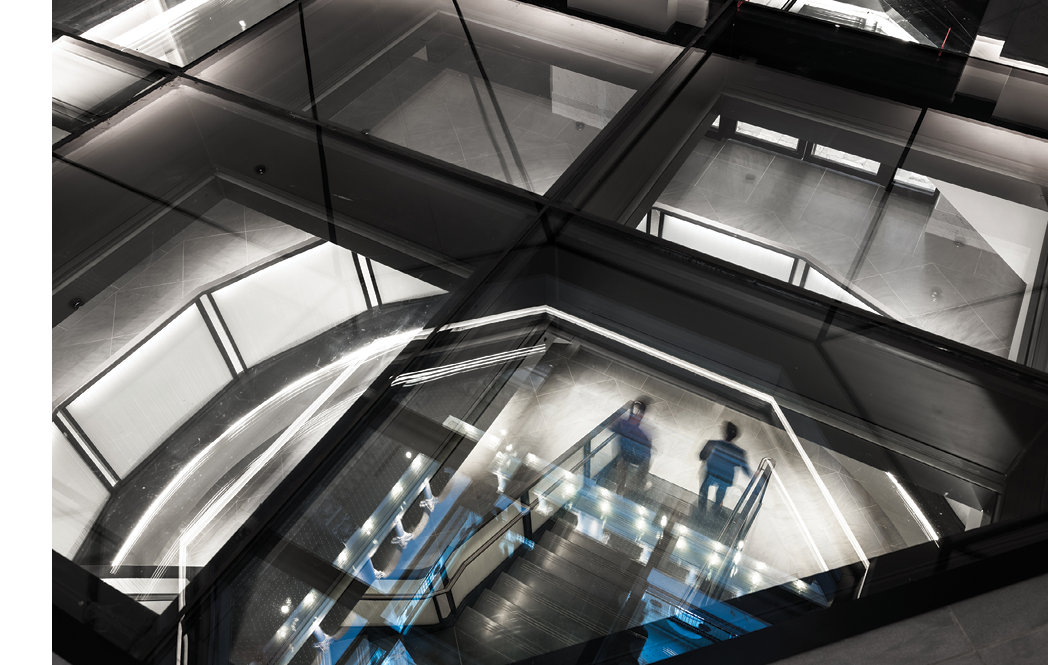 The fire-rated glazing market can be a challenging one to navigate. Suppliers continue to push the envelope of what solutions are possible, and codes are consistently being updated, along with adoption and enforcement.
Suppliers recommend that architects seek assistance from fire-rated glazing partners early and often. "In order to address misconceptions, we stress the importance [of] involving the manufacturer as early in the design process as possible to avoid issues—design and budget—later on," says Aluflam's Cucchi.
Several fire-rated glazing suppliers also offer continuing education opportunities to address market trends, and common questions and concerns.
Here, suppliers present the top frequently asked questions—and their answers—regarding fire-rated glazing.
What are the differences between fire-protective and fire-resistive glazing?
Product performance, design, weight, cost and delivery will vary depending on whether a glazing product is fire-protective or fire-resistive. In terms of performance, "fire-protective products limit the spread of fire and smoke. Fire-resistive products also limit the spread of fire and smoke but also act as a barrier to radiant heat," says Aluflam's Cucchi.
"The barrier to radiant heat is an important distinction between the two and can have a significant impact on cost and schedule," Cucchi says. "There are also differences in how the glass options are made and supplied. Fire-protectives are thinner and lighter and are more of a commodity product that can often be sourced from a different supplier than the hollow metal frames. Fire-resistives are thicker and heavy, and are supplied as a system, frame and glass, from a single manufacturer."
What is the fire rating of a specific application?
Building owners or architects frequently have questions about the fire rating of a particular application, says SaftiFirst's Nass.
"We advise them that, as manufacturers, we cannot determine the rating of a partition or barrier. That must come from the [authority having jurisdiction]. Once a judgment has been rendered, we can advise them of the appropriate product for their specific application," Nass says. "Fire-rated products are application-driven as much as they are code-driven. You may have two or three products rated for 60 minutes, but based upon testing and performance, not all of them will be acceptable for what they are trying to accomplish functionally or aesthetically."
Is wired glass allowed?
"No. Plain wired glass was banned in the IBC 2006 building code in the United States and recently in Canada," says Botman. However, wired glass within an upgraded, impact-rated assembly may still be allowed. The surfaced laminated products offer "safety and forced-entry security features as well," he says.