GlassBuild America 2018
Prepare for the challenges of tomorrow with innovation, education and solutions at GlassBuild America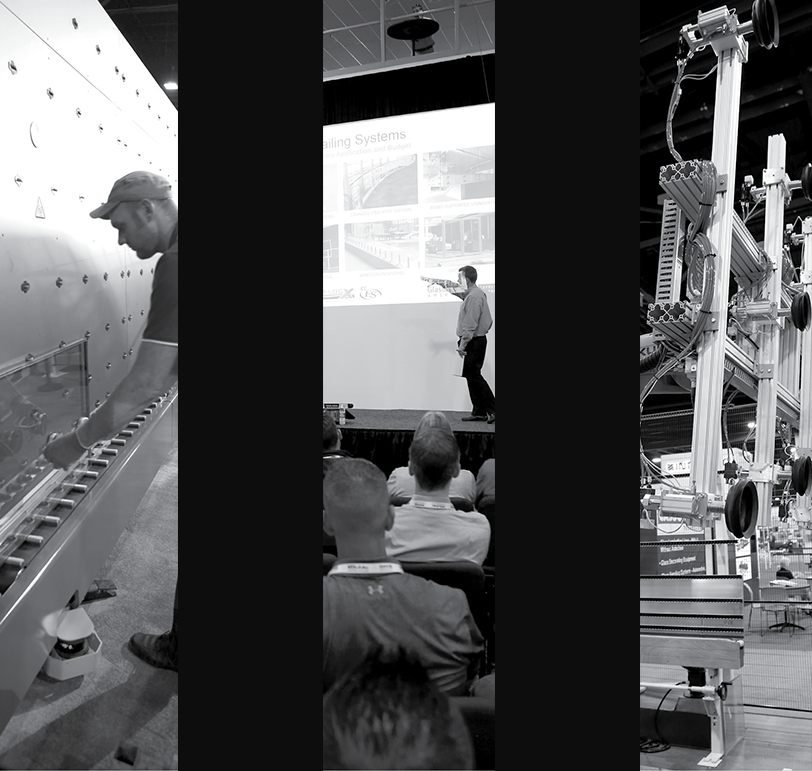 Pictured: Scenes from 2017 GlassBuild America in Atlanta. Organizers expect 450 exhibitors to show at the 2018 event. Photography by Robb D. Cohen.
Exhibit Hall Days & Hours
Wednesday, Sept. 12
10 a.m. – 6:30 p.m.
Thursday, Sept. 13
10 a.m. – 5 p.m.
Friday, Sept. 14
10 a.m. – 2 p.m.
Fall Conference
Sept. 11–14
Held in conjunction with GlassBuild, the Fall Conference is an opportunity to help define industry standards and elevate design and construction by creating the expertise that advances the use of architectural glass. See detailed schedule at GlassBuild America.
Online
Visit GlassBuildAmerica.com for more information on:
How to exhibit
How to register
Where to stay
How to download the app
How to map your route on the trade show floor
The glass industry and construction markets are anticipating continued growth throughout 2018, according to many industry representatives, which makes it vital for companies to keep up with new trends and technologies coming down the line and to adapt to market conditions. For the past 15 years, industry professionals have been attending GlassBuild America: The Glass, Window & Door Expo, to achieve just that.
From Sept. 12-14, thousands of glass industry representatives will convene at the Las Vegas Convention Center for GlassBuild America 2018, the largest annual gathering of the glass, window and door industries in North America. Over a show floor of 175,000 square feet, visitors can track trends, meet customers and discover solutions to top challenges.
"GlassBuild America represents the single most important North American event of the year," says Michael Spellman, founder and CEO, IGE Glass Technologies Inc. "This is where generations of glass people make their yearly crusade to see one another and to keep up with the latest range of technical solutions in the glass processing industry."
What to expect
This year's GlassBuild America will host an estimated 450 exhibitors from a broad spectrum of companies, including manufacturers, distributors, fabricators, retailers, and dealers of flat glass and residential windows and doors. Show organizers report that the increased interest for exhibit space for the 2018 show required the addition of an extra hall.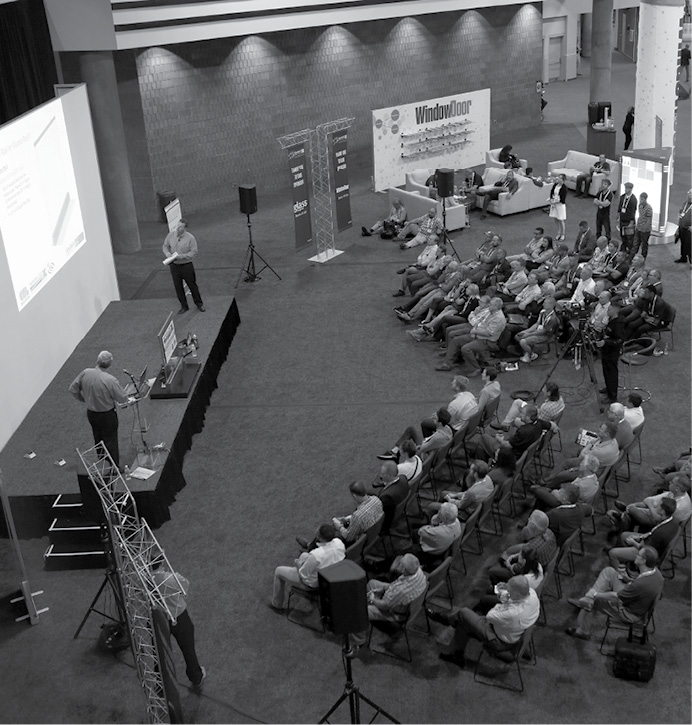 "With the industry thriving, we knew we'd have increased demand again," says Molly Grenn, events director, National Glass Association, the event organizer. "We maintained the larger space, even adding a few more thousand net square feet and, as of early April, we are nearly 90 percent sold out; even more so for the machinery space."
New for 2018 is the Opening Reception, featuring food, drinks and activities. Held the evening of Sept. 12 on the trade show floor, entry is included with registration. "Participants indicated they want more networking opportunities, so this will close out the first day with time for people to be social and make more connections," Grenn explains.
An underlying theme of this year's event is the National Glass Association's recent merger with the Glass Association of North America. The two associations officially merged on Feb. 1, becoming the largest trade association serving the architectural glass and glazing industry.
Nicole Harris, NGA's president and CEO, says that the positive impacts of the merger will be seen on the trade show floor, in the education content and in the association resources on display. "NGA now represents the entire architectural glass and metal industry supply chain," she says. While that supply chain is always evident at GlassBuild America in the displays and attendance, Harris anticipates that more of those supply chain participants will now be attending. "This combination further solidifies GlassBuild America's position as the industry's annual gathering place," she says.
One of the more notable impacts of the merger will be the Fall Conference that was hosted by GANA but will now integrate the resources of both organizations to provide participants with even more technical tools and resources. "GANA's legacy Fall Conference meeting will return with an expanded and integrated audience," says Urmilla Jokhu-Sowell, technical services and advocacy director for the NGA, adding that there will be more technical resources available in the Industry Associations booth.
During GlassBuild America, the merged association will also promote its industry resources, like the new guide Glass & Glazing Estimating Essentials, which includes a reference manual and two MyGlassClass.com online education courses. This is one of the first outcomes of the newly combined association, which "shows the synergies between the organizations' resources," Jokhu-Sowell says.
Keeping up with trends
A key aspect of adapting in the ever-evolving industry is keeping up to date with the trends, challenges and opportunities that are constantly affecting it. But, as Tim Nass, vice president of sales, Safti First, puts it, people are extremely busy. "Many are blazing new trails every day with complex projects and unique, multi-functional applications," he says. The event, "centralizes a lot of innovation in one location, giving the curious glazier an opportunity to learn a lot about the products at their disposal."
Automation continues to be one such trend that's driving industry development. And GlassBuild America is an important resource to keep up with what's new in automation, with about a quarter of exhibiting companies showcasing machinery and equipment and/or software solutions for the changing industry. "Advances in [Internet of Things] and Industry 4.0 will be prominent at this year's show," says Ron Crowl, president and CEO of FeneTech, of the industry's automation evolution.
"Because labor is the biggest issue our customers are facing right now, they all come [to GlassBuild America] to see what's new in high-speed automation lines," says Erin Johnson, director of marketing, Quanex Building Products.
"There's a paradigm shift from labor to automation, adds Syndi Sim, vice president of marketing and business development, Diamon-Fusion International. "We're hoping to see, not only machines, but software/CRM that will streamline processes, helping the fabricator become more efficient."
Educational opportunities
As the industry's products and technologies continue to evolve, and as codes and regulations continue to change, it is critical for company leaders, no matter how seasoned, to keep learning about the industry. "Knowledge is power," says Danik Dancuse, marketing operations manager, Walker Glass. "It makes us better armed to face any changes in the industry."
This year's GlassBuild America will include new and updated educational opportunities to keep participants as up-to-date as possible on the information that is most relevant to them and their businesses. The popular on-the-floor Express Learning program will continue at the 2018 show, with a renewed focus on tackling the most prominent business challenges facing glass companies. Additionally, the show will host action demonstrations on the floor to allow visitors to see technologies and solutions up close and in action.
"The educational sessions keep us up to speed on the changing technologies, codes and legislation that affect us. If you can take one new bit of information, then you've completely paid for your trip," says Gareth Francey, president, Bohle America, Inc.
In addition to show floor education, attendees can also register for the 2018 Glazing Executives Forum, now in its 13th year. The forum "will feature the always-popular economic forecast and an in-depth panel on navigating the supply chain. We're also excited to be putting together some new expert-led breakout sessions that will give participants Q&A time with the industry experts of their choice—this will really give attendees solutions to fit their own needs," says Jenni Chase, content director, NGA.
Making connections
Even with all the resources available to participants, many say that the most invaluable part of the event is the chance to meet and speak with customers face-to-face. "GlassBuild America is an opportunity to see all the customers we can't usually see in person, all in one place," says Michael Frett, sales manager, My Glass Truck. "It adds a sense of familiarity; the bond of a person-to-person interaction is priceless."
As Walker's Dancuse notes, "Most of the major glass industry players are there." He says, "Despite all the advances in technology and communication, human contact remains the most important part of how we do business."
Additionally, the show offers opportunities to connect with decision makers, particularly those looking to find new and innovative solutions for their companies. "GlassBuild attendees are there to improve and grow their businesses," says Andrew Haring, vice president of marketing, C.R. Laurence. Organizers report that 48 percent of registered attendees hold CEO, president or other executive management positions, and 76 percent of attendees recommend or make the final decision about their company's purchase of products.
The event provides participants with knowledge and information to help build a better business, say exhibitors. "GlassBuild America gives us the chance to share our best practices with the industry and to learn from others. With so many industry leaders in one place, we always come away with new ideas," says Mary Avery, vice president of marketing, Tubelite Inc.
GlassBuild America is presented by the National Glass Association, now combined with the Glass Association of North America, and the Window & Door Dealers Alliance, along with show partners, the American Architectural Manufacturers Association, and the Insulating Glass Manufactures Alliance, and in conjunction with the industry's leading publications—Glass Magazine and Window & Door. To register for the show or to learn more, visit glassbuildamerica.com.
Schedule-at-a-Glance
As of April 24, 2018. Schedule is subject to change. Visit GlassBuildAmerica.com for updates. All GlassBuild America events will take place at the Las Vegas Convention Center, North Halls, unless otherwise noted.
Daily Schedule
Wednesday, Sept. 12
Thursday, Sept. 13
Friday, Sept. 14

Registration Open

8 a.m. – 6:30 p.m.

13th Annual Glazing
Executives Forum

10 a.m. – 6:30 p.m.

Exhibit Hall Open

10 a.m. – 6:30 p.m.

Express Learning

10:30 a.m. – 4:30 p.m.

Action Demonstrations

10:30 a.m. – 4:30 p.m.

GlassBuild America Opening Reception

5 p.m. – 6:30 p.m.

Registration Open

7:30 a.m. – 4 p.m.

Exhibit Hall Open

10 a.m. – 5 p.m.

4th Annual Window & Door Dealer Day

8 a.m. – 5:45 p.m.

Express Learning

10:30 a.m. – 4:30 p.m.

Action Demonstrations

10:30 a.m. – 4:30 p.m.

Registration Open

8 a.m. – 1 p.m.

Exhibit Hall Open

10 a.m. – 2 p.m.

Express Learning

10:30 a.m. – 12 p.m.

Action Demonstrations

10:30 a.m. – 12 p.m.