Great Glazing: 111 Market Square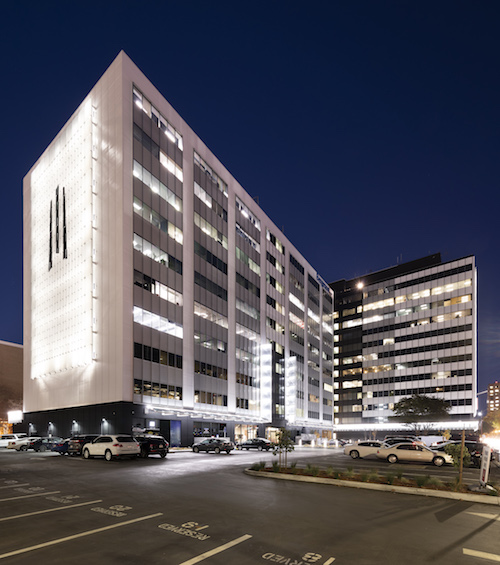 Photo above by Jeff Peters, Vantage Point Photography Inc.; below right by MODULUS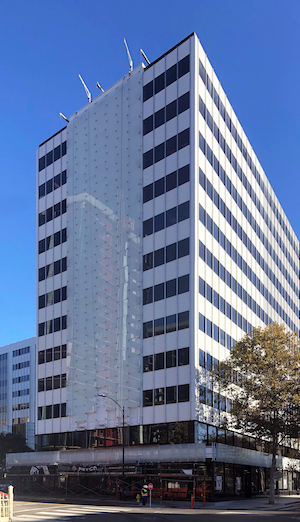 The basics: Project goals for the 111 Market Square retrofit in San Francisco included changing the appearance and perception of the two multi-story office buildings on a tight construction schedule and budget. Architects explored several economical cladding finishes, including metal panels. Decorative glass was chosen for its elegance and sophistication. The back-lit glass cladding is a key element in the upgrade of two 1960s office towers, making them lighter and more sophisticated without requiring modifications to the building mass and window lines.
The players: Architect, MODULUS Architects; general contractor, METCON-TI; contract glazier, W Carter & Associates Glazing; specialty glass facade supplier, Bendheim
The glass and systems: Bendheim supplied the ventilated low-iron glass façade. The back-lit glass system covers major areas of the exterior walls and creates new overhangs and decorative fins. The translucent white laminated panels of glass reach sizes up to 4 by 6 feet.
The customized façade system was designed and engineered to California seismic conditions. It was installed by W Carter & Associates Glazing.
A staggered panel layout adds visual complexity to the building façade. The panels attach to the building via adjustable metal fittings that tie back to the existing structural beams and concrete façade.