Great Glazing: Amazon Expanded Headquarters Glass Canopy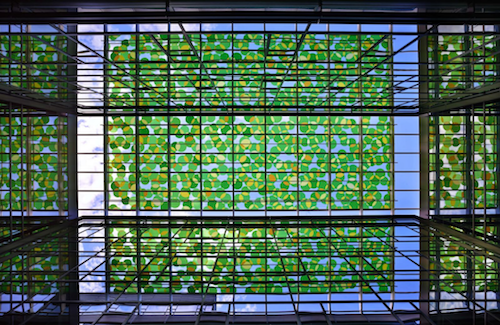 Photos courtesy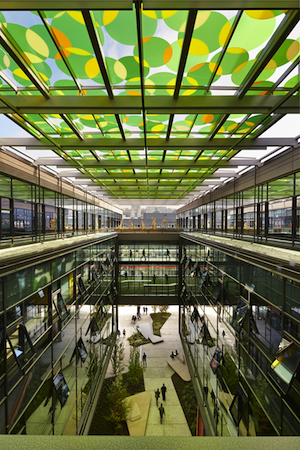 of Goldray Glass
The basics: Amazon's expanded headquarters in Seattle features an overhead bridge, restaurants, retail space and a public area with a stream, heated outdoor seating and extensive landscaping. A notable feature of the 400,000-square-foot expansion in the South Lake Union neighborhood is the architectural glass canopy connecting the project's two new buildings. Inspired by the overlapping shapes of tree leaves and the patterns of light filtering through them, the canopy, "There is Another Sky," is located four stories above an outdoor plaza.
The players: Architect, ZGF Architects; design, Spencer Finch; general contractor, GLY Construction; contract glazier, Evergreen House; glass manufacturer, Vitro Architectural Glass; glass fabricator, Goldray Glass
The glass and systems: The decorative canopy features an abstract circular design pattern imprinted on technographic interlayer film by Goldray Glass and then laminated between two lites of Starphire glass by Vitro Architectural Glass.
Artist Spencer Finch developed the pattern with five hues and five opacities to control and vary the amount of light that filters through the glass.
Goldray's Technographic Interlayer process uses a polyester film that can be printed with high-resolution images. To achieve the effect Finch was seeking, a finished segment of the canopy was placed over the plaza with a crane before final installation. The fabrication process ensured the correct depth and vibrancy of color, while making the glass safe for use in overhead installations.
The patterns and colors within the canopy create a space for reflection and call attention to the places people inhabit, making them feel as if they're "walking beneath a forest canopy," according to Finch.