Great Glazing: American Airlines Arena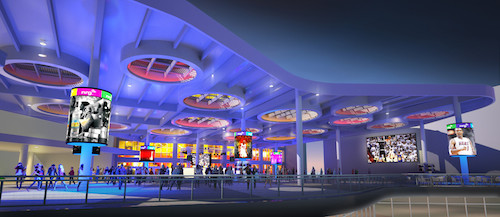 The basics: American Airlines Arena, the home stadium of the Miami Heat basketball team, has a prime location in Downtown Miami with spectacular views of Miami Bay, and now has a state-of-the-art, new solar pavilion, featuring innovative, energy generating photovoltaic glass.
The original building, designed by the architecture firms Arquitectonica and 360 Architecture, opened in 1999. It has been renovated several times to host basketball matches as well as other events like concerts and conferences. The current renovation project, headed by NRG Energy, creates a new 26,000-square-foot covered space for events that allows the Miami Heat to play with lighting effects.
The players: Architect, DLR Group; general contractor, Skanska Building USA; contract glazier, Atlas Apex USA; glass fabricator, Onyx Solar; metal systems supplier, Gammans Skylight Systems
The glass and systems: The solar pavilion is part of the retrofit project which occupies the Arena's East Plaza, designed by DLR Group as a unique space to celebrate events. With its use of innovative photovoltaic glass, the design celebrates sustainability and reinforces the Arena's reputation for building green.
Contractor Skanska Building USA installed approximately 300 crystalline silicon PV glass units, made to measure by Onyx Solar, and placed in 14 circular skylights located at the entrance of the stadium. Gammans Skylight Systems provided the framing. The PV glass will enable the stadium to generate 34,500 kWh yearly for self-consumption, preventing the release of 20 tons of carbon dioxide as well as other greenhouse gases into the atmosphere.
Translucent PV glass incorporates mono-crystalline Silicon solar cells to harvest sunlight and to generate electricity. The rear acid-etched glass will allow for sunlight to pass through in a diffuse manner, also enhancing the aesthetics and lighting effects of the solar pavilion.
The Arena is the first sports and entertainment center to obtain the LEED Gold re-certification.