Great Glazing: American Veterans Disabled for Life Memorial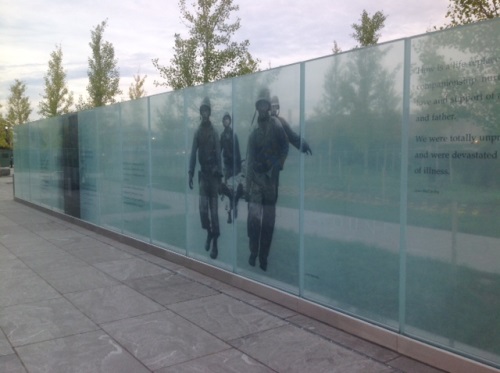 Photos by Bryan Steingard and Don Ripper
The basics: Unlike other national memorials, the American Veterans Disabled for Life Memorial will pay tribute to disabled veterans both living and deceased across all conflicts throughout the nation's history. The design of the Memorial envisions a hallowed place amid the bustle of the surrounding Washington streets.

One of the most challenging aspects of the Memorial was the preparation of the 48 laminated oversize glass panels that display the soldiers' stories through quotations and photographs. These etched glass panels form the heart of this living monument.

"Glass is a material of disclosure and transparency," said Jerome Cloud, principal in charge of design for Cloud Gehshan Associates in Philadelphia. "It liberates and illuminates the imagery and veterans' voices in a way that carving them into stone would not have done."

The players: Architects, Shalom Baranes Associates, Michael Vergason Landscape Architects; glass manufacturer, PPG Industries; glass fabricators, (cutting, polishing, tempering) Hartung Glass Industries; (etching) Moon Shadow Glass Inc.; (lamination) Glass Strategies Inc.; glazing installer, Tidewater Glazing


The glass and systems: Hartung Glass Industries cut, polished and tempered each glass sheet of ¾-inch ultra-clear Starphire Glass by PPG. Each individual layer is 48 inches by 106 inches and weighs 360 pounds. As a result of laminating, the Memorial's panels are strong enough to withstand hurricane-force winds without bending, breaking or leaning. With five layers of glass, plus four layers of lamination, the total weight of each glass panel is approximately 1,800 pounds.

Moon Shadow Glass, Inc. handled the etching process. The fabricator produced detailed stencils and film from the original artwork. After putting those images on the glass, Moon Shadow manually sandblasted the surface. Some of the etchings appear on the outside surfaces of the panels, allowing visitors to touch and feel the indentations, which are 1/16-inch deep. Laminating the separate sheets of glass to create a panel was done by hand using a liquid resin called Polylam, manufactured by Glasslam, to fill the irregular etched spaces between the sheets of glass before hardening into a solid, unbreakable bond.

Once the lamination was completed, a computer-controlled waterjet was used to trim each panel to its finished size. After the trimming was completed, the edges of the glass panels were rounded and polished to ensure a smooth finish that visitors can easily touch.

The artwork is illuminated by light passing through bronze cut-outs and lit up at night, animating and bringing the glass panels to life.