Great Glazing: Apple Retail Store Rooftop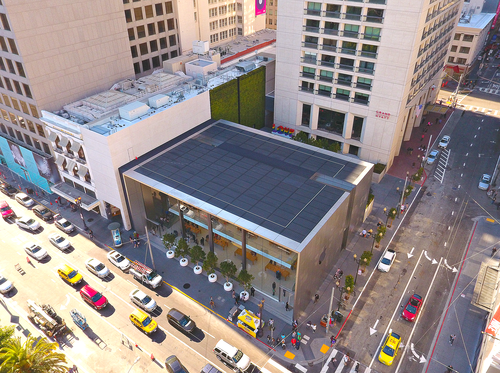 Photos courtesy of Skyco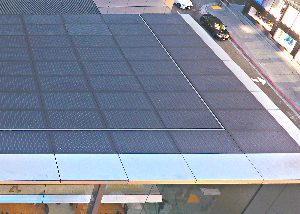 The basics: The Apple Retail Store Union Square, San Francisco, opened in May 2016. Its design, a collaboration between Foster + Partners and Apple's design office, takes advantage of the mild northern California climate, maximizing natural light and ventilation throughout the store. Fresh air is expelled out through the roof, and the store is powered entirely by renewable energy, including 130 photovoltaic panels integrated into a walkable rooftop solar system.
The players: Architect, Foster + Partners; general contractor, Ledcor; glass supplier, Onyx Solar; skylight manufacturer, Skyco Skylights
The glass and systems: Skyco Skylights manufactured the rooftop solar skylight system. It features glass designed to collect anywhere from 30 to 70 percent of the sunlight for power generation. The remaining sunlight, not converted to power, is visible light passing through the skylight.
The crystalline silicon photovoltaic glass units of 10 by 5 feet were made in Spain by Onyx Solar and installed in an anti-slip rainscreen cladding system.
The BIPV tiles, which resemble normal roofing tiles, are strong enough to land a helicopter on the roof without blemishing them, according to officials from Skyco. The photovoltaic glass allows building owners to capitalize on federal and state tax credits while beneffiting from power generated by BIPV skylights.