Great Glazing: Balenciaga Flagship Store, Miami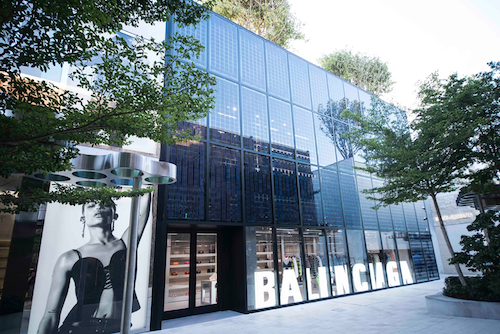 Image above courtesy of Crawford-Tracey Corp.; Image below right courtesy of Onyx Solar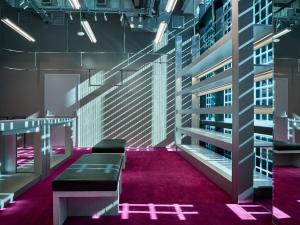 The basics: The Balenciaga flagship store in Miami is the 12th store of the luxury fashion company in the United States. Located in the heart of the Miami Design District, Balenciaga's new store stands out with a photovoltaic glass façade designed to meet Florida's tough hurricane code requirements. The glass generates energy from sunlight, like solar panels, and the building acts as a power plant, while maintaining its design appeal, aesthetics, efficiency and functionality. Completed in April, the pale blue photovoltaic curtain wall spans 2,750 square feet and offers the luxury finish required by the fashion retailer while showcasing its approach to clean energy.
The players: Architect, Atmosphere Design Group; construction manager, Pacific Construction; general contractor, RCC Associates Inc.; contract glazier and glazing system supplier, Crawford-Tracey Corp.; glass supplier, Onyx Solar Group
The glass and systems: The double laminated insulating and photovoltaic glass is Onyx Solar crystalline Silicon low-emissivity photovoltaic glass in pale blue. This PV double glazing unit comes with a ½-inch argon-filled air space, all heat-strengthened glass and SentryGlas interlayers. The assembly is hurricane resistant, and wires are concealed within the framing system. Each glass is approximately 10 by 5 feet and supplies 340 watts per unit. The glass filters 99 percent UV and 95 percent IR, protecting the store interiors while providing natural light.
Crawford-Tracey incorporated the PV glass into their Pro-Tech 7SG, a 7-inch structurally glazed curtain wall system for Large Missile Impact and Small Missile Impact applications, approved by Miami-Dade County and the State of Florida. The system is designed to withstand water pressures of 100 pounds per square foot.
"We enjoyed working on this project and incorporating the PV glass, a first for us," says Ray Crawford, president, Crawford-Tracey Corp. "This project is a great example of where technology is going with glass and glazing systems, offering the client a great look while contributing to sustainable design, all while meeting some of the toughest hurricane building codes in the world."