Great Glazing: BNA Nashville International Airport Short Term Parking Garage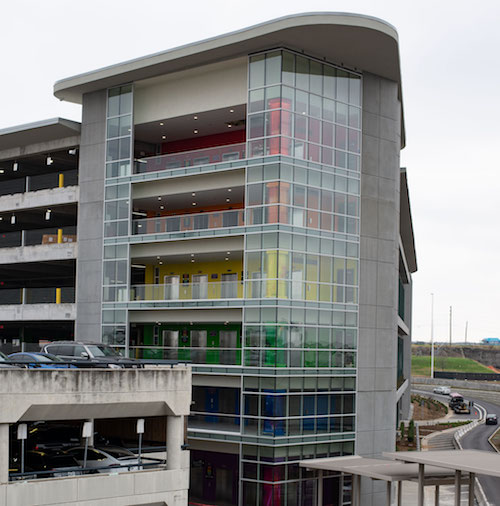 Photos courtesy of Moon Shadow Glass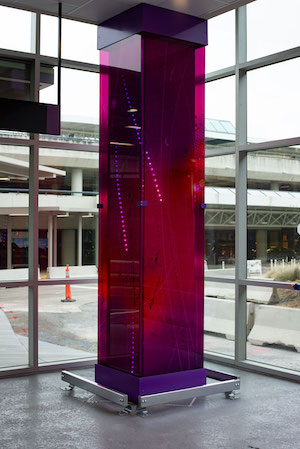 The basics: BNA Nashville International Airport recently opened a $115 million Parking and Transportation Center. The facility offers 2,200 parking spaces, a variety of amenities for travelers and a dedicated Ground Transportation Center for commercial vehicles. The six-level garage features the art installation, "Air/Traffic/Control," by Ivan Toth Depeña, a light and glass sculpture in the elevator lobby on all six levels of the garage. Each glass pillar has four sides showing flight and wind patterns for the airport. Each of the six floors is a different color, creating a dramatic rainbow effect from the outside of the structure.
The players: Designer/Artist, Ivan Toth Depeña; general contractor, JE Dunn; contract glazier, McInerney & Associates Inc.; glass manufacturer, Vitro Architectural Glass; glass fabricators, Oldcastle BuildingEnvelope, Moon Shadow Glass, ACSM (enclosure); interlayer: DeGorter
The glass and systems: The installation is direct printed transparent laminated glass with LED light backside illumination. Its panels range in size from 42 inches wide and 84 to 144 inches tall.
Oldcastle BuildingEnvelope supplied Vitro Starphire glass to the project.
Moon Shadow Glass printed and laminated the ¼-inch over ¼-inch glass, working with the artist to make sure the colors were vibrant and clear for the LED lighting behind it.
DeGorter supplied the EVA interlayer.
More project photos are available at the artist's Instagram page.