Great Glazing: Brooklyn Academy of Music South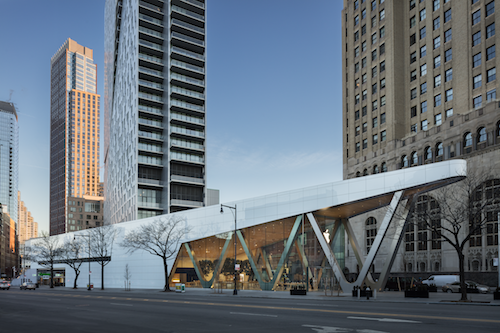 Photos courtesy of Technical Glass Products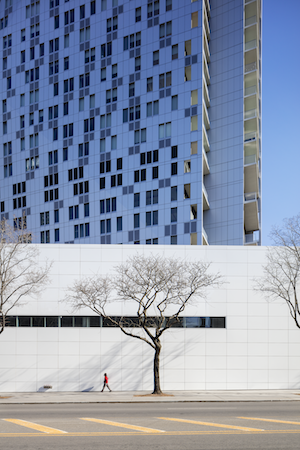 The basics: The new, 32-story Brooklyn Academy of Music South tower is a slender, mixed-use building with a porous design and an expansive, terraced plaza. Its lower portion includes a large retail space, with Apple occupying the space under the nose of the building and Whole Foods the area along the back. A stepped plaza follows the building's base, extending upwards to allow for easy outdoor programming while drawing pedestrians towards the 50,000 square foot cultural space on the tower's lower floors. On top of the base podium sits a 32-story apartment tower, with amenities on the lower floors including a branch of the Brooklyn Public Library, a cinema and a dance studio. A durable and aesthetically pleasing cladding material for the building's base was a priority.
The players: Architect, Ten Arquitectos, Ismael Leyva Architects; general contractor, 20 Lafayette Construction; contract glazier, Eastern Exterior Wall Systems; glass fabricator, Technical Glass Products (podium panels); window suppliers, Skyline Windows LLC, Graham Architectural Products; storefront supplier, Roschmann Group; metal systems supplier, Alcoa Architectural Products, PPG (coatings)
The glass and systems: Skyline Windows LLC supplied the punched windows in the tower. These windows were installed by Eastern Exterior Wall Systems' in its prefabricated mega-panels, comprised of approximately 220,000 square feet of aluminum composite material.
Window walls at the tower balconies were fabricated by Graham Architectural Products and installed by Arrow Steel Window Corp. The storefront system was supplied by Roschmann Group, Gersthofen, Germany, and installed by AM Architectural Metal and Glass Inc.
Technical Glass Products supplied 15,000 square feet of ⅝-inch white Neopariés crystallized glass ceramic panels for the street-level portion of the space. The panels have a bright, smooth and high-sheen surface, which reflects light and, in the case of BAM South, helps mirror the activity of the surrounding streets. The panels resist staining and pollution and have a low thermal expansion rate.
The building team installed the panels over a ⅝-inch reveal, open-joint rain screen on a back-cut Fischer anchor that is mounted on an engineered strut support system. Panels are installed in a true rainscreen application, including a curve around the convex nose of the podium.
Alcoa Architectural Products (now Arconic Architectural Products) supplied Reynobond aluminum composite material panels, fabricated into pans and finished with Duranar XL fluoropolymer coatings by PPG.