Great Glazing: Center for Healthcare Education, Sacred Heart University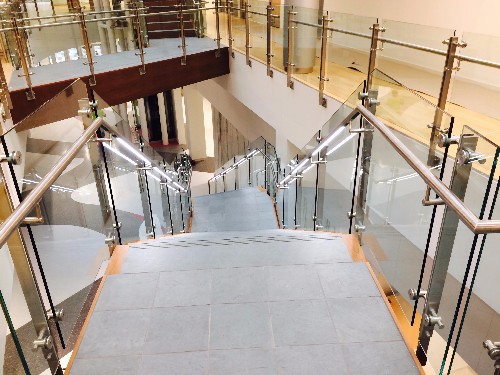 Photos courtesy of Trex Commercial Products.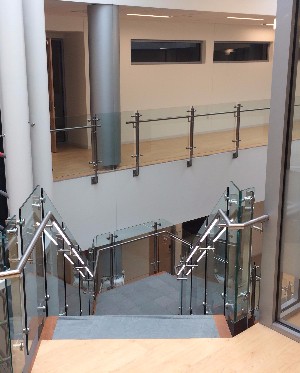 The basics: Sacred Heart University unveiled their new Center for Healthcare Education facility in Bridgeport, Connecticut, last September. The project included nearly 1,500 linear feet of stainless and glass railing products, anchored with a monumental staircase.
The players: Architect, The S/L/A/M Collaborative; general contractor, Consigli Construction; installation, Wolfe Welding Inc.; glass manufacturer, Cardinal Glass Industries.; glass fabricator, Glass Dynamics; metal systems supplier, Trex Commercial Products (railing)
The glass and systems: The railing incorporates approximately 2,000 SF of ½-inch clear tempered glass, supplied by Cardinal Glass Industries and fabricated by Glass Dynamics.
Trex Commercial Products partnered with Consigli Construction to provide the project's railing products. The three-story interior features the Luxor stainless and glass railing system throughout. The low-profile double-bar post design achieves a classic design aesthetic, while providing the strength and durability required by a busy university setting.
The railing system was bolt-mounted to the faces of the stair stringer and pour stops with standard flat stainless steel mounting plates, to which the posts were welded. The ½-inch-thick, clear tempered glass was attached to the posts via rod-and-disc glass mountings. Post-mounted stainless steel handrailing was used throughout, with inlaid LED on the grand staircase. Other areas of the Center for Healthcare Education facility called for Trex Commercial Products' stainless steel cable railing, as well as its stainless steel rod infill railing.