Great Glazing: Chickasaw Nation Tishomingo Health Clinic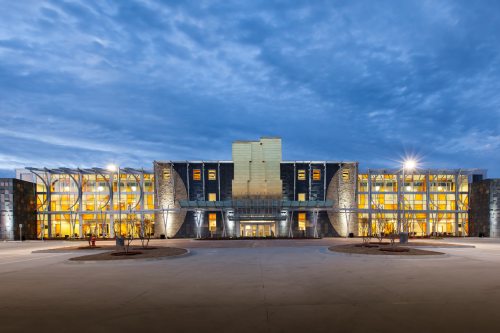 The basics: Southeastern Oklahoma's 53,000-square-foot Tishomingo Health Clinic was designed to represent the four seasons through different architectural elements, including an extensive autumn-themed exterior curtain wall. The initial challenge of the curtain-wall project was to create a decorative image that didn't block light but instead filtered it, casting colorful shadows across the building interior. Once installed, the image would be viewed from pointblank range, so the pattern had to be printed at an extremely high level of detail.

The players: Architect, Childers Architect Inc.; glass fabricator, Tristar Visions; glass manufacturer, PPG Industries; glazing contractor, Downtown Glass Inc.

The glass and systems: Tristar Visions chose to use yellows, reds and oranges in its curtain-wall pattern to replicate marbled alabaster stone, as Oklahoma is home to the largest natural alabaster caves in the world. The pattern spans both sides of the 150-foot curtain wall and the full 37-foot height of the building.
The architect chose Bronze over Bronze Tristar Visions decorative laminated, insulating glass with PPG's Solarban 70XL low-emissivity coating. The outer laminated glass lite was tempered.