Great Glazing: CN Tower Observation Level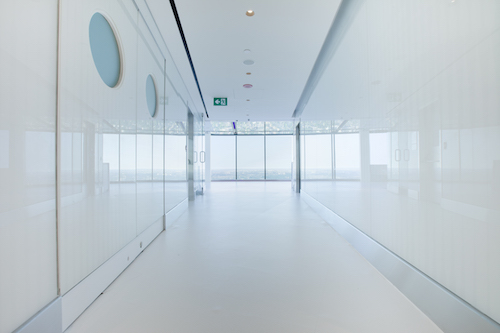 Photos by Antony R Marik Photography, courtesy of AGNORA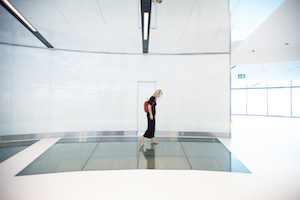 The basics: The CN Tower's remodeled, accessible observation level in Toronto, Canada, features long, bright white hallways, doors with circular windows, a spiral staircase, stunning views of Lake Ontario through new dynamic windows, a new two-tiered glass floor, and digitally printed interior glass walls. The interior walls consist of over 150 unique monolithic panels. Muted in tone, yet bright and crisp, the paneling offers a timeless design that marks the path to the the view without competing with it. New dynamic windows darken in response to sunlight, reducing heat and glare inside the building to make more comfortable viewing in all weather conditions.
The players: Architect, Cumulus Architects Inc.; glass graphics designer, MackayWong; general contractor, PCL Constructors Canada Inc.; contract glazier, Redspire Architectural Glass Inc.; glass manufacturer, Pilkington North America; glass fabricators, AGNORA (floor, interior walls), Prelco (window wall); interlayer suppliers, Kuraray SentryGlas (floor), Pleotint Suntuitive (window wall)
The glass and systems: The dynamic windows include Prelco's Prel-Shade Thermochromic Glass, with a thermochromic interlayer from Suntuitive. Pleotint manufactures the Suntuitive thermochromic interlayer that is laminated between layers of Prel-Shade glass.
Fabricated by AGNORA, the glass floor was tempered and heat-soak tested, providing greater resistance to thermal and mechanical stresses and achieving specific break patterns for safety glazing applications. The bottom of the floor, or glass ceiling if standing one deck below, consists of 6 millimeter, tempered, mirropane that acts as a one-way mirror to those looking up at the glass floor, providing privacy to those above. Measuring 2 ⅜-inch thick and weighing 990 pounds, this walkable glass floor is laminated with 5 layers of glass with SentryGlas interlayers.
The interior walls consist of digitally printed 6 mm panels. A white backdrop applied behind a subtle graphic transforms into the silhouette of the iconic CN tower when viewed closely and repeats multiple times around the lookout. A custom spot colour for the graphic was mixed at AGNORA's new, in-house lab. The digital ceramic print resists scratching, UV and weather. Each unique piece was printed with a code to track and manage the fabrication process.