Great Glazing: Colorado State University Medical Center Staircase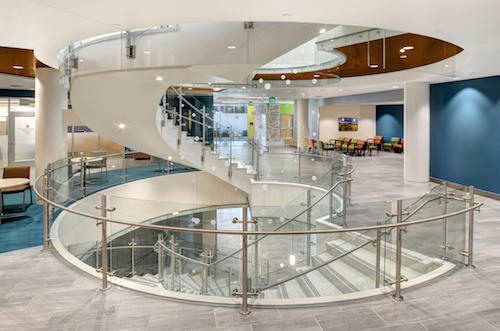 Photos courtesy of Trex Commercial Products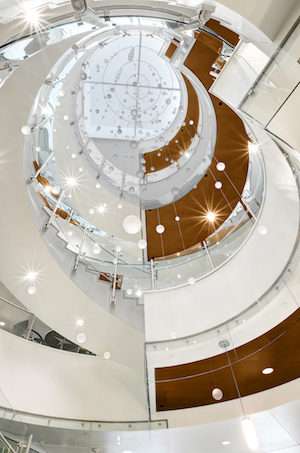 The basics: Colorado State University recently opened a new $59 million, 4-level, 113,000-square-foot Medical Center in Fort Collins, Colorado, that consolidates the university's medical facilities into one building. Design goals included an open, light-filled space, fulfilled in part by a custom, 4-level circular glass staircase at the center of the lobby. The staircase was created using 3-D laser scanning technology to map the project's design and geometry.
The players: Architect, Bennett Wagner Grody Architects; general contractor, Adolphson & Peterson; contract glazier, ISEC-Colorado; glass supplier, Glasshape North America; railing supplier, Trex Commercial Products
The glass and systems: Over 250 pieces of glass were fabricated by Glasshape, including the Bent Glass smoke baffles, and delivered to site ready for installation. Glasshape also provided scanning for the project.
Working from the scanned data, Trex Commercial Products created submittal drawings that eliminated the need for field dimensioning post-architectural approval and required no remakes done on site, saving time and the cost of fabrication rework.
Trex provided 720 combined linear feet of Vista stainless steel and railing for the staircase. The fascia-mounted spiral stair railing provides a multi-level view with ½-inch monolithic, fully tempered glass fastened by disk-and-rod assemblies. A top-mounted installation was chosen for accompanying overlooks. A curved point supported smoke baffle with ⅜-inch monolithic fully tempered clear glass was mechanically fastened to structural steel.