Great Glazing: Envoy Hotel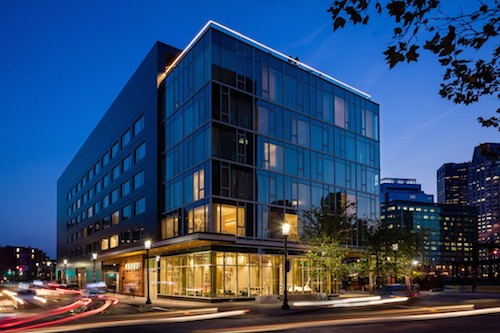 Warren Jagger Photography
The basics: Uniting Boston's rich history with its innovative present through glass, the Envoy Hotel commands views of both city and harbor. An expansive glass curtain wall façade dominates the exterior of the 136-room hotel. Building components are detailed in shiplap wood in homage to sailing vessels, and each guest room has floor-to-ceiling windows with views of the city. Inside, the city's history and cutting-edge design are also on display, as functionally decorative shower enclosures and bathroom walls, digitally printed with art maps of Boston, maximize light and create interest. Advanced digital technology allowed for 136 separate designs, one for each room.
The players: Architect, ADD Inc., Stantec and Group One Partners Inc.; general contractor, Lee Kennedy Co.; contract glazier, Oasis Shower Doors (bathrooms) and Ipswich Bay Glass (curtain wall / façade); glass manufacturer, Guardian (curtain wall); glass fabricator, GGI (interior) and Solar Seal (curtain wall); metal systems supplier, Ipswich Bay Glass (curtain wall / façade)
The glass and systems: Solar Seal fabricated the curtain wall glass using clear Guardian SunGuard SuperNeutral 68, installed in a framing system from Ipswich Bay Glass. The exterior insulated units use over 27,000 square feet of Guardian's SN68 clear filled with Argon. The spandrel units are painted with ceramic frit.
For the hotel bathrooms, GGI used digital printing technology to produce a design that allows for natural lighting and privacy. The fabricator printed historic maps and white bands in custom opacity on ½-inch low-iron, tempered room dividers and 3/8-inch low-iron tempered shower doors. To ensure a smooth installation at the site, GGI treated each of the Envoy's 136 different bathroom layouts as a separate project. GGI used custom color matching on the printed maps, opacity control and banding on the shower doors to create various levels of privacy and light transmittance.