Great Glazing: Front Counter, Private Retail Client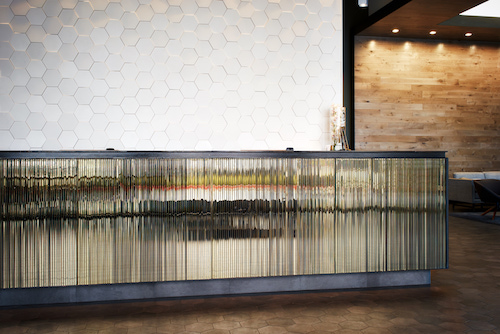 Photography by Andy McGrory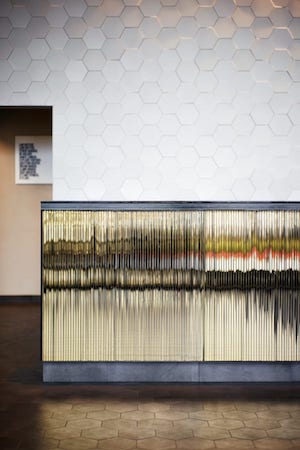 The basics: The front counter of this private client's retail space in California was clad with channel glass: an architectural glass formed in 3D fluted patterns with a silvered back finish. Design specifications were for a rich, vibrant glass that was dark in color. The opaque glass covers and blocks any back wall surface.
The players: Contract glazier, Arrowwoods Works; glass supplier, Nathan Allan Glass Studios
The glass and systems: Nathan Allan Glass Studios supplied the project with Freeform Series Channel Glass. The channel glass is produced with ⅜-inch bronze glass, and the back surface of the glass is finished in silver to create a mirrored effect. A protective coating is added over the silver finish.
In total, six panels of channel bronze silvered glass were produced in sizes up to 68 inches wide by 42 inches high. Each panel rests on a steel bottom ledge, with soft glass cushions place under the glass. The panels are approximately 1/16 inch apart to reduce seam lines, which are nearly invisible. To secure the panels to the face of the desk counter, a special compatible adhesive was used.