Great Glazing: Glass Stair Treads, Private Residence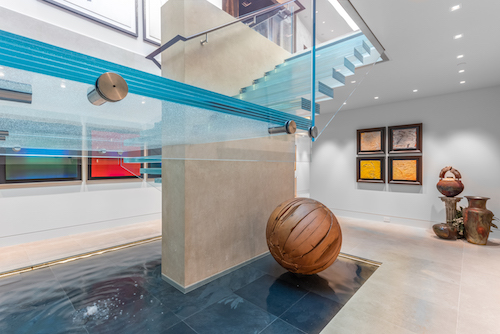 Photos by Suzanne Rushton Photography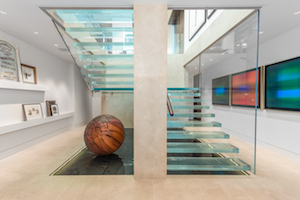 The basics: A focal point of a West Vancouver, B.C., private residence, these glass stair treads required a team of architects, engineers and cast glass producers to realize the finished project. The floating glass treads cantilever five feet from the central concrete column with no other support system, creating challenges for installation and fabrication. Lights create a sparkle effect on the treads, and recessed lighting within the center column adds to the dramatic effect.
The players: Architect/general contractor, Hollingsworth Architecture; contract glazier, Horizon Glass; glass supplier, Nathan Allan Glass, interlayer supplier, Kuraray SentryGlas
The glass and systems: Horizon Glass installed the glass stair treads into concrete using special sealers and expanding liquids to prevent breakage. The 3.3-inch treads have almost no movement or deflection when walked on.
Nathan Allan Glass supplied the textured glass stair treads and walking surface. The stair treads are comprised of six layers of ½-inch low iron tempered safety glass, with an anti-slip finish called Glass Sandpaper fused on the top and bottom glass layers for additional safety. The treads measure 62 by 14 inches, and the landings are 62 by 62 inches.
The six individual layers of glass are laminated with SentryGlas Plus interlayers. Nathan Allan technicians trimmed the excess laminate from the interlayers using a polishing method designed to make the glass edges shimmer, adding to the play of light and glass.