Great Glazing: Greentown Labs Global Center for Cleantech Innovation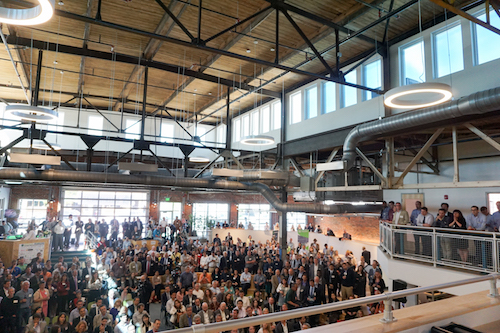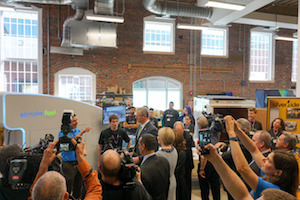 The basics: Greentown Labs, the largest clean technology incubator in the United States, officially opened its expansion site, the Global Center for Cleantech Innovation. The historic building is now home to 80 cleantech startup companies that are working to solve climate challenges with hardware-focused innovations. The new Global Center rehabilitated and preserved a century-old industrial building in Somerville, Massachusetts' Union Square, transforming it from an auto repair and paint shop into a 58,000-square-foot center for clean technology innovation, incubation and education. The campus now provides its members with prototyping lab space, a wet lab, a machine shop, electronics shop, office space for more than 450 entrepreneurs and a 500-person event space. Design goals included creating sustainable and adaptable spaces and optimizing employee well-being.
The players: Architect, Silverman Trykowski Associates; general contractor, Ryan Construction; contract glazier, Century Glass; glass suppliers, Saint-Gobain, SageGlass; window supplier, Yaro Windows & Doors; door suppliers, CRF Inc. Interior Systems, Overhead Door Co., Door Tech Inc., Robert N. Karpp Co., Franklin Door Specialists Inc.
The glass and systems: The Global Center for Cleantech Innovation was designed using innovative technology from two of Saint-Gobain's brands: CertainTeed and SageGlass. Saint-Gobain will use this site to measure the impact of its products on occupant comfort to spur future product development.
Approximately 830 square feet of smart electrochromic SageGlass was installed on the third floor of the Center to help achieve the building's sustainability goals while creating a workplace that optimizes employee well-being by maintaining outdoor views and preventing heat gain and glare. Member feedback will allow building scientists to measure the impact SageGlass has on occupant comfort. The data collected and subsequent analysis will directly impact future product and business development.
CertainTeed installed a suite of its products in the Center, including a 33,000-square-foot Flintlastic SA Self-Adhered Roof System and an array of acoustical ceiling and wall solutions.
Saint-Gobain created a partnership with Greentown Labs in 2014. As a Founding Sponsor of Greentown Labs, the expansion site presented an opportunity for the company to enhance its support of the incubator and its own research and development efforts by providing building materials to the Center.
Says Emily Reichert, CEO of Greentown Labs, "The company's expertise and building materials provided for the Global Center made sure that we walk the talk of our mission and provide our members with a workspace that makes them more productive and creative while they develop technologies that address major energy and environmental challenges."
The incubator's previous headquarters will be converted to laboratory space.