Great Glazing: H&M Flagship Store 5th Ave.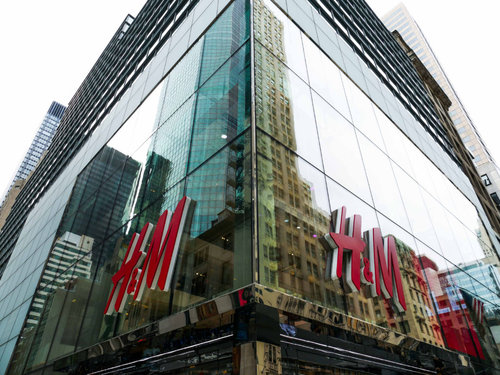 Photos courtesy of AGNORA and Mistral Architectural Metal & Glass
The basics: The main storefront of the recently opened, 57,000-square-foot H&M Flagship Store in New York City consists of laminated and insulating glass units with a laminated glass structural fin. Instead of spiders or clips, the project team used a custom toggle system to fasten the oversized face glass back to the glass fin, so there is no visible metal holding the storefront in place. The glass is low-emissivity and low-iron, providing a clear view in and out, without obstruction. Surrounding the storefront are custom-made lightboxes with programmable LEDs.
The players: Architect, TEK Architects, Maya Glavin AIA; general contractor, JT Magen & Co.; contract glazier, Mistral Architectural Metal + Glass Inc.; glass fabricator, AGNORA; metal supplier, Tripyramid (hardware)
The glass and systems: H&M required oversized, high-performance, low-E coated glass for its large, west-facing facade. Mistral Architectural Metal & Glass, the contract glazier, worked with AGNORA, which supplied the oversize architectural glass, including laminated and insulated low-iron glass units, some with outboard laminate embedded metal fittings to support the silhouette signage.
An "L"-shaped window beside the main entrance features a large cut-out to accommodate the fire access panel. AGNORA also fabricated the light box laminates with low-iron, acid-etched glass, laminated with white interlayers for LED backlighting.
The transparent facade extends into the interior of the store with CNC-fabricated, laminated low-iron triple-ply glass fins. Measuring up to 273 inches tall, these fins allow the outside foot traffic a full view into the store.
Glass structural engineers, Eckersley O'Callaghan, consulted on the project, which used the Swedish Skandinaviska glazing system. According to officials at AGNORA, a conventional SSG system would not have worked due to the building's lateral drift under wind load, resulting in sheared silicone. The Skandinaviska glazing system uses glazing pockets that insert into the silicone seal of the insulated glass unit.
Mistral glazed the aluminum extrusion to the glass fins at the AGNORA production facility, then shipped the fins to the job site, ready for installation.