Great Glazing: Holly Pointe Commons Rowan University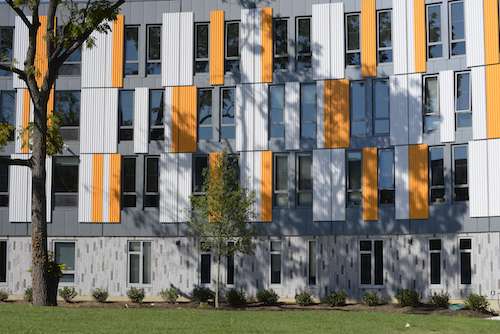 Photos courtesy of Rowan University ©2016 Joel Schwartz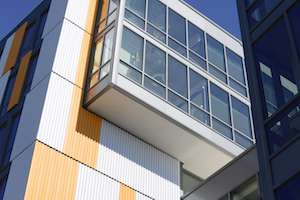 The basics: The grand opening of Holly Pointe Commons welcomed more than 1,400 students to the new, $145 million residence hall on Rowan University's campus in Glassboro, New Jersey. The residence hall is a gateway to campus. Designed by Erdy McHenry Architecture, the 303,000-square-foot building showcases a modern aesthetic and serpentine-shaped footprint. Standing 75 feet high, Holly Pointe Commons includes a four-story and a seven-story building connected by a study bridge. Its façade is constructed of metal panels and 1,500 window units. Completed in just 14 months, the window package was instrumental in streamlining construction.
The players: Architect, Erdy McHenry Architecture; general contractor, Torcon Inc.; contract glazier, Newman Glass Works; glass manufacturer, Vitro Architectural Glass; windows supplier, Wausau Window and Wall Systems; metal finishing, Linetec
The glass and systems: Newman Glass Works installed a combination of fixed and operable units on the new student residence.
To help ensure that fresh air and a connection with the outdoors are accessible to people with limited physical abilities, Wausau Window and Wall Systems 2250i INvent Series project-out windows comply with the university's ADA requirements where specified. Beyond accessibility and aesthetics, a polyamide thermal barrier within the 2 1/2-inch aluminum framing enhances the performance of each window.
Linetec provided the thermal improvement services for Wausau's aluminum products, as well as the finishing. All of the aluminum framing members were finished in a three-coat, metallic, 70 percent polyvinylidene fluoride resin based, liquid paint.
The building's two eateries give a nod to Glassboro history. The name Glassworks Eatery honors the borough's past as one of the most prominent glass manufacturing communities in the nation in the 19th century.