Great Glazing: Hollywood & Vine Metro Plaza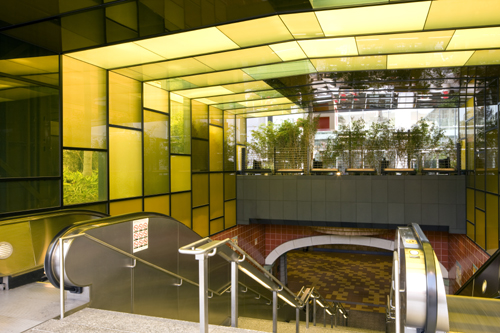 Photos by Tom Bonner.
"Our intent was to functionally and visually integrate the plaza into the urban fabric of Hollywood Boulevard, and create an environment to satisfy the diverse groups intersecting on this stretch of it. We envisioned an energetic space, cross-referencing the block's main elements, merging its people, and linking Hollywood's iconic past to its revitalized present."
—Frank Clementi, principal, Rios Clementi Hale Studios.
The basics: The Hollywood & Vine Metro Plaza in Hollywood, Calif., underwent a major renovation that includes a notable entrance canopy made of several different tones and translucencies of golden glass. According to a release from the architect, the canopy design was inspired by the yellow brick road, in part a nod to the Hollywood film history that surrounds the intersection. The Los Angeles Metropolitan Transit Authority Hollywood/Vine project was developed by Gatehouse Capital and built in association with the Federal Transit Administration's Transit Oriented Development program, which fosters mixed-use development within walking distance of public transportation. The plaza is bordered by such development on three sides.
The players: Architect, Rios Clementi Hale Studios; developer, Gatehouse Capital, HEI Hospitality Fund; general contractor, Webcor; glass fabricator, Oldcastle BuildingEnvelope.
The glass: Amber and Amber translucent glass, made up of a ½-inch lite of Amber glass and a lite of clear glass laminated with a Vanceva interlayer.