Great Glazing: Hotel Chaco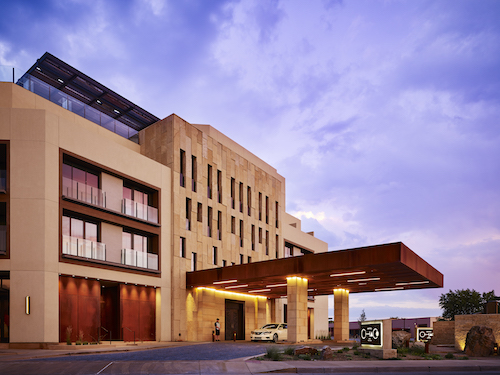 Photos courtesy of Winco Windows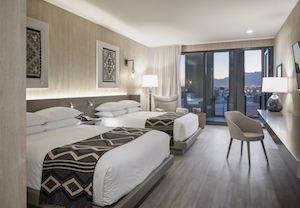 The basics: Hotel Chaco, located in Albuquerque, New Mexico, is a 118-room, high-end hotel that incorporates the history of Chaco Canyon into its design details, from Navajo wool to bronze metalwork to offset stone masonry. Features include a rooftop restaurant and lounge, a 6,000 square-foot spa and street level retail. Project goals emphasized using materials that withstand and mitigate the region's extreme climate.
The players: Architect, Gensler; general contractor, Klinger Constructors; contract glazier, Southwest Glass & Glazing; glass manufacturer, Vitro Architectural Glass; framing system supplier, Winco Windows
The glass and systems: Winco provided bronze Winco Terrace Doors NC82 and sidelights on each balcony. By reducing the amount of aluminum required to maintain the structural integrity of the door, Winco's framing system and UV resistant finish support the project's emphasis on energy efficient technology.
The doors withstand extreme wind, temperature extremes and dust. They are finished with a 70 percent Kynar Quaker Bronze Finish.
The glass is Starphire Solarban 72.